Can You Spot All The Oscar Nominated Movies In This Illustration?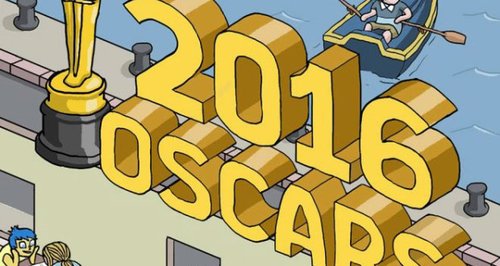 Artist Mart Virkus is testing movie buffs everywhere with his brilliantly clever 88th Academy Awards illustration. Can you figure it all out?
Before you declare yourself to be a fountain of movie knowledge you NEED to check out this incredible Oscars illustration by artist Mart Virkus.
Mart has incorporated every movie nominated in the 88th Academy Awards into one drawing…all you have to do is spot all the references.
Give it a go here…

To avoid making a mile-long collage, Mart didn't include those films nominated in the Best Documentary, Best Foreign Film or Short Film categories, which means you've just got to circle the year's biggest Hollywood blockbusters and indies!
Some are easier to spot than others, like 'Inside Out', 'Star Wars' and 'The Revenant', but others are much, much trickier.
Can you spot all the nominated movies? If you need help, Mart's got the answers below!
The references:
Boat – "When Marnie Was There"
Sheep in window – "Shaun The Sheep"
Small doll near window – "Anomalisa"
Woman drawing behind table – "Joy"
The yellow girl opposite her? Joy from "Inside Out"
The grumpy looking teenager on the floor? Kylo Ren
The sad sack next to him? Sadness from "Inside Out"
Man enjoying a cup of coffee? "The Hateful Eight"
Man sitting on the corpses? Samuel Motherf*cking Jackson, same.
The thoughtful pedestrian? Steve Jobs
Couple on bench? "45 years"
And lamppost? "Brooklyn"
Whippity-whoppity? TRAITOR
Ooh, is that an X-Wing?
Black man running? "Creed"
Red truck? "Room"
Mad Max? Painfully obvious
The little thing clinging on to the War Rig? Fear from "Inside Out"
The parachute? Francis gary Powers, "Bridge of Spies"
Man chasing the Oscar being chased by bear? Leo, obviously
FBI woman coming out of a cave? "Sicario"
that cartoonish boy next to all other cartoonish characters? "Boy & The World"
The man in space suit upset about his potato crops? "The Martian"
The red guy giving him the finger? Anger from "Inside Out"
Did you miss BB-8? ;)
How about the carriage from "Cinderella"?
Man on collapsing roof? Bond. James Bond.
Man with a whip? 50 Shades of NO.
Man with the dress? "The Danish Girl"
Two women on the balcony? "Carol"
The judgmental priest? "Spotlight?
The green thing on poster judging the priest? Disgust from "Inside Out"
The poster next to that one? "Roman Holiday" – one of Dalton Trumbo's movies
Man climbing over ledge? "The 100 Year Old Man Movie With A Really Long Title"
The uncomfortable looking dinner scene? "Sicario"
The drummer? Hedge fund manager from "The Big Short"
The guitarist? DOOF WARRIOR
The two pervs in the pool? Harvey Keitel and Michael Caine from "Youth"
The robo-chick in the pool? "Ex Machina"
Guy in the corner? Trumbo
Three black fellows? N.W.A. from "Straight Outta Compton"