Parts Of The UK Are Hotter Than Istanbul (And It's Raining In St Tropez)
9 March 2017, 12:45 | Updated: 10 March 2017, 07:35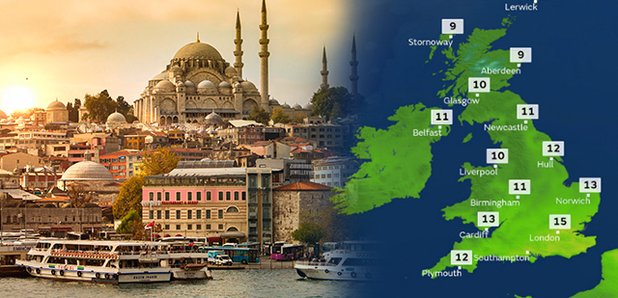 Temperatures in the UK are set to rise, with some areas of the country predicted to be as hot as Turkey, Croatia, Malta and Slovenia.
Make sure you've got your sunglasses on as the cold spells are giving way to Spring-like temperatures reaching as high as 16°C across London and the South East of England.
In the #sunshine it will be feeling very springlike for many of us this afternoon, with highs reaching 15 or 16 °C in a few spots pic.twitter.com/mhHULTa5XL

— Met Office (@metoffice) March 9, 2017
Temperatures in Istanbul - one of Turkey's main cities which sits on the continental plates Europe and Asia - is expected to only reach heights of 12°C on Thursday.
"We are seeing milder air and breaks in the cloud coming up from the south after chilly conditions," said Met Office forecaster Emma Sharples.
"We may locally get temperatures of 16°C tomorrow, mainly around the south-eastern parts of the UK."
London will see it's hottest day so far this year, with highs of 14°C already being recorded at the weather station in Writtle in Essex.
It will be pleasant for many this afternoon, with lots of #spring sunshine Remaining cloudy with some rain though in the far southwest pic.twitter.com/KJaSqf9Xm7

— Met Office (@metoffice) March 9, 2017
In the Croatian capital of Zagreb, temperatures are expected to reach just 14°C, whilst Malta and Slovenia the are expected to hit 16°C today.
Meanwhile, it is pouring with rain in St Tropez.
Typically, the temperatures in the UK in March reach between 8.9°C and 9.8°C.
"It's going to feel like spring," said Ms Sharples.
However, temperatures will dip to around 11°C in the UK on Friday.