It's Boaty McBoatface Take 2! Meet Planey McPlaneface: Team GB's Olympic Aircraft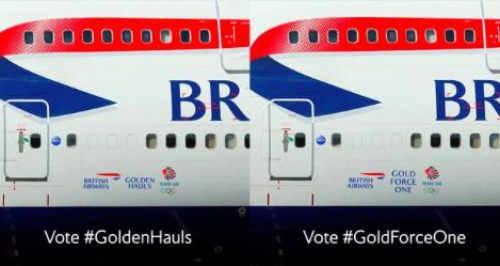 When will they learn?!
We all remember what happened when the National Environment Research Council put the question to the public about what their brand, spanking new vessel should be named...
When online voting to christen the Royal Research Ship opened, the internet predictably rose to the occasion and after thousands of entries none was more popular than - wait for it - RRS Boaty McBoatface.
In the end the powers that be had to override the winning entry and decided to name the boat after the noble biologist Sir David Attenborough...but it was all a bit of a fiasco.
So you'd have thought that by now people would have learned their lesson.
Naturally this was not the case.
British Airways decided to ignore all the lesson of history and go right ahead to ask the public what the should name the plane bringing Team GB and Paralympics GB back from the Rio Olympics 2016 in Brazil.
Check out the call to action:
Name the @British_Airways plane bringing @TeamGB & @ParalympicsGB BAck from #Rio2016
Tweet the hashtag to vote! pic.twitter.com/ed8UvNhWTa

— Team GB (@TeamGB) August 1, 2016
To give credit where it's due, the BA team did kick off with some pre-made suggestions, including:
Vote #GoldenHauls
Vote #GoldForceOne
Vote #victoRIOus
Vote #MissionAccomplished
And some people did start off by playing ball:
i think #victoRIOus is quite fitting. patriotic yet acknowledges where the games are being held https://t.co/5lJoSjFsHD

— m19htyw19an (@warr10rz) August 1, 2016
However, it didn't take long before creativity took over once again and mayhem descended...
Come on, it has to be #PlaneyMcPlaceface. https://t.co/EwjY0ZGsL4

— Caro Wallis (@CaroWallis) August 1, 2016
#PlaneyMcPlaneFace https://t.co/ANTfMUlEBR

— Jon Brady (@jonbradyphoto) August 1, 2016
But that's not all! Despite the whole team flying economy, five lucky athletes got upgraded to business class on the flight!