Adorable moment police dog performs CPR to 'save' his owner's life
26 June 2018, 12:26 | Updated: 26 June 2018, 12:39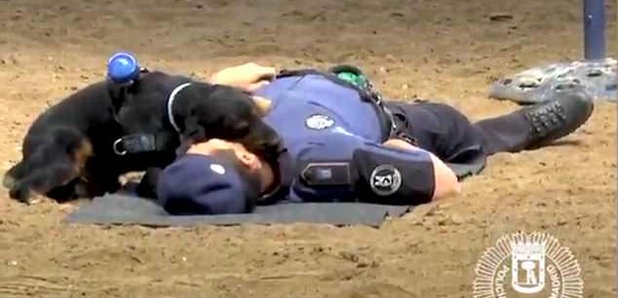 An adorable Madrid police dog has won the hearts of the internet after showing off his special CPR skills.
In the footage, a member of the Madrid police is seen dramatically falling to the floor before the tiny dog, named Poocho, comes to the rescue using CPR.
The adorable pooch, wearing a flashing police light, then runs over to his trainer to check if he's okay.
When he sees the man is non-responsive, he attempts to 'save' his trainer's life by pushing down on his chest and listening to hear if he's breathing.
After doing that, he pushes his chest again before repeating the move once again.
The Madrid police uploaded the video to their Twitter feed with the caption: "'Heroic' performance of our #4pawedcompanion Poncho, who did not hesitate for a moment to 'save the life' of the agent, practicing the #CPR in a masterful way.
"The dog is the only being in the world that will love you more than he loves himself" - John Billings.'
The adorable clip has since gone viral, and has been watched more than 1.7 million times sine it was uploaded three days ago.