Prince Fans Are Over The Moon At What's Been Found In His Secret Vault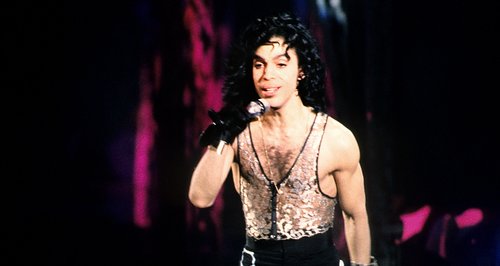 Prince aficionados LISTEN UP. Because your day has finally come!
He was busting to brims to with performance prowess and a pure musical genius unlike any other.
When he took to the stage in his flamboyant '80s style outfits, decked in glitter and ruffles, there were few who owned the stage quite like him.
So it perhaps comes as little surprise to his biggest devotee's that all the while and little known to many, the Purple One kept a top secret room in house, full of all the incredible ideas he just didn't have time to put publish.
Yes, you heard us right, A WHOLE ROOM FULL OF PREVIOUSLY UNHEARD PRINCE MUSIC!!!
State courts in Minnesota were amazed when they found the huge haul of unreleased music when they opened the singer's vault at his home in Paisley Park.
We were thrilled to learn that there's apparently enough music to keep fans occupied for a long time to come!
Before his untimely death the singer said about the Vault: "I've vaulted so much stuff, going way back to the Eighties because I didn't want people to hear it - it wasn't ready."
Could now be that time?
Meanwhile equally legendary icon Stevie Wonders has come out with a tribute to the late star.
The 65-year-old called the 'I Wanna Be Your Lover' singer an 'inspiration', who's music was "so picturesque that even I could see it".
Read the whole beautiful letter which he penned in 'Rolling Stone' magazine:
"Prince's music was so picturesque that even I could see it... I could feel that "Purple Rain" too. Prince's songs were that vivid, the images were that strong."
Wonder continued to speak of the connection that he had with Prince, adding: "I think I related to the way Prince saw things because we both grew up in the Midwest, where we met all kinds of people and had a great spectrum from which to learn. We both grew up hearing blues, rock & roll, jazz and gospel, and found the value in it all."
"Prince was so inspired, and so inspiring. He was kind, he was disciplined and he knew where he wanted to go. He was able to make big transitions. If Michael was the King of Pop, Prince should be the Emperor. Prince fought for his artistic freedom. He didn't allow anyone or anything to get in his way. By following his own path, Prince took music to a whole other place, like the Beatles did. He wanted to change the way things were, like Marvin Gaye did. When you do that, you have to be very sure of yourself."
"That spirit that drove him gave us an incredible reservoir of music. He loved funk, so he really needed to know how to make things funky. He loved jazz, so he needed to break down what made things truly swing. If Prince wanted to talk about love and sex, he got really into that – deep. And he made us see and feel it all with him. In fact, I'm trying to figure out which child of mine was born because of listening to Prince."
We'll leave you with the musician's hit track 'I Would Die 4 U':