Is That You Ma'am? The Queen's Head Is Spotted In The Clouds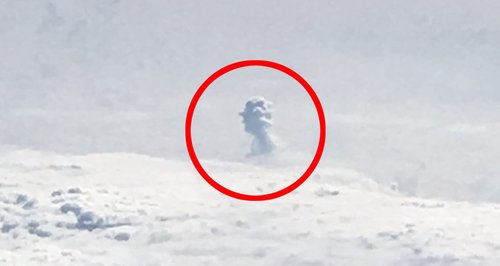 Passengers of the plane spotted The Queens famous silhouette a mile off and it must have made quite a talking point for the rest of the flight!
Holiday makers got a sky high surprise when they spotted Her Majesty in cloud form on their way to Majorca over the weekend.
In the image of the cloud there are some spooky similarities when compared to the Queens famous silhouette from her pound coin and postage stamp portrait.
Her Maj's trademark fluffy cloud curls, shoulders and nose can all be seen clearly in the image which was taken from the plane window by a bemused passenger and certainly made for a royally unforgettable flight.
The JetBlue passengers spotted Her Maj around an hour and a half into their flight which happened to be when they were flying over Glasgow.
Glasgow is coincidentally only a couple of hours away from the Royal Family's Scottish holiday home, Balmoral, perhaps this is a sign that The Queen needs a little break away from the capital.
And who would blame her? With all the drama going on in Westminster lately, we're not surprised she needs a holiday!