Three's The Magic Number! Rare Triplets Born To Surprised Couple Expecting Twins.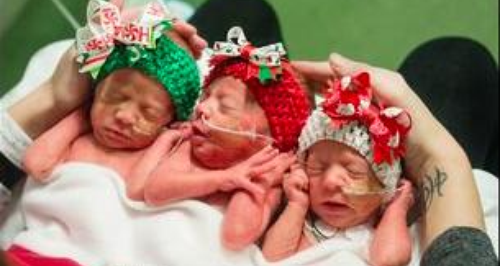 Proud parents, who were expecting twins, have finally been able to take home THREE little bundles of joy after doctors after weeks in intensive neonatal intensive care.
The trio came as a surprise for the couple after a doctor confirmed that they would be welcoming triplets instead of twins.
Stephanie and Brad Harris were shocked to discover a third heartbeat following a subsequent trip to their doctor, and now are the proud parents to identical triplet girls, a very rare combination.
The odds of delivering identical triplets can range from 1 in 60,000 to 1 in 2 million, according to the hospital.
"I was shocked and still trying to get over learning we were having twins when we got news of triplets," Harris said in a statement.
Addison, Kinsley and Savannah weighed between 3 and 3.5 pounds at birth when they were born Dec. 1 via cesarean section at Houston's Memorial Hermann Southeast Hospital.
Their premature growth meant that the babies had to spend five weeks in intensive care before they could be discharged. Their mother said she was "a little nervous" about bringing them home but couldn't be happier.