Runner Who Helped Struggling Stranger Over Finish Line Is True Marathon Hero
24 April 2017, 12:49 | Updated: 24 April 2017, 14:46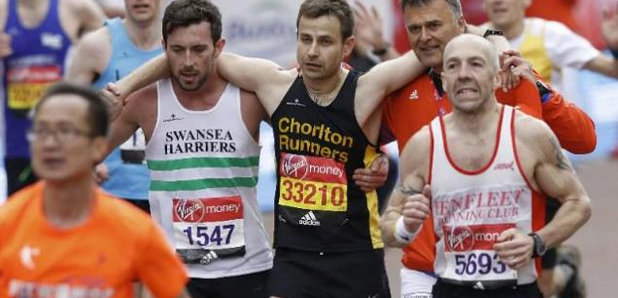 Watch the incredible moment the pair cross the finish line together.
Imagine this: You've just run 26 miles and the finish line is in sight. You've been training for months for this and it's nearly over. What do you do? Sprint for the finish, that's what.
Not if you're marathon runner Matthew Rees, though. He's the athlete who's been praised after cameras at the London Marathon caught him helping an exhausted stranger, David Wyeth, cross the finish line.
After noticing that David's legs were about to give way ahead of the final 200m, Matthew can be seen running towards him, putting an arm around David and practically carry him down the final stretch.
David, who had been working towards getting a personal best time, said: "[There was] clearly frustration because I'd trained so well, I was well prepared, I'd run a conservative race, I was on track - at least to mile 20 - and thought I was coming through a dark patch, but it just got darker and darker.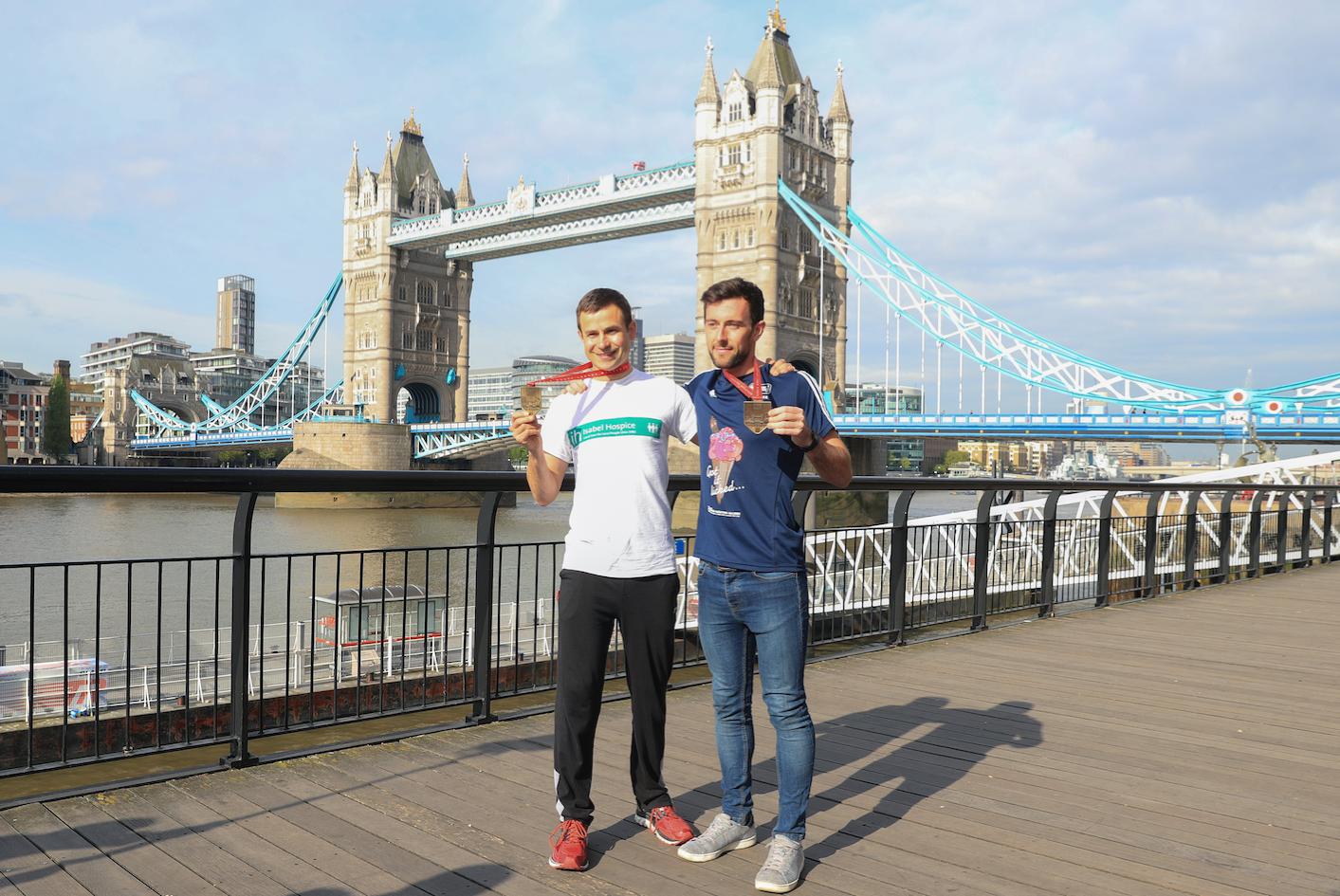 Picture | PA
"I turned into the Mall and my legs just went beneath me. I'd been struggling before that and I knew I hadn't been going in a straight line and really I should have stopped but you train also to override those sensations just to keep going. I knew I was in trouble then when I went to the ground obviously. Then next thing I heard was Matthew's voice in my ear encouraging me up, Let's do this! I'll get you over the line. And he certainly did that."
On forgetting his own time to stop and help Matthew said: "I came round the final corner ready to sprint that final 200m, but as soon as I saw David and his legs go beneath him, there was no other option, I had to help him. He's come 26 miles and the finish is just there and when I went over and spoke to him you could see how determined he was, he was saying, 'I need to finish' and I said, 'We will finish, we'll finish together'.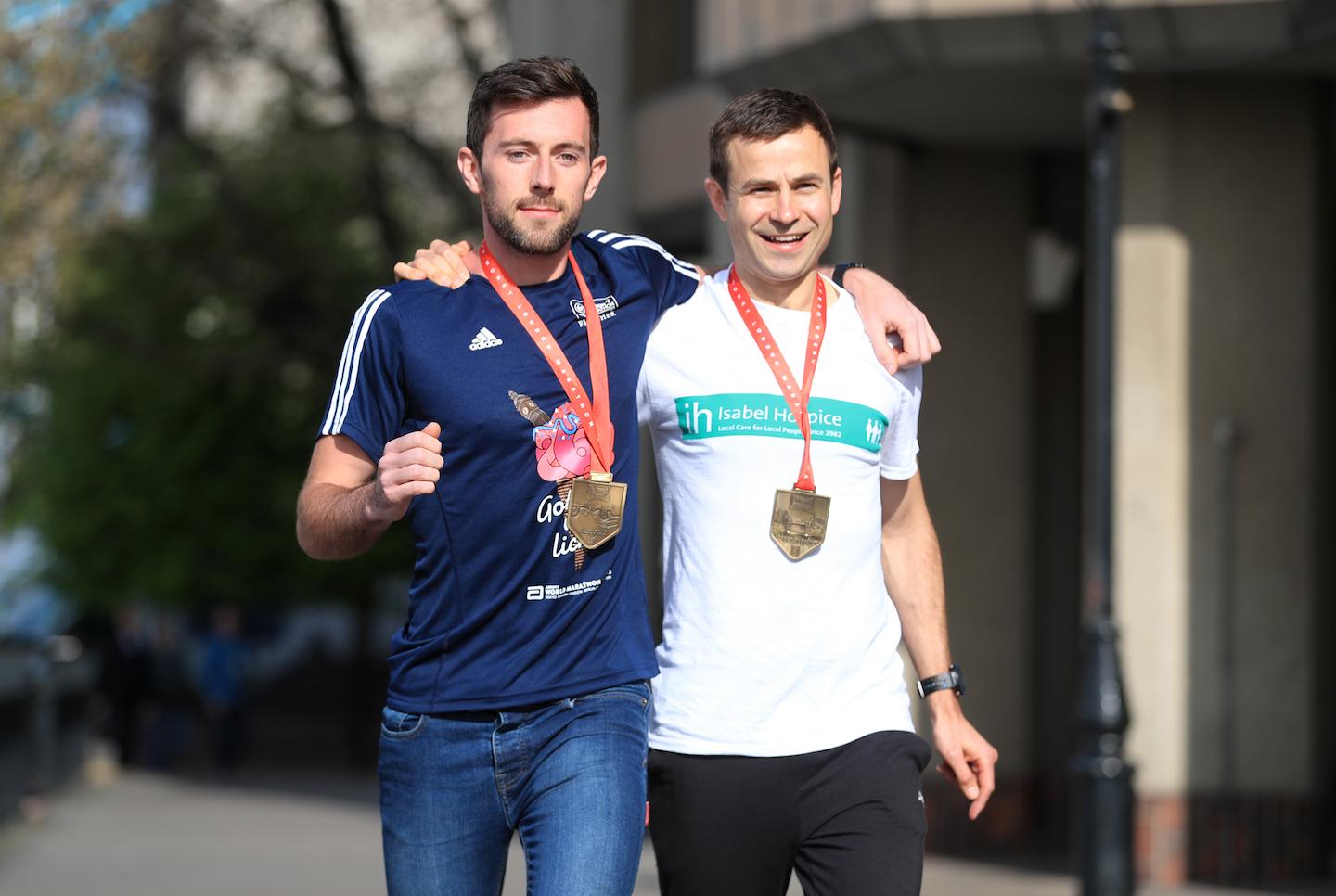 |
Picture | PA
"This moment was caught on camera but this was happening throughout the race, everyone's helping each other out. I think this is just the one that hit the spotlight but everyone, the running community, has been incredible, the spectators throughout the race were helping each other and giving us great support, so this was just one moment caught on camera in my opinion."
The moment of extraordinary kindness reminded viewers of an similar incident involving the Brownlee brothers, where Alistair helped his brother Johnny over the finish line at the World Triathlon series in Mexico last year.
When asked whether David and Matthew will become the new Brownlee brothers and continue to race together, David laughed: "We'll enter another race together and see how we do."