David Attenborough Triumphs Over Boaty McBoatface As The Winning Name!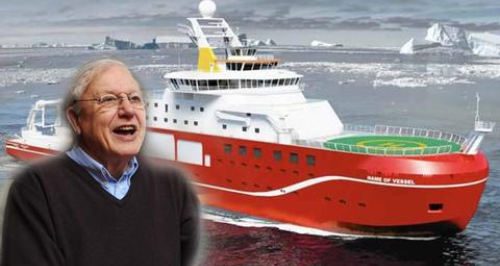 From huge ocean-bound ships, to busy commuter trains, the rising popularity of renaming transport has really taking off and the results are in!
Update 6 May 2016:
We knew it was never going to be the final name of the UBER expensive research vessel, but boy have we had a good laugh along the way!
Nevertheless the people have been overruled. We fought a valiant fight. We can be proud of our efforts. But we can not reveal there's been a last minute change of plan that has seen the winning title of Boaty McBoatface usurped.
Instead the mighty liner is to be named 'Sir David Attenborough', in honour of the great naturalist's 90th birthday on 8 May.
Sir David said: "I am truly honoured by this naming decision and hope that everyone who suggested a name will feel just as inspired to follow the ship's progress as it explores our polar regions.
"I have been privileged to explore the world's deepest oceans alongside amazing teams of researchers, and with this new polar research ship they will be able to go further and discover more than ever before."
However, fans of the original winning name should know that all is not lost. For rather than the ship itself, the remotely-operated submersible vehicle will be named Boaty McBoatface instead.
Hurrah!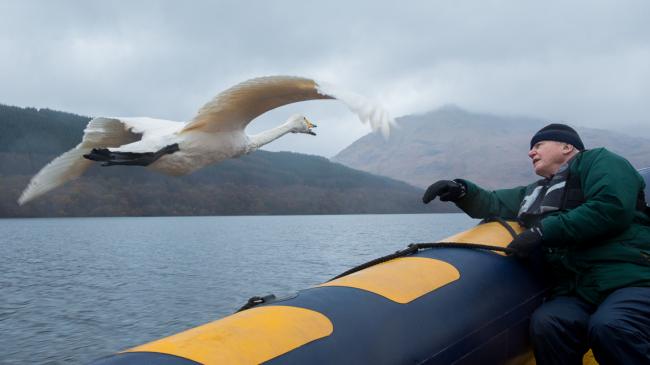 Update 29 April 2016:
Watch Politicians Try To Avoid Saying The Ridiculously Daft
They may be grown men and women with very serious jobs indeed, but this hilarious video of MPs trying not to say the winning name of the new research vessel, is eye-waveringly funny.
One Whitehall worker kicks off the conversation by discussing some of the suggestions made by the Great British public: 'The RRS it's b****y cold here' and the 'RRS Captain Haddock were both offered as names' he says.
However, when the question of what the final choice of the people was, the Parliamentary employer Martin Donnelly clearly doesn't have an easy time giving an answer!
'I think I can telly you first of all we're very pleased that this has raised a lot of popular interest' he gabbles.
But when continuously pushed by Tory MP Richard Bacon, the red-faced man is forced to give a final answer.
'I believe Boaty McBoatface won' added the other MPs rib the clearly embarrassed, civil servant.
Update 18 April 2016:
The United Kingdom's Natural Environment Research Council (NERC) finally have the outcome of the public vote that they issue to decide the name of a polar research ship.
Yes, the winning name has been decided and much to everyone's delight the British public really came through!
The vessel is official set to be known from hence forth as (drum roll please), Boat McBoatface.
HURRAH! You can all give yourselves a jolly old pat on the back for this one.
However, not everyone is so thrilled: Lord Alan West, a retired senior officer of the British Navy, told BBC Radio it was "a typical thing of the Brits going mad" and that he was rooting for another, more serious name to be chosen.
Whoops!
Original Story:
When the (very seriously named) National Environment Research Council put the question to the public about what their brand, spanking new vessel should be named, the internet predictably, rose to the occasion.
The open online vote to christen the Royal Research Ship has had thousands of entries, but none more popular than - wait for it - RRS Boaty McBoatface.
Local communications manager James Hand takes the award for ultimate creativity with his suggestion, which has now garnered over 15,000 votes and is storming ahead...
I'm terribly sorry about all of this, @NERCscience.

— James Hand (@JamesHand) March 20, 2016
The inspired idea even contributed to the voting website crashing due to over popularity and a Twitter account being set up to champion Mr Hand's suggestion:
You know what's a good idea? Naming a boat RSS Boaty McBoatface #MakeItSo #BoatyMcBoatface pic.twitter.com/6aDojmy3uR

— Boaty McBoatface (@BoatyMcBoatface) March 19, 2016
Check out what's leading the poll...
Our current top 4 #NameOurShip suggestions. Have you voted yet? https://t.co/Vv5Or05r9l pic.twitter.com/Uf4u1XyHYf

— NERC (@NERCscience) March 18, 2016
Meanwhile, the fun doesn't stop there!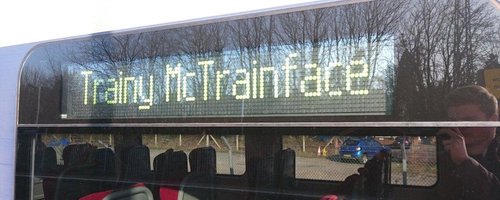 Eagle-eyed commuters spotted South West's train's witty new moniker during their Tuesday morning commute...
Bravo the member of South West staff at Waterloo. Trainy McTrainface. pic.twitter.com/REY9lCP6jx

— Harry Wallop (@hwallop) March 22, 2016
and this one...
Didnt expect my train to have a name today@SW_Trains #trains pic.twitter.com/Zc9Lvrf3ye

— Matthew Fifield (@funfield5) March 22, 2016
It seems that the whole transport industry is turning out to support the campaign for Boaty McBoatface...and we for one are right behind them!