Fancy A Snog? Whiff-Free Garlic Means A Post-Dinner Kiss Is Back On The Menu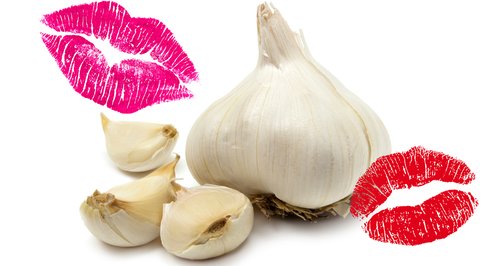 Italian entrepreneurs have spent three years growing an odour-free garlic crop, which means no more smelly breath! Here are the deets...
Most of us love the taste of garlic, but it's hard to love the inevitable smelly breath and pore-seeping stench that comes with it.
Fortunately two garlic lovers in Italy have spent three years developing a crop of giant garlic known as aglione, which is milder and COMPLETLEY odourless.
This particular type of garlic has been around for donkey's years, but farmers haven't cultivated it in large quantities for nearly four decades. In fact, many experts believed the variety to be almost extinct!
Fortunately, foodies Alessandro Guagni and Lorenzo Bianchi didn't let this get them down, and having found the rare seeds they are now on a mission to sell their 'kissing garlic' in Michelin restaurants across the world. Some are even hailing it as the 'hidden gem' of Italy!
We reckon it's about bloomin' time someone developed a stink free garlic…there are only so many mints you can chew after a posh dinner before people start to notice!
Looks like that Italian restaurant (and goodnight kiss) is back on for date night...
Would you give this kiss-ready garlic a taste?