This Girl Took The Man Who Saved Her From Hurricane Katrina To Her Ball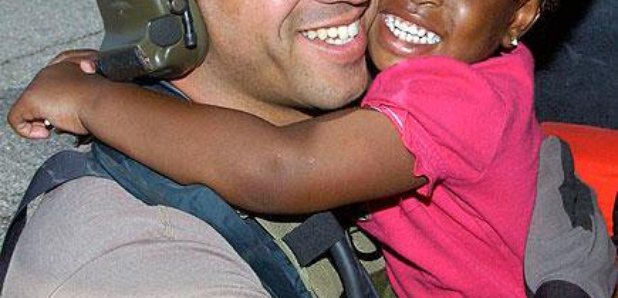 This is such a heartwarming story of two people who were first brought together in tragic circumstances.
During the devastating Hurricane Katrina in 2005, New Orleans was hugely effected by the destruction she wreaked.
When three year old LaShay Brown was rescued by pararescueman Mike Maroney, a photo of the pair embracing went viral.
And two years ago thanks to the power of social media and the hashtag #FindKatrinaGirl the pair were reunited for the first time since the rescue.
#FindKatrinaGirl a success! After a decade of searching, this little girl is found. #Katrina10 http://t.co/p2guwhZAOd pic.twitter.com/HgyVyCgu3g

— On The Story (@OnTheStory) September 7, 2015
Now a whopping 12 years after they first met, LaShay has invited Mike to attend her military ball with her.
She now attends the Junior Reserve Officer Training Corps, a high school supported by the US Armed Forces and wants to take her hero with her to celebrate.
When asked about his special invite he told People "I'm going because I would do anything to repay the hug to LaShay and her family."
He was battling post traumatic stress disorder when the first photo was taken in 2005 and when they were first reunited he said to LaShay "Your hug, it helped me through hard days, and rough days. You rescued me more than I rescued you."
What an incredibly touching tale with a happy ending!