"I'm A Shooting Star": Asteroid Named After Freddie Mercury For 70th Birthday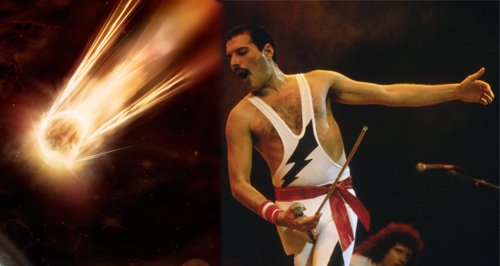 The world-famous Queen lyrics go "I'm a shooting star leaping through the sky", but now that's going to be put into practice FOR REAL!
November 24 1991 was a tragic day in pop history, when the world lost one of our greatest performers of all time.
The death of Freddie Mercury at the tender age of just 45 hit the world hard.
But now, on what would have been his 70th birthday, we're celebrating the enigmatic frontman in the most fitting way possible.
The 'Don't Stop Me Now' hitmaker is to have an asteroid named after him, all thanks to the International Astronomical Union's Minor Planet Centre.
The singer will join the likes of Bruce Springsteen and The Beatles as part of the pop space odyssey taking over our skies.
Queen guitarist Brian May announced the happy tidings at a recent party in Switzerland:
"I'm happy to be able to announce that the International Astronomical Union's Minor Planet Center has today designated Asteroid 17473, discovered 1991, in Freddie's name, timed to honour his 70th birthday," said May."
So now Freddie won't just share his name with a planet, but an asteroid as well!
We can't think of a more fitting way to celebrate his greatness.