Star Wars Fanatic Traffic Warden Still Gives Chewbacca A Ticket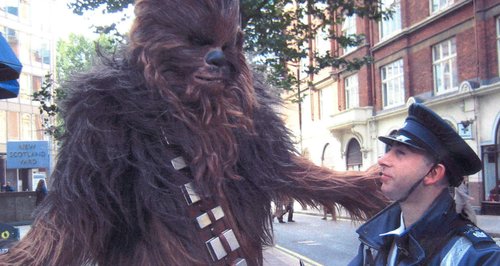 Star Wars fanatic traffic warden still chastises heroes from movie franchise for parking on double yellow lines...
We've all experienced that day-ruining moment when we discover that an overzealous traffic warden has stung us with a hefty fine, just minutes after our ticket has run out. And there's no exception for the REAL Darth Vader - even from a traffic warden who's a massive Star Wars fan.
Yep, a traffic warden and self-confessed 'Star Wars' fanatic has recalled the times he used the parking force against his idol, David Prowse, who played the first Dark Lord in the first three Star Wars films.
The jobsworth and Star Wars megafan, 46-year-old Richard Ekhsigian, took action against David Prowse, the original Darth Vader, when he found his BMW parked on yellow lines.
Richard,who has thousands of pounds worth of memorabilia, apologised to the cult actor while explaining he was unable to withdraw the ticket. That's what they all say...
And that's not all, ten years later he had to give some stern advice to Chewbacca actor Peter Mayhew for holding up cars outside Scotland Yard.
It turned out it was part of a promotional stunt for Star Wars Episode III: Revenge of the Sith, involving Chewbacca walking across London but it was in a restricted zone nonetheless...
But this time the dad-of-one managed to keep his ticket book firmly in his pocket and offered advice - before posing for a jokey photo with the wookiee.
It's no wonder that traffic wardens are the UK's most hated profession...