Swedish Fish Flavour Oreos Have Us Scratching Our Heads...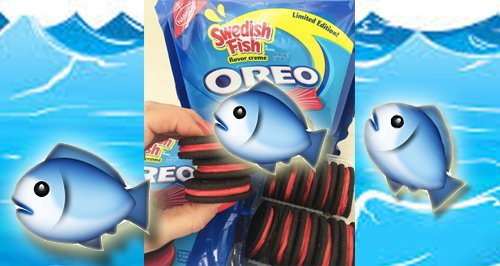 Our favourite biscuit has taken a turn for the worse...
What's not to like when it comes to Oreos? Two layers of double chocolate biscuits sandwiched together by a creamy filling flavoured with... SWEDISH FISH?
Yep, you heard us right!
In a bid to switch up their current offering, they've swapped out their signature vanilla cream filling for a brand new flavour, but at first glance it doesn't sound very appetising.
Don't worry though, the brand new take on the biscuit isn't actually made up of a fishy filling.
It turns out there is a popular sweet in the U.S called Swedish Fish, a chewy candy which is a bit like a wine gum and comes in a variety of flavours such as cherry, lime, orange and lemon.
So instead of a chocolate taste, the new range of Oreos will taste like a chewy sweet instead... Erm, how delicious?
We'll pass thank you...even if no fish were actually harmed in the making of these sweet treats!