The 10 Best Places To Live In The U.K Have Been Revealed!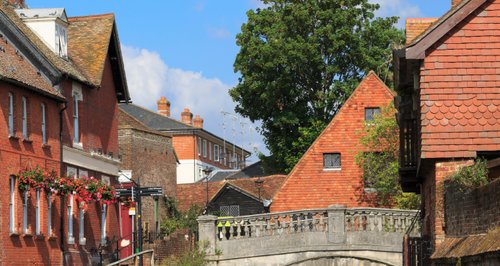 The most sought after locations to live across the country have been revealed and the results may surprise you...
The South East is the most desirable place to live, according to a new survey which saw locations such as Winchester, Oxfordshire and Hart dominate the top ten.
Shockingly, Scotland, Wales and Northern Ireland were left off the list entirely while Hambleton in North Yorkshire was the only Northern area to make the cut after landing a spot at 35.
Data from Halifax's Quality Of Life Survey For 2015 found that the best quality of life was in the South East, after 27 out of the 50 places mentioned on the list were located in that region.
The East of England claimed nine places in the top 50, while the West Midlands and the South West both had three places and the East Midlands had six places.
London managed to claim one spot on the list with Richmond-Upon-Thames landing a spot at 22.
Coming up trumps for it's fifth consecutive year was Hart in Hampshire, which was praised for having the best quality of life over anywhere else in the country.
The area scored highly across a number of categories including residents' health and life expectancy, personal well-being, employment, crime rates and weather.
Outside of the top 50, Monmouthshire in Wales was named as the district with the best quality of life - placed at 61 in the overall UK rankings.
In Scotland, the Orkney Islands came out top, and was ranked at 83 in the overall survey, while Mid Ulster in Northern Ireland just managed to landed a spot at 168 overall.
Here are the full results... so you agree with them?
HALIFAX QUALITY OF LIFE 2015 RANKINGS - THE TOP 50 LOCAL DISTRICTS

| Local Authority | Region | 2015 Rank | 2014 Rank |
| --- | --- | --- | --- |
| Hart | South East | 1 | 1 |
| South Oxfordshire | South East | 2 | 21 |
| Chiltern | South East | 3 | 5 |
| Winchester | South East | 4 | 3 |
| Rutland | East Midlands | 5 | 4 |
| Waverley | South East | 6 | 10 |
| Mole Valley | South East | 7 | 19 |
| Guildford | South East | 8 | 23 |
| South Cambridgeshire | East of England | 9 | 13 |
| Rushcliffe | East Midlands | 10 | 8 |
| Wokingham | South East | 11 | 9 |
| East Cambridgeshire | East of England | 12 | 39 |
| St Albans | East of England | 13 | 12 |
| South Northamptonshire | East Midlands | 14 | 7 |
| Horsham | South East | 15 | 64 |
| Mid Sussex | South East | 16 | 17 |
| St Edmundsbury | East of England | 17 | 68 |
| Eastleigh | South East | 18 | 53 |
| Epsom and Ewell | South East | 19 | 48 |
| Surrey Heath | South East | 20 | 20 |
| Stratford-on-Avon | West Midlands | 21 | 22 |
| Richmond upon Thames | London | 22 | 15 |
| Uttlesford | East of England | 23 | 6 |
| Vale of White Horse | South East | 24 | 62 |
| Chelmsford | East of England | 25 | 25 |
| Sevenoaks | South East | 26 | 14 |
| Tunbridge Wells | South East | 27 | 31 |
| South Bucks | South East | 28 | 76 |
| Tonbridge and Malling | South East | 29 | 42 |
| North Kesteven | East Midlands | 30 | 40 |
| New Forest | South East | 31 | 59 |
| Chichester | South East | 32 | 109 |
| East Hampshire | South East | 33 | 110 |
| West Dorset | South West | 34 | 134 |
| Hambleton | Yorkshire and The Humber | 35 | 50 |
| West Oxfordshire | South East | 36 | 30 |
| East Dorset | South West | 37 | 102 |
| North Dorset | South West | 38 | 95 |
| Harborough | East Midlands | 39 | 57 |
| Warwick | West Midlands | 40 | 11 |
| West Berkshire | South East | 41 | 85 |
| Wychavon | West Midlands | 42 | 63 |
| Windsor and Maidenhead | South East | 43 | 26 |
| Blaby | East Midlands | 44 | 89 |
| Mid Suffolk | East of England | 45 | 45 |
| South Norfolk | East of England | 46 | 78 |
| Basingstoke and Deane | South East | 47 | 29 |
| Wealden | South East | 48 | 43 |
| Test Valley | South East | 49 | 82 |
| East Hertfordshire | East of England | 50 | 28 |
Source: Halifax