The Queen Makes An Awkward Joke About Turning 90...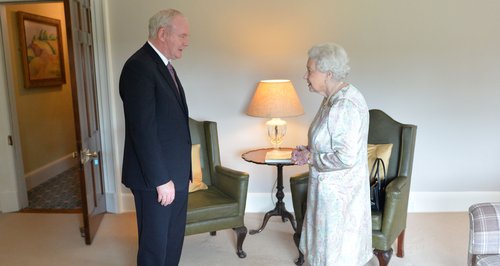 Well, what do you say when One says this to you?
So far this year, the Queen has reached her 90th birthday, not once but twice and now she's reminded us of why she's so GREAT!
The Queen is currently on tour in Northern Ireland and she is as sassy as ever.
When she met Northern Ireland's First Minister Martin McGuinness he asked "how are you?".
To which the Queen replied: "I'm still alive, anyway." Always a bonus.
Asked by Northern Ireland's Deputy First Minister how she is, the Queen replies: 'Well I'm still alive'https://t.co/9Q9YPTYsZl

— ITV News (@itvnews) June 27, 2016
The moment was captured on camera and well, the rest is history.
She went on to tell him that: "We've been quite busy. There's been quite a lot going on.
"I've had two birthdays, so we've been quite busy, absolutely."
"There's been quite a lot going on."
It's not the first time that the Queen has shown her sense of humour. First there was her James Bond cameo in the Olympic Opening Ceremony, and then came the Obama vs. The Royal Family challenge for the Invictus Games - the one that made us go 'BOOM'.
Keep it up Ma'am. You're doing great.