These Wacky Children's Halloween Costumes Include Their Pets!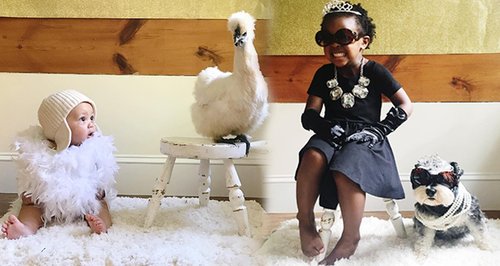 Are you looking for some last minute costume inspiration? Because mum Lindsey Bonnice, from Live Sweet Photography, wins at being the most original!
It's easy to feel the pressure when it comes to finding the perfect Halloween fancy dress outfit. if you're going to do it, do it well, right? And rather than opting for a ready-made outfit from the supermarket, points for originality often comes from turning to the things you have at home.
It's been decided that this mum wins at making homemade costumes for her children - and their pets!
The family have a small hobby farm that includes two pigs, two dogs, four cats, two goats, a sheep, a tortoise, bunnies and chickens.
Lindsey, who is a children's photographer and designer, shares her incredibly sweet photographs of Noah (eight), Libby (three) and Finn (seven months) to her 117,000 Instagram followers.
She says it's Libby that loves dressing up the most and we can totally see why!
In fact, she loves it so much that the family have published a book about the adventures of Libby and Pearl, featuring some beautiful photography of the pair.