These Are The Top 10 Things That Got Us Talking On Facebook In 2016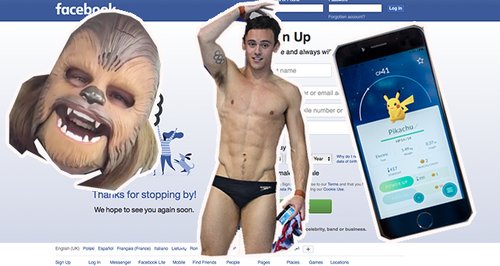 One thing's for sure, 2016 has been eventful, so lets cast our mind back at what we were ALL talking about on Facebook this year.
It's been a big year in showbiz, politics and the sporting world alike. Britain has unexpectedly seen it's second female Prime Minister come in to Downing Street, Donald Trump has become President Elect of the USA and the celebrity world has suffered some great losses.
Facebook have revealed the top 10 topics that got us talking this year.
Here are some of the top moments that got all of us in the UK talking on Facebook this year....
Brexit
Should Britain remain in the European Union? It was the topic that divided the nation nearly 50/50 but in the end Britain voted to leave. It cost us a Prime Minister and we got a whole new cabinet. We're still talking about it now.
US Election
Not many of us took billionaire and TV personality Donald Trump's candidacy for President of the United States very seriously, but we were left eating out hats when the Republican candidate pipped the Democratic candidate Hillary Clinton to the post.
Euro 2016
Footy fans were left disappointed by England's performance in the Euros this year (what's new there!)
So it's no surprise the topic took over Facebook, the pre tournament anticipation, the 'COME ON ENGLAND' status' and the angry post match commentary from football 'experts'.
David Bowie
Sadly, 2016 was a year of some of our most beloved actors and musicians passing away which included the iconic singer David Bowie.
The music legend passed away on the 10th January and soon after the news broke tributes began pouring in from fans across the globe filling our timelines with lightening bolts, clips from Labyrinth and quoting lyrics galore in the honour of the Starman.
London Mayoral Election
This isn't something that effected the whole nation, granted, but as so many people live in or near London and are effected by the consequences of dreaded TFL services, it's no surprise that this was a pretty talked about topic.
It was also a particularly big deal as winning candidate, Sadiq Khan, is London's first ethnic minority mayor!
Olympics
For pretty much the whole of August, the world was consumed by Olympic mania! The games were hosted in Rio De Janeiro and Team GB smashed it bagging a total of 67 medals - 27 gold, 23 silver and 17 bronze, our best Olympic performance EVER.
Pokemon Go
Whether you loved it or found it incredibly annoying, there is no denying that Pokemon Go was an internet sensation this year!
The app brought the beloved Gameboy game to life on our smart phones and had many taking to the streets to catch their favourite Pokemon's out and about 'in real life'.
Tough luck though if you house was near a Pokestop and you happened to have lots of teenagers hanging around nearby trying to catch a Bulbasaur!
Muhammad Ali's Death
The death of another legend sadly made the list, boxing superstar Muhammad Ali. He passed away on the 3rd June from septic shock following a respiratory illness in hospital.
Tributes poured in from across social media from fans and celebs alike who mourned the sad passing of one of the 20th century's greatest athletes.
And last but not least to end on a happy note, the most popular Facebook Live of this year was...Chewbacca Mom!
Candace Payne was over the moon with the purchase of this now famous Wookie mask. After going live on Facebook to show her pals the hilarious purchase she went viral and the clip was viewed over 160million times!
Relive it below (you're welcome!)