A Pub Garden Flooding Won't Stop These Guys Finishing Their Pints!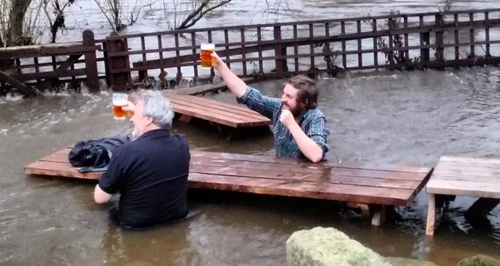 Nothing gets in the way of us Brits having a drink, no matter if it's wind, sleet, rain (or in this case, a FLOOD!) So after the outside of their Leeds pub flooded with water two locals decided to brave the elements and say "Bottoms Up!"
When John Kelly and Steve Holt opted for a pint with a riverside view, we're pretty sure they didn't expect to actually be sat IN the river itself!
After rocking up to their local pub to find their were no seats available inside (for obvious reasons!) the pair claim their only options were to "loiter outside or sit in the river."
Obviously not willing to leave the building without having quenched their thirst the pair decided to brave the elements, as John explained: "We just thought we're not going to get beaten by a river, we're going to have a beer."
"I stood and shouted at the water but it didn't seem to do much," John recalled on the moment the waves came crashing in. "Then we realised it wasn't getting any higher and the damage had already been done, so we decided we might as well sit in the beer garden anyway and have a pint."
HILARIOUS!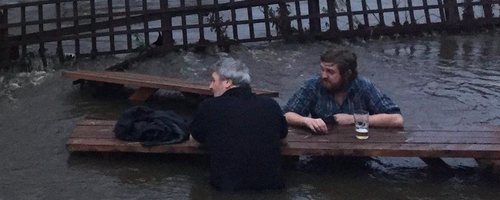 What's more, once they were submerged in the chilly waters this STILL didn't put them off!
"It was remarkably cold. The first 15 minutes were a little bit uncomfortable but once we settled down it was surprisingly therapeutic, to sit not just by the river but in the river. "It was a little surreal but it just became normal," he adds. "It was nice."
Something tells us they would have regretted the decision if they came down with the sniffles later on!
Their ability to solider on has certainly struck a chord with the public, who have taken to Twitter to salute the pair's stellar efforts!
There actually are 2 men sitting waist-deep in a flooded pub garden in Leeds to finish their pints. I'm impressed. pic.twitter.com/k76lAXFKun

— Luke Bailey (@imbadatlife) November 15, 2015
I mean, what else would you do if your local flooded...? https://t.co/uJbYY1eobO

— Edward Green (@edwardfgreen) November 17, 2015
Big up the lads who sat in a Leeds pub and finished their pints while it flooded #properleedslads #leeds pic.twitter.com/Nk8FUPZCcv

— O2 Academy Leeds (@O2AcademyLeeds) November 16, 2015