Goodbye Spring! UK Braces For 50mph Winds As Storm Stella Set To Hit
16 March 2017, 08:09 | Updated: 16 March 2017, 08:11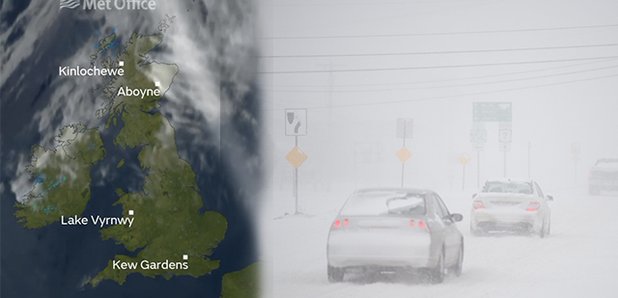 Storm Stella has caused chaos in the US this week. Now she's headed towards the UK bringing with it 50mph winds for the weekend.
You may have seen the chaos that Storm Stella has caused in the United States this week. New York has been put into shut down as blizzards and winds of 70mph hit the city. Now, it's heading our way.
It may be time to wave goodbye to the early Spring sunshine as Storm Stella is set to cross the Atlantic, splitting into two before hitting the UK.
Large temperature contrasts across the US will drive a strong #jetstream, bringing a change to more unsettled weather across the UK pic.twitter.com/yu61bYtmuE

— Met Office (@metoffice) March 15, 2017
Although the storm will lose some of it's potency by the time it reaches the UK, the weather is set to take a turn for the worse as of Friday.
The temperatures will feel cooler as the temperatures drop and winds of up to 50mph will bring the chill.
The Met Office has already recorded winds of up to 70mph in the Shetland Isles and has warned that much of the country faces a wet and windy few days while thermometers will drop around 8C from last weekend.
After a cloudy start, the sun came & shone for many of us on the #warmestdayoftheyearsofar but showers did affect Scotland. Here's the stats pic.twitter.com/YPo76KNNdP

— Met Office (@metoffice) March 15, 2017
Highs will only reach 9C in places on Friday.
Forecaster Sophie Randall, of The Weather Channel, said: "Overcast conditions will build from the west through Friday as rain spreads across much of Scotland, northern England, Wales and Northern Ireland.
"The south and the Midlands should remain relatively drier but becoming cloudy by the afternoon.
"Winds will be light to gentle and westerly, strengthening moderate to fresh for the western coastlines and across northern England."