This Waiter Got The Tip Of A Lifetime After A Moved Customer Heard His Story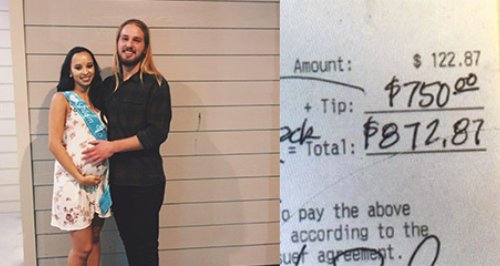 In America, people take tipping VERY seriously, but this took things to the next level!
Ben, an Irish waiter living and working in Texas, had Christmas arrive early when he received this incredible gesture from a customer he served.
The bill for the table was just $122 and he was astonished to find that the customer had actually left him $872!
That's a WHOPPING $750 tip which is roughly £600 - wow!
Apparently the customer overheard him talking with colleagues about how he would love to take his pregnant girlfriend, Taryn, home to Ireland to meet all of his relatives once the baby is born.
They were obviously touched by his story and decided to leave him the incredibly generous tip alongside the following message,
"Hopefully this can get you back to Ireland for the holidays!"
His girlfriend, Taryn, shared the story and the receipt on Facebook and it has gained thousands of likes from people who share their appreciation for this incredible gesture of good will.
We hope you both get to Ireland this Christmas!