The Downright Wackiest Festive Stuff On Supermarket Shelves!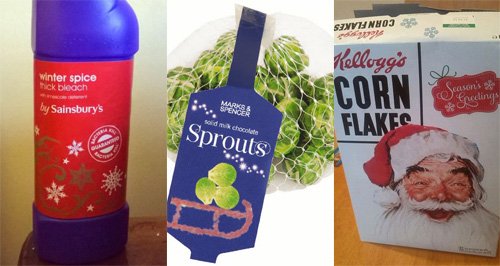 'Tis the season to be jolly, but it is also the season to buy loads and loads of stuff. Fortunately, the nation's biggest supermarkets have us covered with some seriously weird and wonderful Christmas-themed products. Mulled Spice bleach anyone?
Let's face it Christmas branding is everywhere; from Costa coffee cups to shop windows. But every now and then we clock a product and think, 'Do we really need that to have holly and reindeers all over it?'
For a split second we decide that we'd never be gullible enough to buy santa loo roll...
But then we realise it's three hours later, we're at home and there is snowman kitchen roll on the countertop, reindeer loo roll in the toilet and ridiculous amounts of Christmassy packaging in the cupboards. We just can't resist!
If you're a Christmas-lover or a staunch Scrooge, here are some of the most bizarre Christmas-themed products from the supermarket shelves to make you titter…
Fancy a festive clean?
Want to turn yourself off mulled wine for life? Why not try cleaning your loo with festive bleach! Now every room in your house can smell like pine trees and gingerbread cookies…ewwww.
'Cos nothing says #holidaysarecoming like festive bleach @sainsburys pic.twitter.com/O4h2w5iAtc

— Emma Rodgers (@Em_Rodgers) October 16, 2013
Snazzy sprouts
Marks & Spencer had plans to change our opinions of sprouts by making sprout-like chocolates. We're sensing a great way to trick the kids coming on…
Introducing a new variety of sprouts that everyone will enjoy! pic.twitter.com/xEZenyaguw

— M&S (@marksandspencer) November 19, 2013
Christmas toilet time
Wow, the supermarkets seem to really want us to jazz up our loos this Christmas! Toilet roll has the grossest function out there, so can it really be improved by covering it in Christmas doodles? We'll let you decide that one…
Holidays are coming! Nothing says Christmas like promotional packs of loo roll. pic.twitter.com/oZhxKvSv7D

— Matthew (@ifartinbed) November 6, 2015
Silent Night
We already eat, drink and breathe Christmas in November and December, so now we can add sleep to the list too with this festive bedding. All you need is santa pyjamas, reindeer slippers and a bright red dressing gown and you're good to go!
Loving my Christmas bedding from @asda pic.twitter.com/bKWmQQRpKU

— SUGGMAS (@pastel_sugglets) November 8, 2015
Festive feasts
We wonder how many more boxes of Cornflakes Kelloggs sell every year because they put Santa Clause on the box? While we are pondering the answer to that question, we'll tuck into our Christmas biscuits, chocolate, crumpets, cake, sweets and booze. YUM!
And so it begins seasonal packaging Christmas is coming people pic.twitter.com/mB1wjY2yho

— Weno (@wenodempsey) November 9, 2015
Knits…for booze
This isn't just Christmas branding, this is Marks & Spencer Christmas branding. Why buy a bottle of port if it's not wearing a knitted bottle cosy jumper? Head down to your local shop and stock up!
M&S are selling miniatures of port wearing Christmas jumpers. pic.twitter.com/MTZ3W9tgRk

— Paul Lang (@rudemrlang) November 15, 2013