Winter Returns As Temperatures Set To Plummet At The End Of April
21 April 2017, 15:43 | Updated: 21 April 2017, 15:59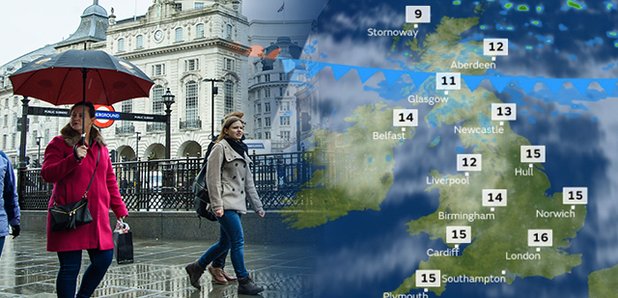 If you thought summer was here to stay, think again as sleet and snow is forecast for the end of April.
There was a moment there when we thought that winter was out, and spring was in. Goodbye woolly jumpers and hello spaghetti straps.
But before you jump the gun and put the winter wear in the attic, it might be worth taking a look at the weather forecast. Snow, sleet and arctic temperatures are on the agenda.
Low pressure will bring a windy end to Sunday in Scotland, then it gets much colder for all next week as arctic air arrives. #WinterReturns pic.twitter.com/ML20XrMLmA

— Met Office (@metoffice) April 21, 2017
After a hot start to the month, the Met Office are predicting cold weather for the whole country beginning in time for the weekend.
The Met Office has warned that frost and ice is on its way as cold weather from the Atlantic Ocean sweeps over the nation for the end of April.
Although technically it is supposed to be spring, we can expect the weather to worsen up and down the country.
Forecaster Craig Snell said: "Cold weather is certainly on the way next week. In the meantime it's been up to 19C in Aberdeenshire today but tomorrow a cold front will come in.
The #Lyrids meteor shower peaks this weekend. Will there be clear skies? Check the latest forecast https://t.co/WTqLUa2R6A pic.twitter.com/66g4fMoUlW

— Met Office (@metoffice) April 21, 2017
"England and Wales will drop to about 16C but the South Coast will not have a bad day.
"But the main focus of rain will be the central and southern areas as it makes it way south across the day. For England it will remain warm in the sunshine across the day.
"It will be much colder by Saturday which is a sign of things to come."
He warned that the mild temperatures will double to around 10°c and 12°C and then drop as low as 7°C in Scotland.
"There will be a widespread frost and just below freezing.
"Bands of wintery showers with rain, sleet and snow will move across the country.
"During the day it will melt in the snow but accumulate in the mountains of Scotland."