Woman Buys £1m Scratch Card To Prove They're A Waste Of Money But Gets Shock Of Her Life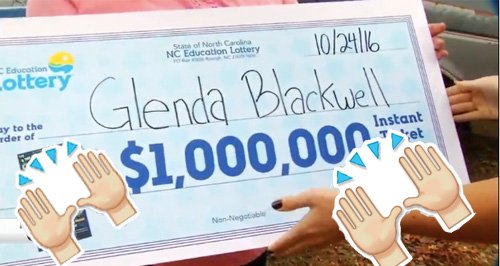 Don't you just hate it when you're wrong?
A sceptic who was desperate to discourage her husband from buying scratch cards, quickly found herself not only proven wrong but ONE MILLION POUNDS richer.
Glenda Blackwell, 57, told her husband he was a fool when he asked her to pick up two scratch cards for America's Powerball Lottery, as she believed they were a waste of money.
Despite finding herself "aggravated" by his penchant for gambling, she bought them anyway in the hopes of proving that buying scratch cards is a total scam as you'll probably never even come close to winning.
That backfired when the one she bought on Saturday turned out to be a winner for A MILLION DOLLARS!

"I had to eat my words, but they were worth eating," Blackwell told WLOS. "So, I was very happy."
Unfortunately, in the U.S they get taxed on their winnings (yea we know, ridiculous!) and so she actually only walked away with $415,000 after tax, which works out around £339,503.
According to Glenda, the family had financial issues and would now be able to buy their own house, not to mention helping pay for her two granddaughters to go to university.
How cute?
Despite her epic win, Glenda insists that she STILL won't be buying anymore scratch cards!