Alison Hammond Reveals The Reason Prince Harry Ran Away From Her!
15 January 2018, 10:06 | Updated: 16 January 2018, 14:35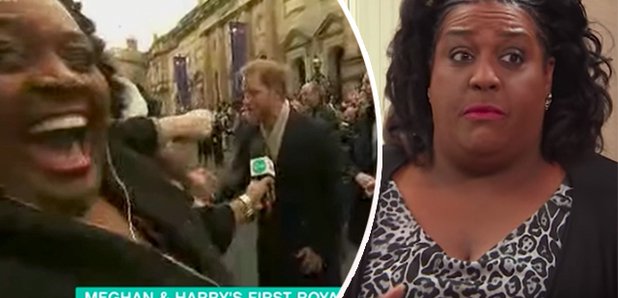 We all remember that hilarious moment Prince Harry snubbed the This Morning star.
When the news was announced that Prince Harry and Meghan Markle were to be engaged the whole country got excited!
But one such TV star who was visibly ecstatic for the couple was This Morning's Alison Hammond as she attended the couple's first official royal engagement in Nottingham.
She lined the streets with the public armed with her This Morning camera crew to see if she was in with a chance to bag a few words from the newly engaged pair but things didn't go to plan...
Speaking to Heart she said: "I had a lovely day that day. It was a beautiful day and all the people that were on the street were in really good spirits."
But despite it looking like Prince Harry had run away from her she said there was more to the encounter than meets the eye.
"When Harry looked at me he did have a sparkle in his eye and he smiled and he was coming over to have a chat. As soon as he saw my microphone that was the point that he thought, no, I'm not having any interviews I don't want to speak to any journalists."
"And that was the moment he swerved me, but before that reaction what you didn't see was the love in his eyes when he saw me – the connection!"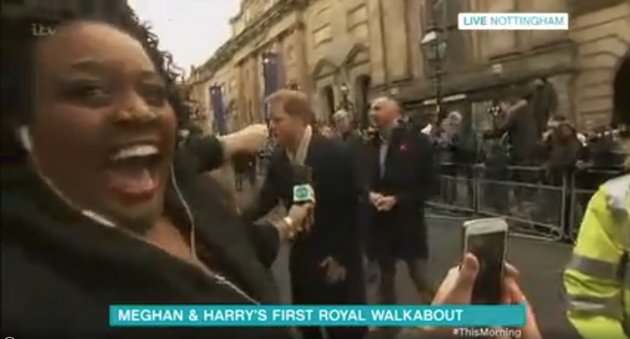 But thanks to the royal wedding Alison and Prince Harry may be united sooner than they expected. She said she thinks This Morning might ask her to interview the pair ahead of their big day.
She explained: "I like Harry I think he's a great guy and I'm genuinely happy for him from the bottom of my heart. I'm really excited about this royal wedding obviously, coming from an afro Caribbean background, also Meghan has that, it's like I'm marrying Harry through Meghan."
To vote for This Morning in this year's NTAs go to: https://www.nationaltvawards.com/vote This Morning, weekdays at 10.30am on ITV.