Here's The Lunch Menu For Prince George When He Begins School This Week
4 September 2017, 10:24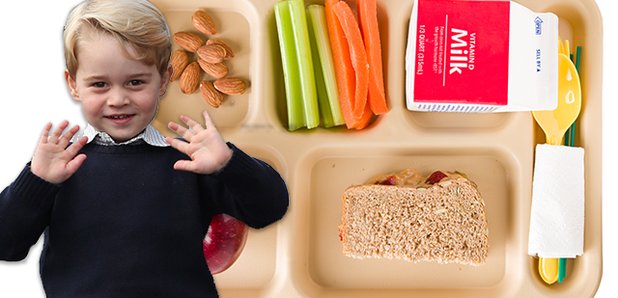 Prince George is all grown up and heading to school this week! Here's what he'll be getting served for lunch and there's not a turkey twizzler in sight...
When we think back to our school dinner days fond memories of turkey twizzlers, fish and chips and sponge cake covered in custard come to mind.
And despite kids these days being faced with far healthier options at mealtimes in the canteen, we wouldn't have had it any other way. Potato smiley, anyone?
Prince George is all grown up and is heading off to school this week! We can hardly believe the little heir to the throne is that age already but it's true and this week he starts his school life off at the £17k a year Thomas's Battersea, an independent school in London.
For that amount of money you'd expect more than jelly and custard at lunch time and according to the menu on the schools website there are some pretty swanky options.
For example, one sample menu outlines a Monday menu as soup of the day followed by lamb ragout with garlic and fresh herbs topped off with a fresh custard tart with strawberries - and that's just the meat option!
Each day the young students are afforded with a meat, fish or vegetarian option to choose from and choices such as teriyaki salmon, pork stroganoff and three bean ratatouille are commonplace on a menu which caters to children as young as 5.
They make the usual school dinners sound pretty drab! Do they do Deliveroo? We'd love to give that menu a try...