Vintage Home Video Shows The Queen Playing With Prince Charles in 1949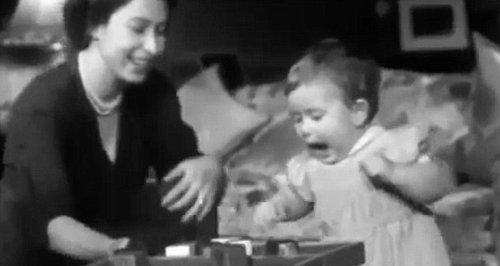 To celebrate Mother's Day, Clarence House released this adorable video of the Queen enjoying a playful tickle fight with Prince Charles...
We admit it, it's sometimes hard to think of the Queen as a 'traditional mum'…we've only ever seen her children saluting and singing the national anthem about her!
But to celebrate Mother's Day, Clarence House has posted this adorable home video on its Twitter page showing the Queen and Prince Charles playing in 1949.
Today, we're sharing this video of The Queen and The Prince of Wales having fun at home in 1949. Happy #MothersDay!https://t.co/U4S33GVkaH

— Clarence House (@ClarenceHouse) March 6, 2016
The Prince would have been just one, which is why the Queen is encouraging him to walk by tempting him with toys! The royal duo also enjoys a tickle fight and a game of peekaboo outside Buckingham Palace.
The Queen would have been just 23 when this video was taken, and she purportedly produced the clip herself calling it 'Prince Charles at Home'.
The private video was initially shown during the Queen's Christmas Day broadcast in 2008 and was later broadcast by the BBC in 2012. It was also shown to her guests at a reception for the British Film Institute in April 2013.
Turns out the original footage is kept under lock and key in the British Film Institute's archives…we wonder what else is there?!
What do you think? It's nice seeing the royal family in a 'normal' light, right?