Kate Middleton Giggles As The Countess Of Wessex Takes A Tumble At Ascot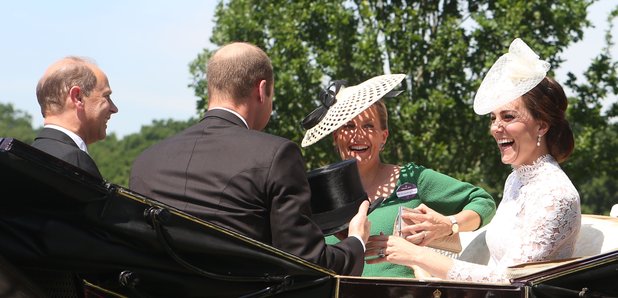 The two Royals were spotted in a pickle as they exited a carriage at the racing event.
It's that time of year again, Royal Ascot!
The most senior Royals don their best hat and tails or fascinator and heels and head to the famous Berkshire race course.
The Queen, Prince Phillip, Duke and Duchess of Cambridge amongst other members of the Royal family attended the scorching first day of the race meet which saw some of the hottest temperatures experienced at the event.
Kate arrived in style sporting a white lace Alexander McQueen gown with her husband Prince William as well as the Earl and his wife, Sophie Countess of Wessex.
However the pair were spotted having a giggle as Sophie stumbled while exiting the carriage the foursome arrived on.
The pair were seen to look shocked as Kate tried to catch her friend before bursting into fits of laugher and onlookers said even Prince William was seen chucking in the background!
The first day of this year's Royal Ascot meet saw temperatures reach a whopping 30 degrees which would have been unbearable for gents who were done up to the nines in a top hat and tails.
All of the male royals stuck to the staunch dress code but for the first time, members of the public were allowed to remove their coats at the event which is usually always considered a big faux pas.
However the day ended in a low note as Prince Phillip was unfortunately hospitalised due to an infection yesterday evening.
As a result 96-year-old will miss the state opening of Parliament but is reported to be in good spirits. An official spokesperson for Buckingham Palace said "The Duke of Edinburgh was admitted to King Edward VII Hospital in London last night, as a precautionary measure, for treatment of an infection arising from a pre-existing condition."