Kate And Wills Share Emotional End To India Tour By Retracing Diana's Footsteps.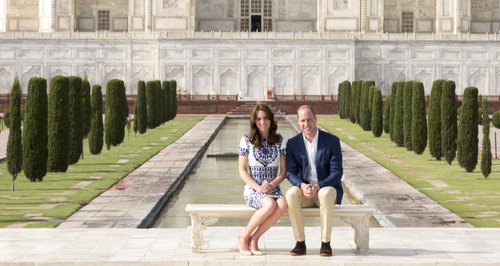 The Duke and Duchess visit India's most iconic buildings...the Taj Mahal.
Prince William and Kate are just a few days in to their week-long royal visit to India - a country which the Duke and Duchess have been planning to visit since they got married apparently! Are we sensing a 'second honeymoon' vibe?
Anyhoo, here's everything you need to know about Kate and Wills' tour; from the people they've met to the activities they enjoyed (hint, it's mostly sport, sport and more sport!)...
Saturday 16th April - Walking in Diana's Footsteps
Prince William and Kate retraced the footsteps of Princess Diana as they visited the Taj Mahal on the final day of their royal tour of India and Bhutan over the weekend. The pair sat down to recreate Diana's iconic portrait from her trip to India in 1992.
What an emotional way to round up their trip!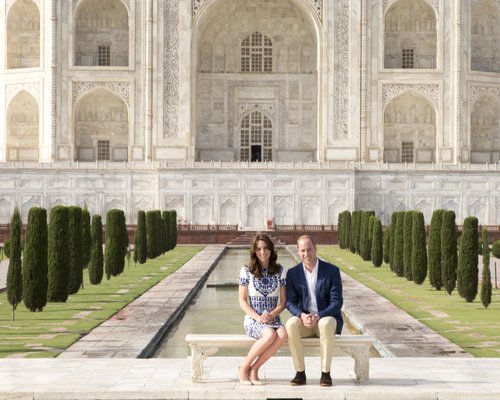 Friday 15th April - Burning Off The Curry Calories!
After yesterday's archery antics, the Duke and Duchess of Cambridge embarked on a trek to the remote 10,000ft Tiger's Nest monastery on Bhutan clifftop.
The Duchess hardly broke a sweat on the three hour trek and joked: "It's a great way to burn off the curry!"
Picture | PA
Thursday 14th April - The Duke and Duchess meet the 'Kate and Wills of the Orient'
The Duke and Duchess of Cambridge stepped off the plane in Bhutan this morning, to be greeted by the Bhutan King's sister, Princess Chhimi Yangzom and her husband.
Later, the couple were introduced to the Himalayan country's Dragon King and Queen, King Jigme Khesar Namgyel Wangchuck and his wife Jetsun Pema, who are also dubbed by local media as the 'Kate and Wills of the Orient'!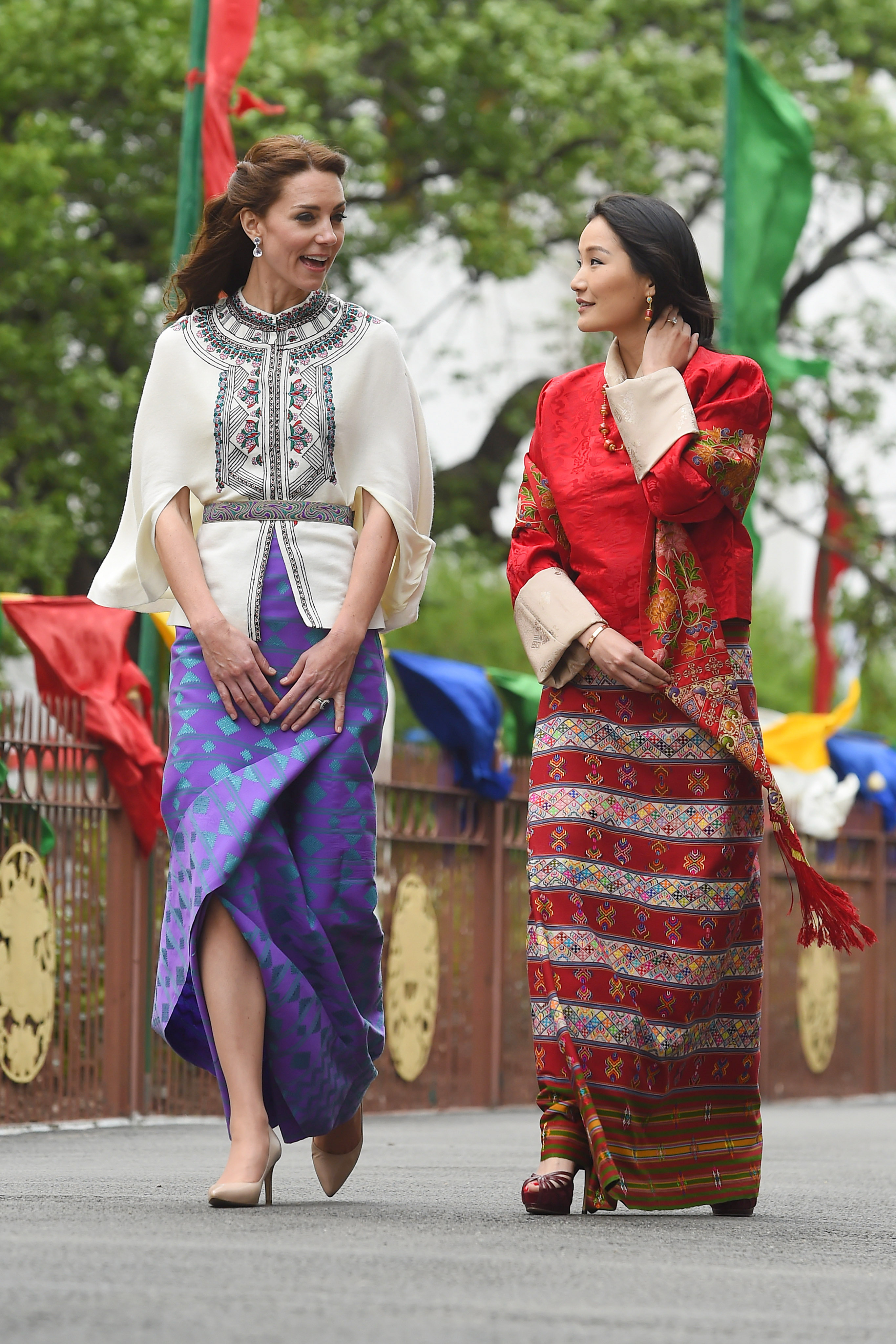 The Duchess wore a traditional Bhutanese skirt for the occasion, which was woven by the local weaver Kelzan Wangmo in Bhutan.
Wednesday 13th April - A Right Royal Safari!
It's a day for ditching the heels, donning on the khaki and dressing down for the royal couple. The Duke and Duchess of Cambridge embarked on a safari through Kaziranga National Park in Assam, where they saw elephants and rhinos.
The Duchess wore a pair of skinny jeans from high street store Zara, paired with a pretty dotted blouse.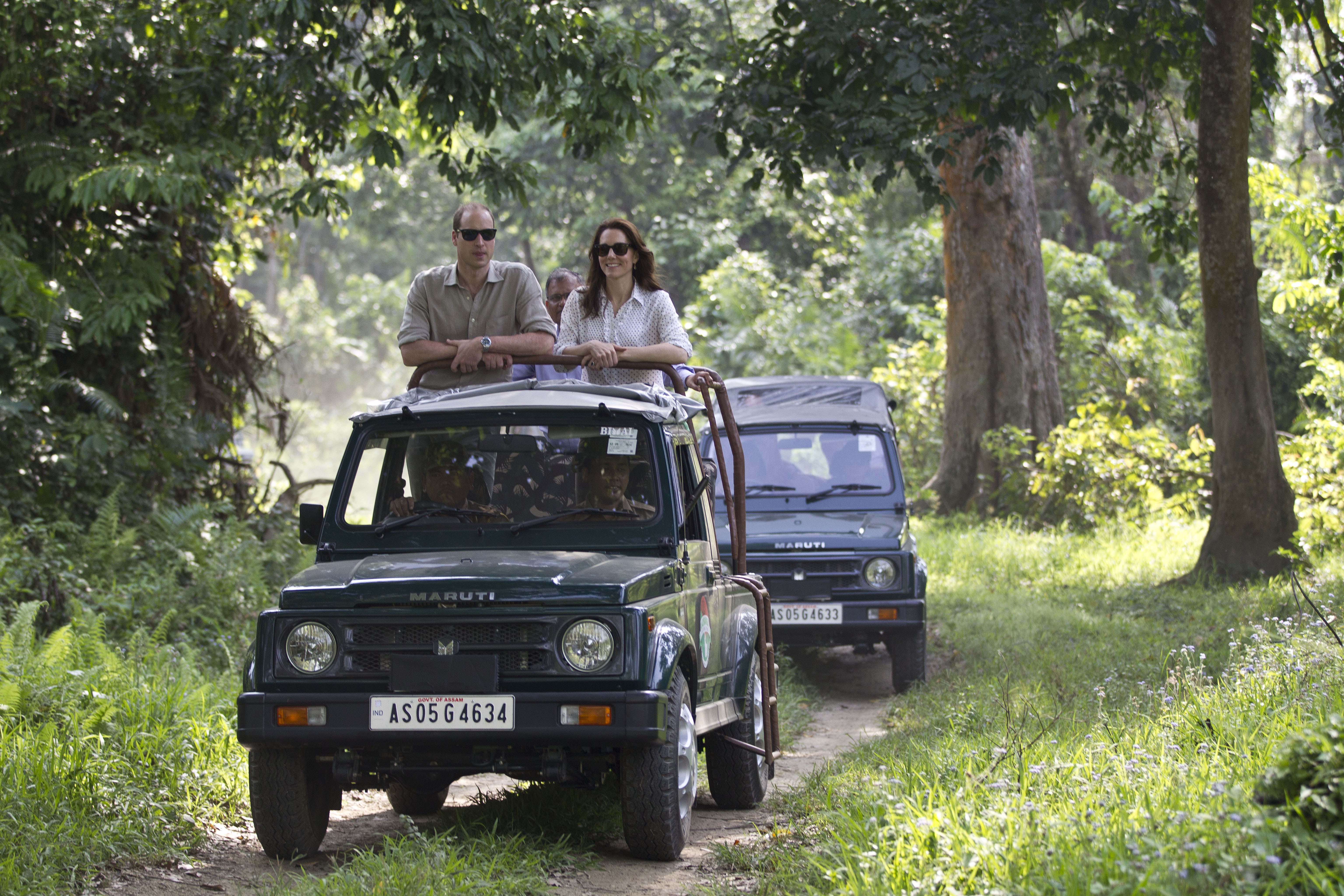 Picture | Heathcliff O'Malley/Daily Telegraph/PA Wire/Press Association Images
Tuesday 12th April - Arts and crafts
The Duchess of Cambridge enjoyed an arts and crafts session with street children at a contact centre run by the charity Salaam Baalak, which provides emergency help and long term support to homeless children at New Delhi railway station, India, during day three of the royal tour to India and Bhutan.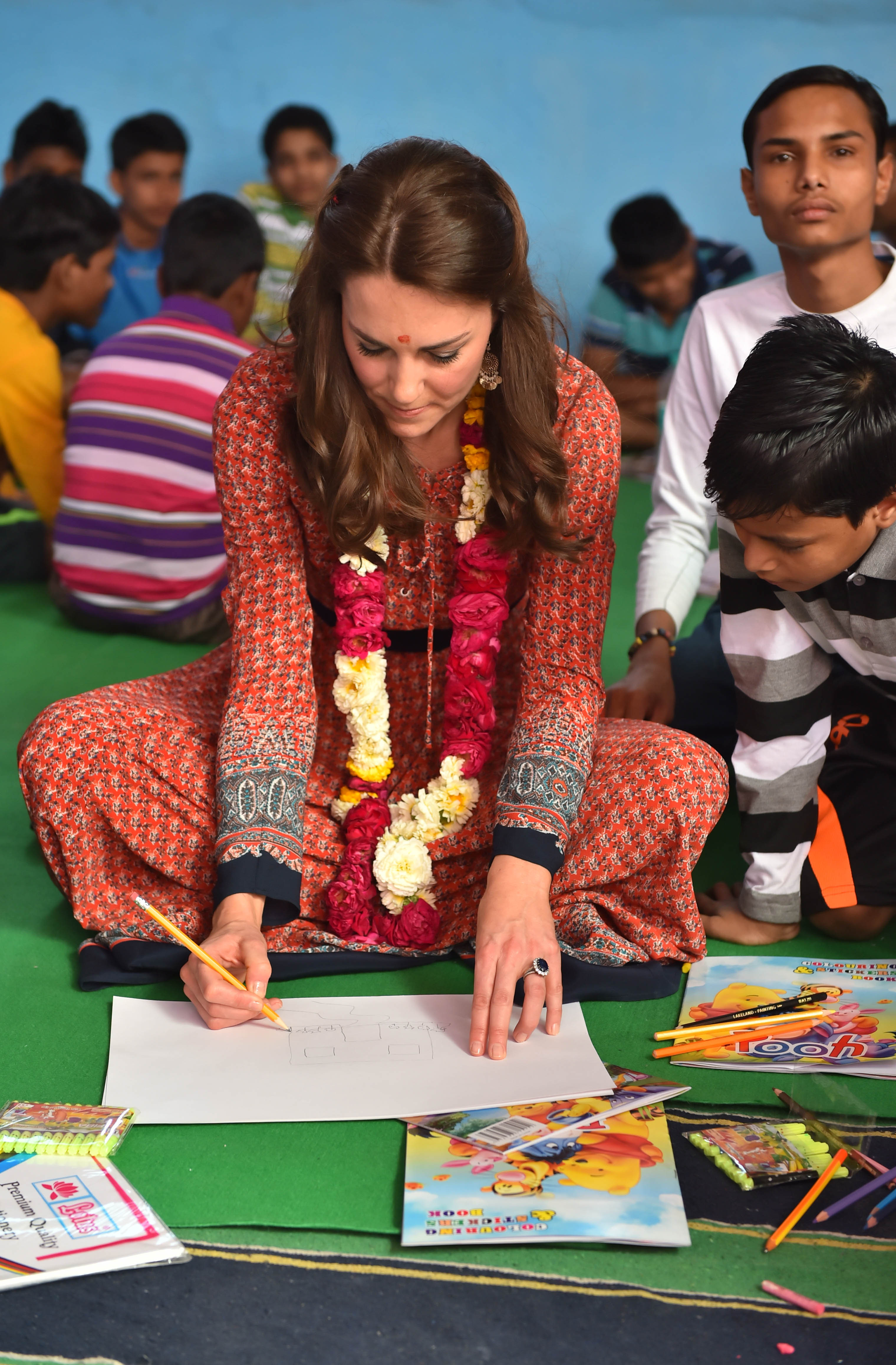 Monday 11th April - Prince William in the driving seat and the Queen's 90th birthday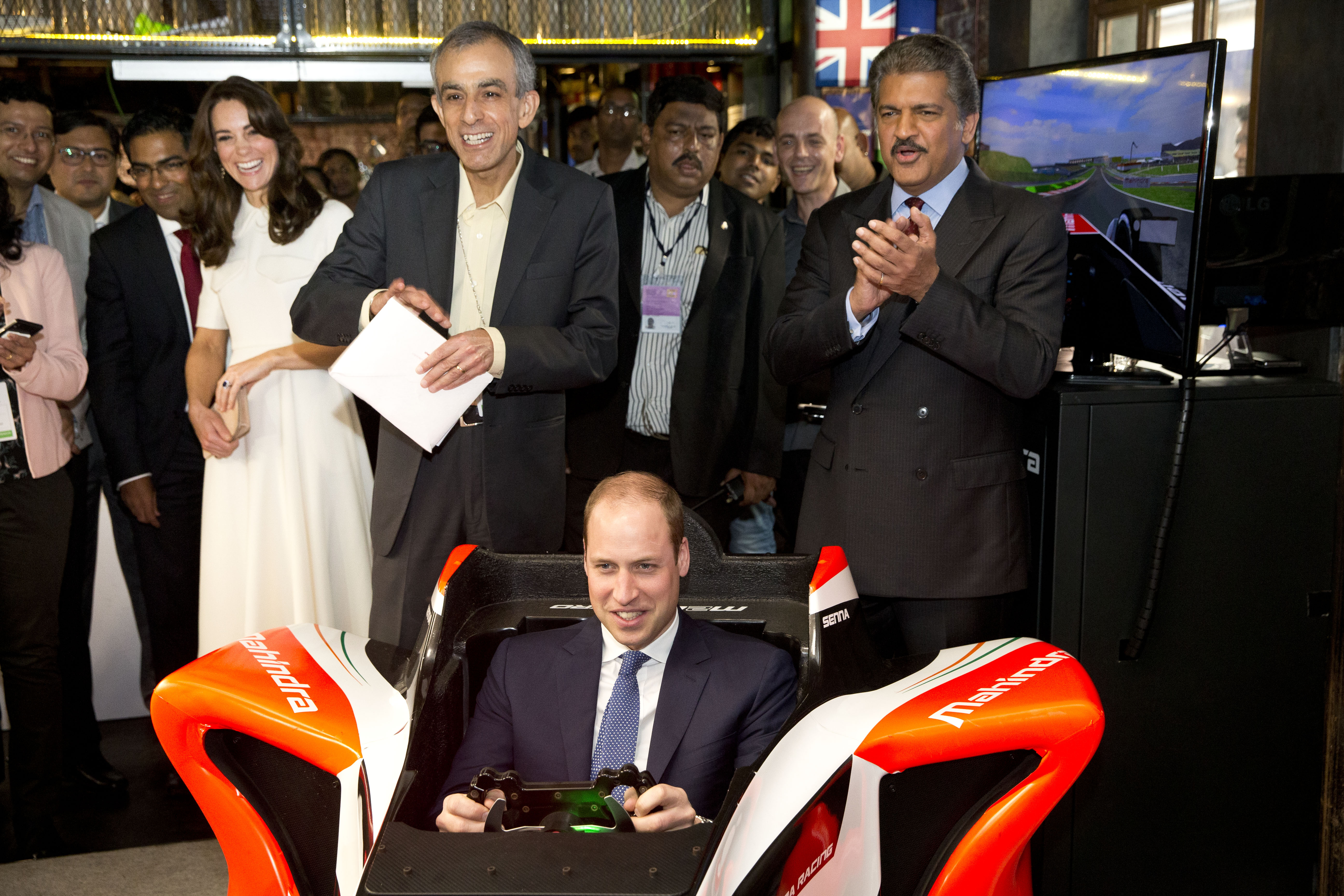 The Duke and Duchess met with young entrepreneurs to find out their plans for shaping India's future - and Prince William even managed to get behind the wheel of a Formula One car!
Kate looked stunning in a cream Emilia Wickstead tea dress, but we reckon she's terrified of getting a stain down it...why else would she turn down an Indian-style pancake made by William's fair hand?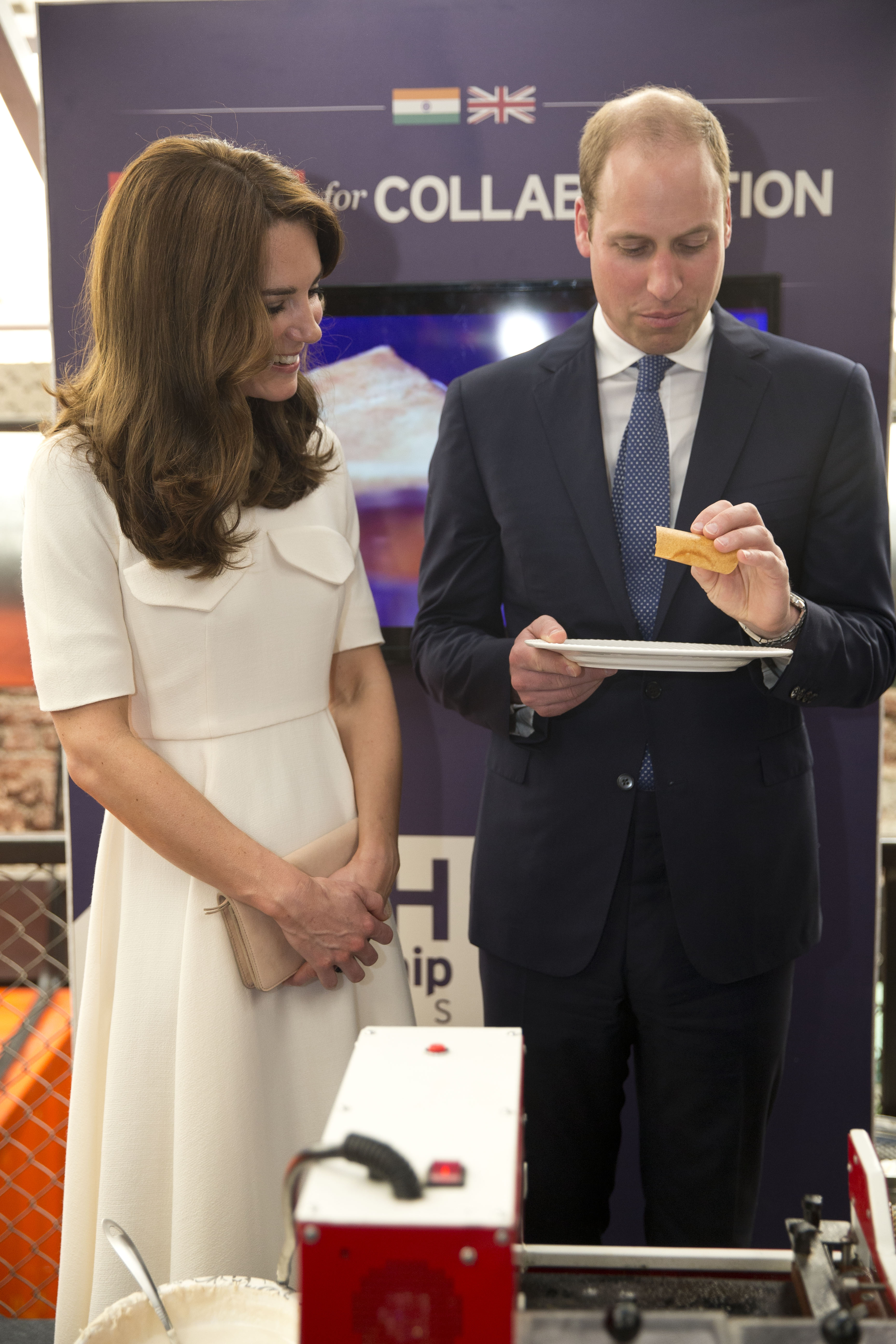 The pair also made their way to Delhi to pay their respects to the 70,000 Indian soldiers who fought for Britain in WWI, with Kate experiencing a 'Marilyn Monroe moment' in her dress.
Ever the sophisticated lady, she saved the day by gathering the fabric with an expert hand...it was touch and go for a second though!
Later that day, Prince William and Kate attended a garden party to celebrate the Queen's 90th birthday, with Kate wearing one of her favourite designers, Alice Templerley.
After cutting a birthday cake with a giant sword (yes, really) Prince William praised his grandmother, saying: "I am incredibly lucky to have my grandmother in my life. As she turns 90, she is a remarkably energetic and dedicated guiding force for her family." Awwww!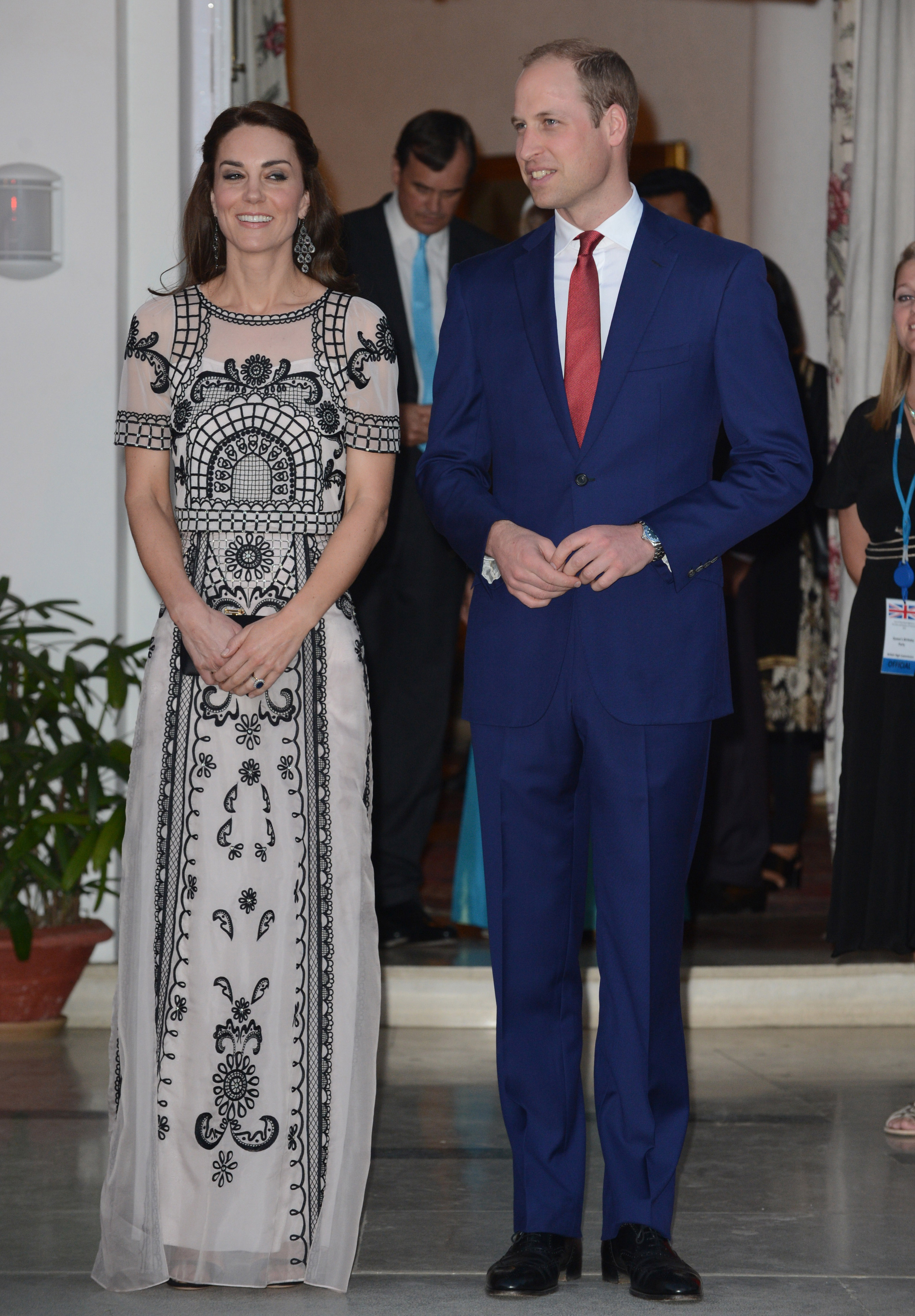 Sunday 10th April - First stop, Mumbai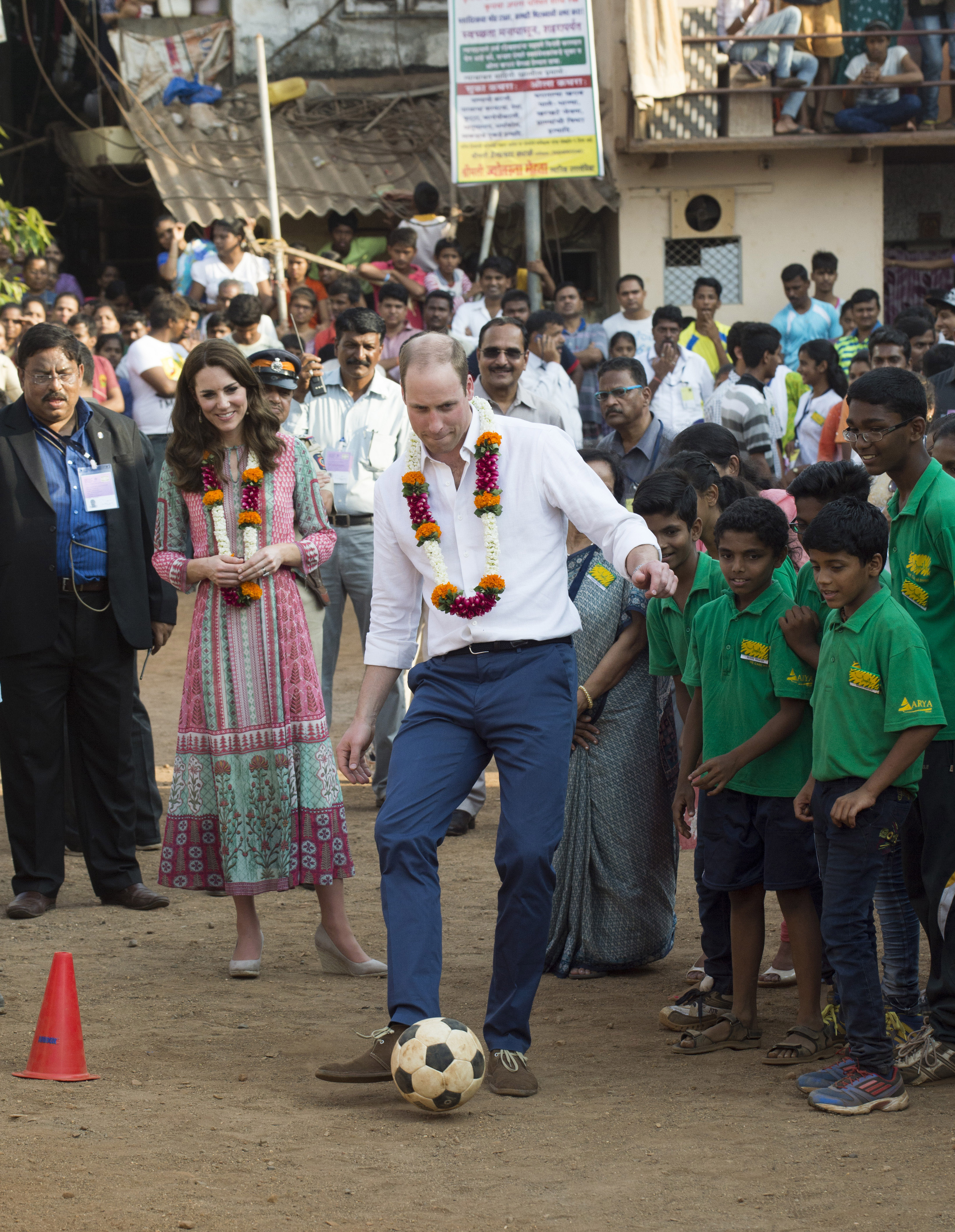 William and Kate arrived in Mumbai and spent their first day touring the city's slums. Kate may have been wearing wedge heels but she still managed to play cricket and football with the local children, proving they're both sports fanatics at heart!
After catching their breath, the duo visited the Oval Maidan - a big open recreational ground in the south of the city, followed by a gander at the historic Banganga water tank.
That evening Kate and William got dressed up to the nines to meet Bollywood superstars at a gala dinner, with Kate looking exceptionally glamorous in a cobalt blue Jenny Packham gown with statement earrings by Indian jeweller Amrapali.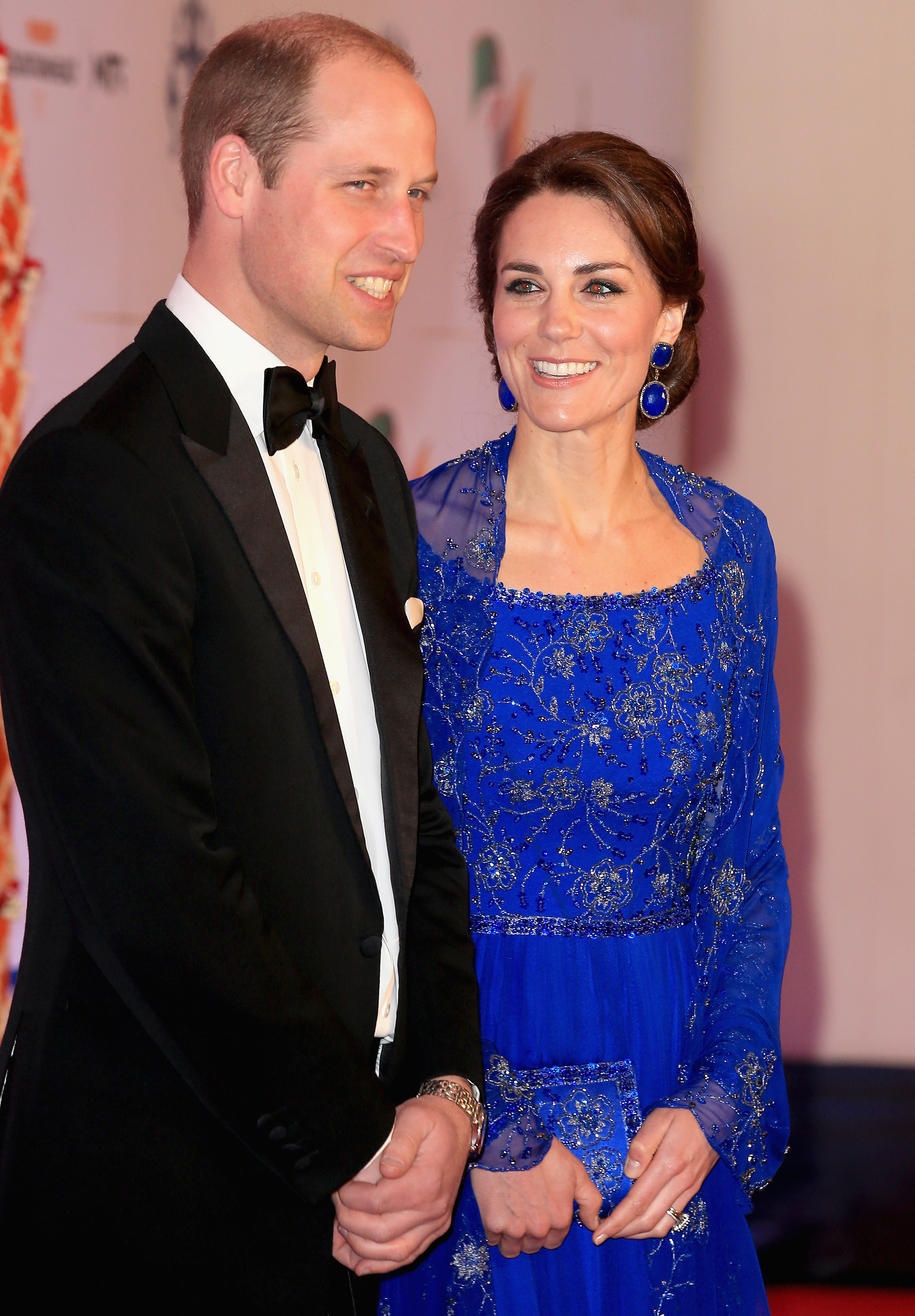 Where are they staying?
The Duke and Duchess are staying at the Taj Mahal Palace hotel, which was the site of a deadly terrorist attack in 2008 claiming the lives of 31 people. To commemorate the tragedy, William and Kate laid a wreath to pay their respects.
The hotel is also significant for the couple because it overlooks the Gateway of India, which was built to commemorate the visit of Prince William's great-grandparents, King George V and Queen Mary to Mumbai in 1911.
What do you think of the 'royals on tour'?