Meghan Markle's new style of handwriting suggests the Royals have 'relaxed' her
1 June 2018, 15:14 | Updated: 1 June 2018, 15:20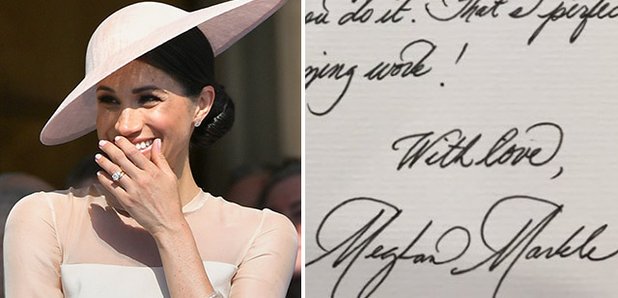 Since meeting the Royals, experts believe her handwriting has relaxed considerably.
Meghan Markle oozes creativity; not only is she a talented actress, she's also a dab-hand at calligraphy.
The new Duchess of Sussex worked as a calligrapher before finding fame in popular drama Suits, and her beautiful handwriting has resurfaced via a letter she sent to a fan back in 2016.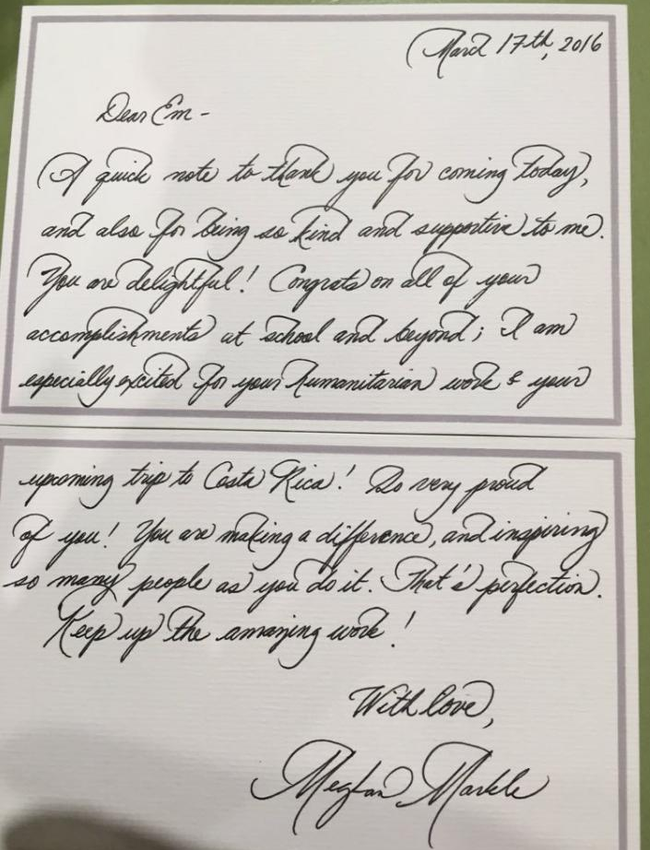 Credit: Twitter - Emily Sorrells
Handwriting analyst Tracey Trussell of Right Hand compared this elegant style to her more speedy scrawl seen in a guest visitor book in Belfast earlier this year.
She told Femail that this new style of writing shows a more 'relaxed' side to the actress, believing that Prince Harry has had a positive influence on his new wife.

Credit: Getty
Tracey explained: "It is apparent that Harry is having a very positive affect on Meghan."

"'Meghan is much more sensitive than people realise, and with Harry's royal clout and protection she has been able to relax and blossom more naturally and fulfill her desire to be a humanitarian and do 'good deeds'."
The expert continued: "Her main motivation used to be purely practical. Financial considerations took top priority and headlined her world."

"But now that she can relax and doesn't have to worry about money anymore, this gives her the opportunity to focus on other areas of life, which will likely benefit other people."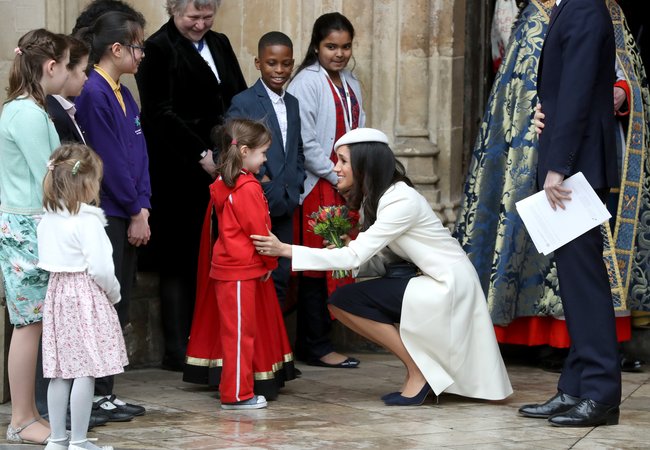 Credit: Getty

Referring to the large swoops Meghan used to put on the 'M' at the start of her name, Tracey Trussell believes that this signifies her passionate streak.
She said: "The little hook at the start of her capital 'M' also reveals that once she has set her heart on something, nothing will stop her until she's satisfied her goal. Meghan is likely to be extremely committed to whatever she undertakes."
This is apparently in stark contrast to her new style, which appears to be nestled under Harry's signature.
"It would appear that Harry is her new protector," the expert revealed.
WATCH! The best highlights from Prince Harry and Meghan Markle's ceremony: