Pippa Middleton Reveals The ONE Word She HATES Being Called...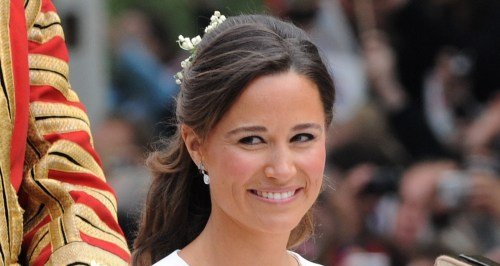 It's not easy being the younger sister of the Duchess Of Cambridge and Pippa thinks there's some things about her you NEED to know.
We've seen her at a number of royal engagements, partying with the well-heeled at a number of glitzy parties and we've only JUST gotten over how fabulous her derriere looked when she played Maid Of Honour at Will and Kate's wedding back in 2012.
Despite being one of the most photographed ladies in the land, Pippa Middleton has tried to keep a very low profile until now.
So you can imagine our surprise when the 33-year-old royal-in-law opened up for her first MAJOR interview with the Daily Mail, where she spoke candidly about how she's adjusted to life under the gaze of the public eye, her love of cooking, and why she detests her party girl image.
We've rounded up just some of the surprising things about her, that made us realise she is both beauty AND brains.
She's learned to be as tough as nails
After being catapulted into the public eye following the royal wedding, Pippa says she's had to grow a "thick skin" in the years that have followed.
"I have had a few years of being in the public eye and I have developed something of a thick skin, but managing it all on my own has been quite hard. I have quite a lot thrown at me, such as being followed by people hiding behind cars and jumping out with cameras. It can be unnerving."
Pippa doesn't have security or media handlers
Unlike her sister, Pippa isn't entitled to have her own fleet of security or her own personal spin doctor to handle any media crisis that may arise.
"There's always something cropping up and that has to be managed on my own. It's been a real eye-opener for James. There have been quite a few hurdles to negotiate."
She HATES the "S" word... Socialite that is!
If there's one thing you should NEVER call Pippa Middleton, it's SOCIALITE. The brunette beauty defended herself against those who she claims wrongly perceive her to be an entitled party girl.
"People see me as someone privileged who has used my position to advantage; that I don't really work, that I am a socialite - that word really irritates me - and that I'm a party girl without any substance."
Pippa really regrets THAT cringeworthy party planning book
She might be having another stab at writing with a cookery and fitness bible, but Pippa admits that she probably wasn't ready when she made her first foray into publishing with her party planning book 'Celebrate'. The book was panned by critics and sales didn't do as well as expected.
"I believed in it and I can't blame anyone else, but maybe it might have been better if I had waited a bit longer before doing it."
Cooking helped her snap up finance James Matthews
Pippa reveals that early on her relationship she used her cooking skills to impress her fiance James Matthews and made sure to rustle up his favourite dish of Halibut and roasted tomatoes and herb dressing.
"I am sure he might choose a different dish as his favourite, but it was a very special dinner for us. You roast the Halibut and serve it with lentils. It's delicious. James loves it."