Prince George Makes Hearts Melt With This Incredibly Cute One Liner!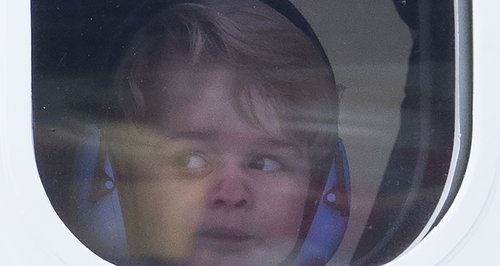 It looks like little Prince George has inherited a love of flying from his dad...
Children have a habit of saying adorable things that make you melt, but this lovely one-liner by Prince George is guaranteed to put a smile on your face!
The three-year-old Prince has had a fantastic time playing games and meeting important people in Canada, but it was a chance to climb into the cockpit on a small seaplane that had him jumping for joy.
Perhaps that's because his dad is an air ambulance helicopter pilot!
Prince George, Princess Charlotte and the Duke and Duchess of Cambridge boarded a seaplane to take them to Vancouver where a military jet was waiting to take them home to the UK.
As soon as the plane landed Prince George was desperate to have a go on the controls!
Pilot Shawn Stewart told the Mirror: "After we landed, once the co-pilot got out, George climbed up into the seat and started playing with the controls and pretending he was flying the plane."
"Kate said: 'Where are you going to fly us? Are you going to fly us to Canada?'"
"And George said: 'No I'm going to fly us to England'."
OMG how adorable is that!! The only thing that would have been better is if he said "Where great granny lives"!
Please please please can the Duke and Duchess start writing all these cute things down and putting them on Twitter?! We wouldn't mind having a scroll through on our coffee breaks...
What do you think? Will Prince George grow up to be a pilot too?