What Are The Royals Up To This Christmas?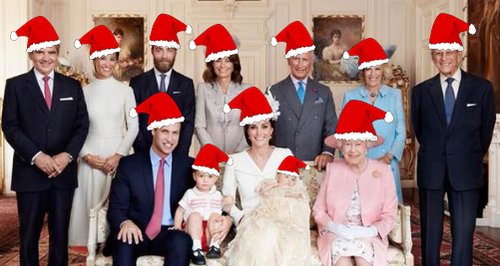 Okay, so they might have the fancy titles and royal duties and all that, but at the end of the day they're a pretty close family who all get together and share a cherry over the turkey.
Do you think they will argue over who gets the toy from the Christmas cracker?
Any way, here's a round up of what they'll be up to this year.
Prince Harry's Christmas card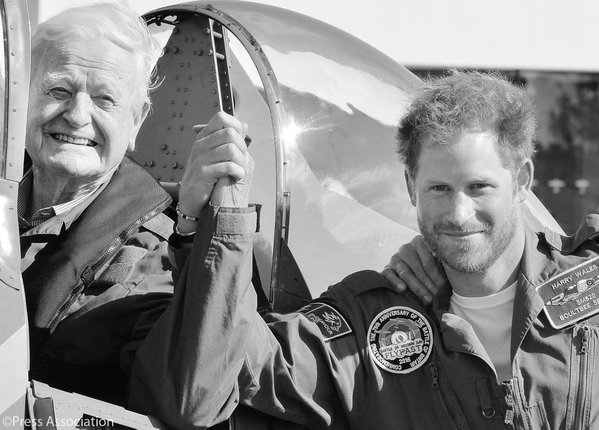 Prince Harry's favourite moment of 2015. Picture | PA
Better late than never eh Harry? Prince Charles' second son has just released an photo of the Christmas card he'll be sending out this year - and it's only three days until Christmas Day!
Prince Harry chose this photograph with Battle of Britain veteran Tom Neil for his Christmas card because he "considered it a great honour to meet Tom during the Battle of Britain flypast in September". It was one of his most memorable moments of 2015.
We'll be awaiting our card Prince Harry (we wish!)
Princess Charlotte's first Christmas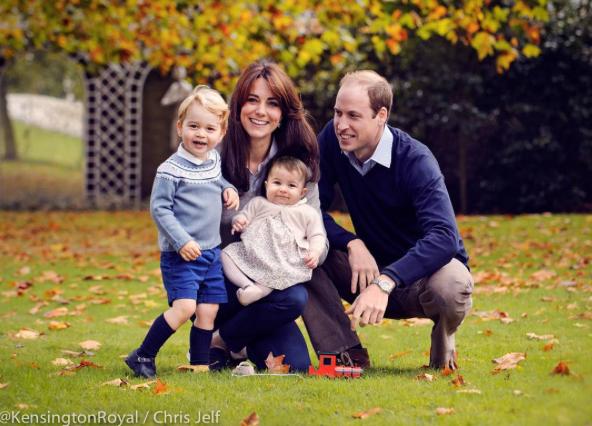 Picture | Kensington Palace
Prince William has already revealed to us what's in store for Christmas at the Windsor-Middleton household and to be honest, it sounds just like ours!
This will be Prince George's second Christmas and his dad admitted: "If I get any sleep on Christmas Eve it'll be good!"
William went on to say: "We'll go to church as a family on Christmas Day as we always do. Then we'll watch George try to tackle his presents as he tries to unwrap them.
"It's a very different experience at Christmas, having a family of your own," he told the Big Issue.
They're just excited to spend their first Christmas as a family of four.
We're hoping that Prince George will be a little more elegant than us...
A Royal Christmas At Sandringham
Traditionally, the Royal Family all get together to go to mass at St Mary Magdalene Church near Sandringham in Norfolk.
The Queen and Prince Phillip normally spend the Christmas period at Sandringham House and tend to stay there until February.
This year the Queen and Prince Phillip travelled on the train to get to Norfolk! Public transport! Whatever next?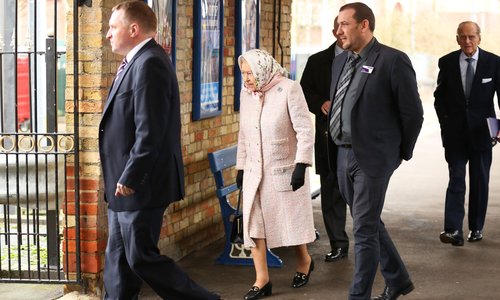 Prince Phillip and the Queen arrive at Sandringham train station. Picture | PA
The Queen's Christmas lunch
Ahead of the big day, the Queen and the Duke of Edinburgh host a traditional festive gathering for the whole family at Buckingham Palace.
We're talking the WHOLE family - from senior royals like the Prince of Wales and the Duchess of Cornwall through to Zara Phillips and her husband former rugby champ, Mark Tindall.
Unfortunately, Prince William couldn't make it but it's okay because the rest of the royal gang could! Prince Harry was seen arriving with the Duchess of Cambridge and Prince George, while sources confirm that Princess Charlotte was also there.
We're imagining what a right royal knees up would look like - do you reckon it's anything like ours?
The Queen's Broadcast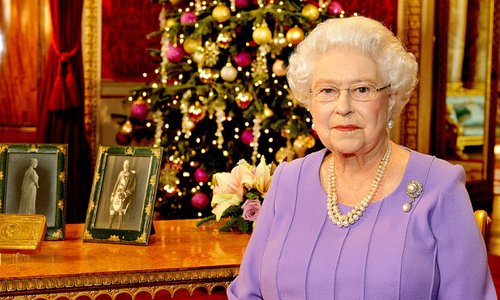 We are a country that is proud of our traditions and Christmas day is no different.
Post Christmas dinner, with our bellies full of turkey, we'll all be crowding around the TV or the radio with our family to hear Her Majesty address the nation and reflect on the year. And boy, 2015 has been one hell of a year.
It's a tradition that was started by her father King George V in 1932 and since then the head of state has delivered the speech.
For those interested the Queen's speech will be broadcast at 3.05pm on BBC One and ITV.
Prince Charles and the Duchess of Cornwall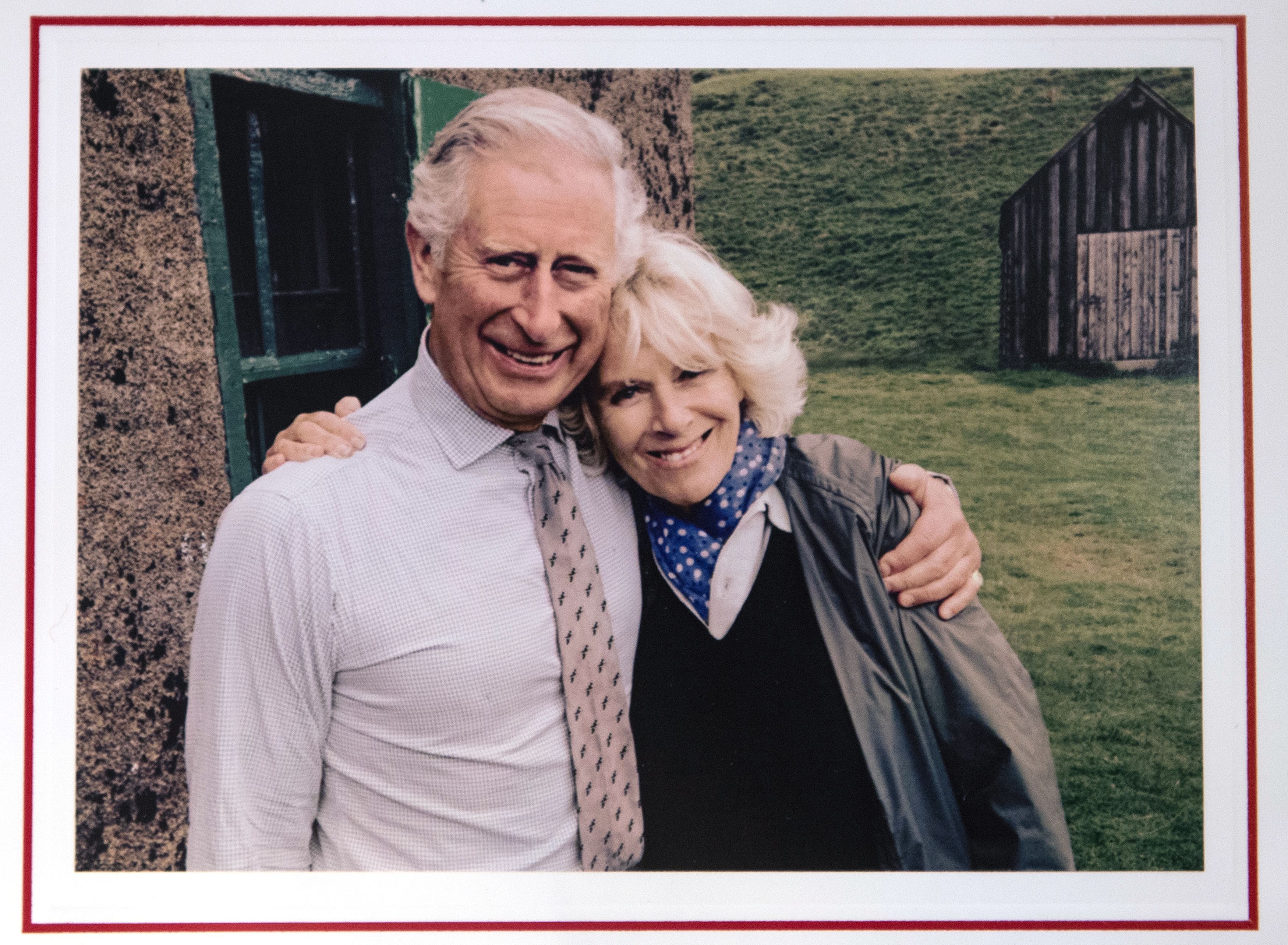 Picture | Getty
This year the couple's Christmas cards to friends and family featured a personal snap of Prince Charles and Camilla when they were on holiday in Scotland during the summer.
It has been sent to all the people and organisations associated with the royal couple.
We're not sure if they will be spending the day with the grandchildren - or maybe they might opt in for a calm one this year!