Prince Harry makes 'pinky promise' to inspirational girl as he and Meghan attend WellChild Awards
5 September 2018, 08:24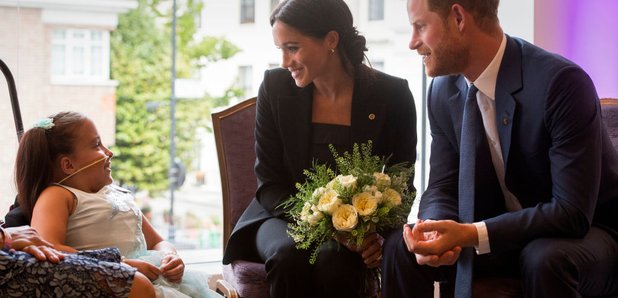 Harry and Meghan have honoured inspirational children who lead normal lives despite battling serious conditions.
Both the Duke and Duchess of Sussex shared a special moment with Matilda Booth, who has spina bifida and is paralysed from the chest down, while attending the WellChild Awards ceremony on Tuesday night.
Meghan gave Matilda a rose from a bouquet the youngster had just handed to the Duchess, while Harry made a "pinky pledge" with Matilda before the awards ceremony began, by hooking his little finger around the hers.
Sharon Booth, 47, who lives with her daughter Matilda in Sowerby Bridge, West Yorkshire, said afterwards: "Matilda chose the flowers, she was shell-shocked to be given the rose, she said she's going to put it in her memory box."
She added that Harry had urged her daughter, who wants to be a nurse, to "never stop smiling as you've got a beautiful smile".
Matilda, who won the inspirational child award in the four- to six-year-old category, also introduced them to her soft-toy pug dog, who she said was named after talent show host Simon Cowell.
Sharon added that the Prince had told her daughter he could "see the resemblance" to the pop mogul.
Harry is the patron of WellChild, the national charity for seriously ill children and their families, and has supported it since 2007.
Elsewhere, Harry praised the 'can-do' attitude of youngsters who have been 'dealt the toughest cards imaginable' in a heartfelt speech and took a moment to acknowledge Meghan as he said he was "especially grateful to be able to share the scope and magnitude of this work with my wife who joins me here this evening".
Meanwhile, Meghan looked stunning as she stepped out in a trouser suit by Altuzarra, which cost £1490, styled with a Deitas blouse.