Prince Harry and Meghan have opted for this non-traditional wedding menu
14 May 2018, 12:59 | Updated: 14 May 2018, 16:58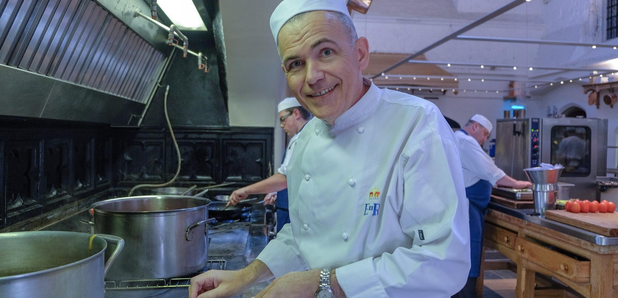 The couple will be serving up canapés after they say 'I Do' on Saturday - and their guests won't be sitting down to eat.
Guests at Prince Harry and Meghan Markle's wedding will be served "bowl food" following the ceremony at Windsor Castle.
According to reports, the couple have ditched the idea of a formal sit down wedding breakfast in favour of a "standing reception" when 600 guests join them at St.George's Hall following the ceremony.
It's believed The Queen's chef's will be preparing "mini main courses" for guests as they won't be seated during the do.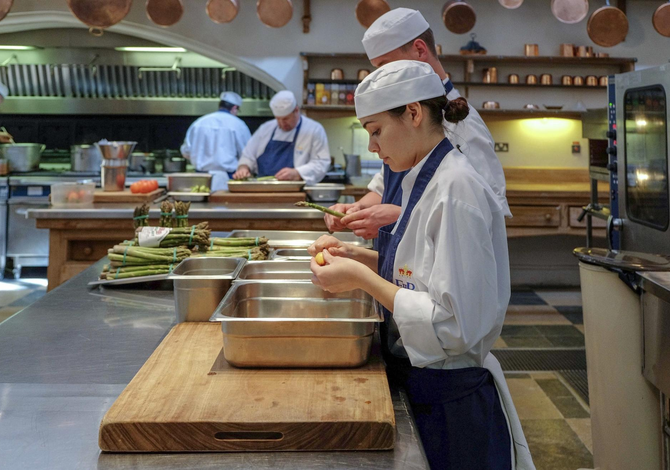 The Queen's team of chefs will be serving up luxury canapés for 600 guests
Bowl food has become a lot more popular with young newlyweds as it's more sociable and allows for guests to mingle, unlike a traditional seated reception.
Leading the team is Royal chef Mark Flanagan, who has spent weeks preparing to bring the couple's menu to life, and he revealed they'll be using locally sourced vegetables from Her Majesty's garden in the dishes.
He said: "The day of the wedding has fallen very kindly for us. All the British vegetables are just coming into season and that's been a point of focus for us.
"We are using produce off Her Majesty's estates, and that features very much.
"We know the couple wanted us to make sure we used all of the local seasonal produce as much as possible throughout their menu, and this recent good weather is really helping us to achieve that."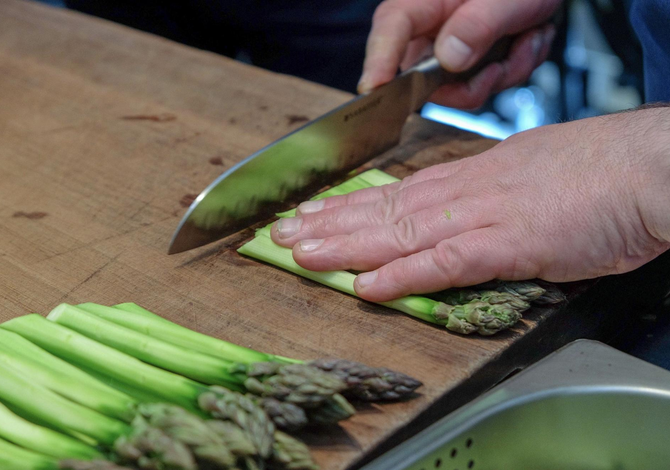 The guests will eat asparagus grown in the Queen's gardens
Meghan made no secret about her love of food in her former lifestyle blog, The Tig, so it's no surprise she has been very involved in curating the menu for the big day.
Mr Flanagan revealed: "(For) all their decisions, we purely made suggestions and the couple. They've tasted everything, they've been involved in every detail."
Harry, 33, and Meghan, 36, will also treat guests to canapé's during the lunchtime reception which will last around two and a half hours, along with a cutting of the cake and speeches.
Sweet and savoury dishes are also on the menu with each delicacy made to be eaten in just two bites, and there's no doubt guests will be well watered with Champagne from the royal wine cellar.
All of the courses are designed to be eaten in just two bites
While the idea of a food bowls might be non-traditional, head chef Mark did assure the dishes the couple have chosen are classic.
"We've really just been trying to let the ingredients stand proud within the dishes. There's no experimentation on Saturday whatsoever, tried and tested, and predominantly classics."
As many as 30 staff have been working to create Saturday's menu, with a number of trails and tests to ensure everything goes smoothly.
A lucky few 200 guests will get to line their stomachs once more before boozing the night away at the wedding dinner, hosted by Prince Charles at Frogmore House.
Where can we snag up an invite?
WATCH MORE: