Expert Reveals Why Prince Harry & Meghan Have More Passion Than Kate and Will
22 December 2017, 12:03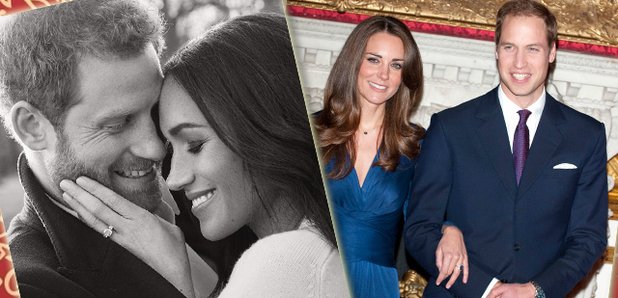 We spoke to body language expert Elizabeth Kuhnke, who told us why Harry and Meghan's "sexual bond" will see them go the distance.
The words on everybody's lips over the past few months has been Prince Harry and Meghan Markle.
Now the couple has set tongues wagging once again with their latest photoshoot.
Kensington Palace released two new photos of the couple to celebrate their engagement and they are NOTHING like your average royal photoshoot.
The stunning shots, which were taken by noted fashion photographer Alexi Lubomirski, see the Prince and his fiance posing on the steps of Frogmore House, Windsor in what has to the biggest display of royal PDA ever.
In one black and white shot, Prince Harry pulls Meghan in close for a warm embrace wearing a winter coat while she touches his cheek affectionately - just enough to show off the massive bling on her engagement finger.
The stunning ring, which Harry personally designed using stone from Botswana and two more diamonds from Prince Diana's personal collection, glimmers in the light while Meghan beams from ear to ear.
There's no doubt that the photos have an air of sensuality about them but according to body language expert Elizabeth Kuhnke, it's this burning passion and "sexual bond" between Harry and Meghan that will see them go the distance.
"They look so in love the way their heads are touching, the way Harry is looking down at her really shows the adoration he has for her and the care for each other that they share," explains Elizabeth.
"Everything about the photos are so intimate and sensual. You can see from the way that Prince Harry wraps Meghan in his coat, you can tell that they have no discomfort in showing their passion for each other and they quite clearly have a strong sexual bond."
The body language expert also says the way in which Meghan is strategically sat a couple steps below Harry as she sits comfortably between his legs is also very telling.
She notes: "They seem to really like each other and you can see that there is this mutual adoration for each other.
"The way she is sitting slightly below him and leaning into him, resting on him. They don't have a problem showing their sexual passion for each other in the way they touch each other."
Elizabeth also claims the intimate photos are strong break with royal tradition and their body language is less formal than the cheery hugs seen in William and Kate's engagement photos and the more formal pictures taken by Prince Charles and Diana.
While Elizabeth has no doubt that Prince William and Catherine were much in love, she claims Prince Harry and Meghan's black and white snaps draw a stark contrast.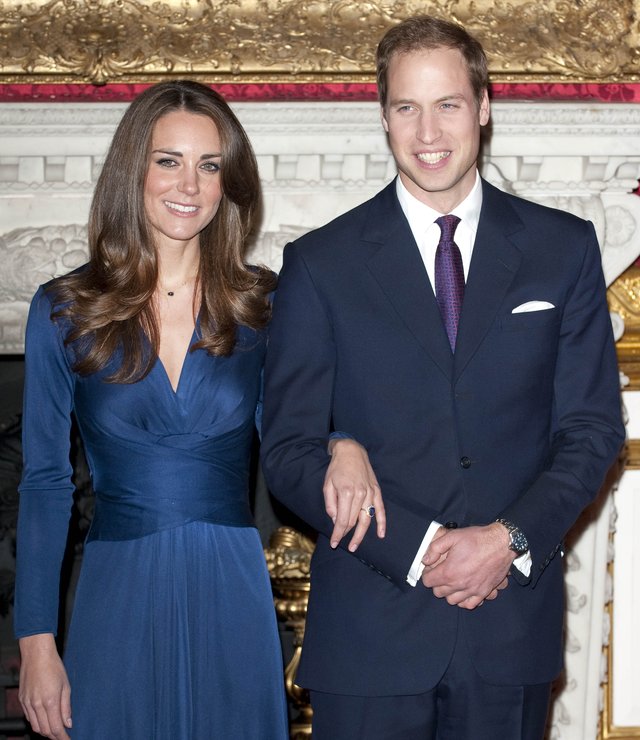 "It's amazing to see just how much they've moved on from traditional royal engagement photos. Kate and William's photos were much more formal, they had to be, it was the first royal engagement for a direct heir to the throne in a long time - and that was only 2011!
"If you think back to Prince Charles and Diana's engagement photos, it was far more formal and they looked a little bit stiff together, she had her arms wrapped around him but he wasn't really hugging her back."
"Kate and Wills' engagement photos progressed a little bit more, you know they have their arms wrapped around each other and their smiles are genuine but they are looking into the camera.
"However, Harry and Meghan aren't even looking at the camera in some of their snaps, their eyes are closed and they are so consumed in one another it's as if nobody else is watching."
The photographs come weeks after the official announcement of their engagement, and their first appearance together in front of the cameras in the Sunken Garden at Kensington Palace.
It's very clear they are head over heels.