Prince Harry Reveals The BEST Part Of Buckingham Palace Life!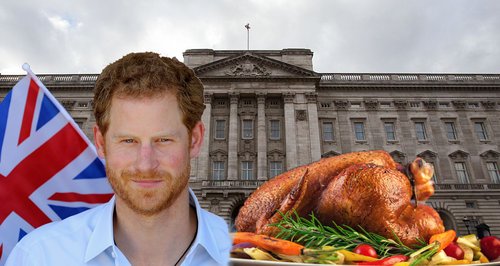 Prince Harry was asked some very interesting questions during a visit to a children's home in Guyana...
What's the best thing about Buckingham Palace?
That's the question Prince Harry was presented with during a trip to the Joshua House Children's Home in Guyana - one of the stops on his Caribbean tour.
He may have spent time with super celeb Rihanna, but it's clear that Prince Harry also loves spending time with local residents and smiling children. Instead of running away from sometimes awkward questions he faces them head on!
When asked about Buckingham Palace, Prince Harry said: "I don't get to spend much time there. The Queen spends quite a lot of time there and the food is delicious!"
What we wouldn't give to have a dinner party in Buckingham Palace!
Of course the food is amazing... they've got private chefs. It's certainly alright for some!
Have a listen to Prince Harry chatting in the video below...
"What's Buckingham Palace like?"

An impromptu interview with Prince Harry at Joshua House Children's Home #RoyalVisitGuyana pic.twitter.com/ePBMOrlhxd

— Kensington Palace (@KensingtonRoyal) December 4, 2016
Prince Harry was then asked how many maid work in Buckingham Palace! His answer?
"Oh I don't know. Probably not as many as you think."
Things got a little more serious when the 32-year-old Prince was asked what it's really like to be a member of the royal family.
He said: "Good and bad. There's lots of privileges, of course, that you get from when you were born, but then with privilege comes a lot of responsibility. And being a prince means you've gotta [enhance] all the positivity and try to encourage people to see the good stuff about life."
Prince Harry's Caribbean tour has now come to an end, and it has certainly been full of twists and turns. Amazingly, he visited seven countries in 15 days!
He even did his best teacher impression in Surama, Guyana...
A lesson with teacher Prince Harry at Surama Village School #RoyalVisitGuyana pic.twitter.com/atMMWJknC9

— Kensington Palace (@KensingtonRoyal) December 3, 2016
Do you admire Prince Harry's honesty? Or do you get the impression he's holding back...