Prince Harry's Heartfelt Invictus Closing Speech Will Move You To Tears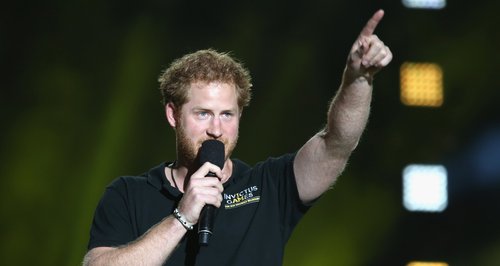 You won't be able to watch this without feeling your chest swelling with pride.
13th May 2016
It's been a whirlwind four days for the Prince, so goodness knows what it must have been like for the competitors!
Prince Harry paid tribute to the wounded US Army medic who donated her medal to the NHS, Elizabeth Marks, and to the 9/11 hero, Sarah Rudder who won seven medals at the games, in a moving speech at the closing ceremony in Orlando.
And if your chest couldn't swell any more with pride, earlier in the day he put a smile on 95-year-old Ruth Ullerman's face when he planted a kiss on her hand. She was only there to watch the wheelchair tennis when she was almost propositioned by the royal!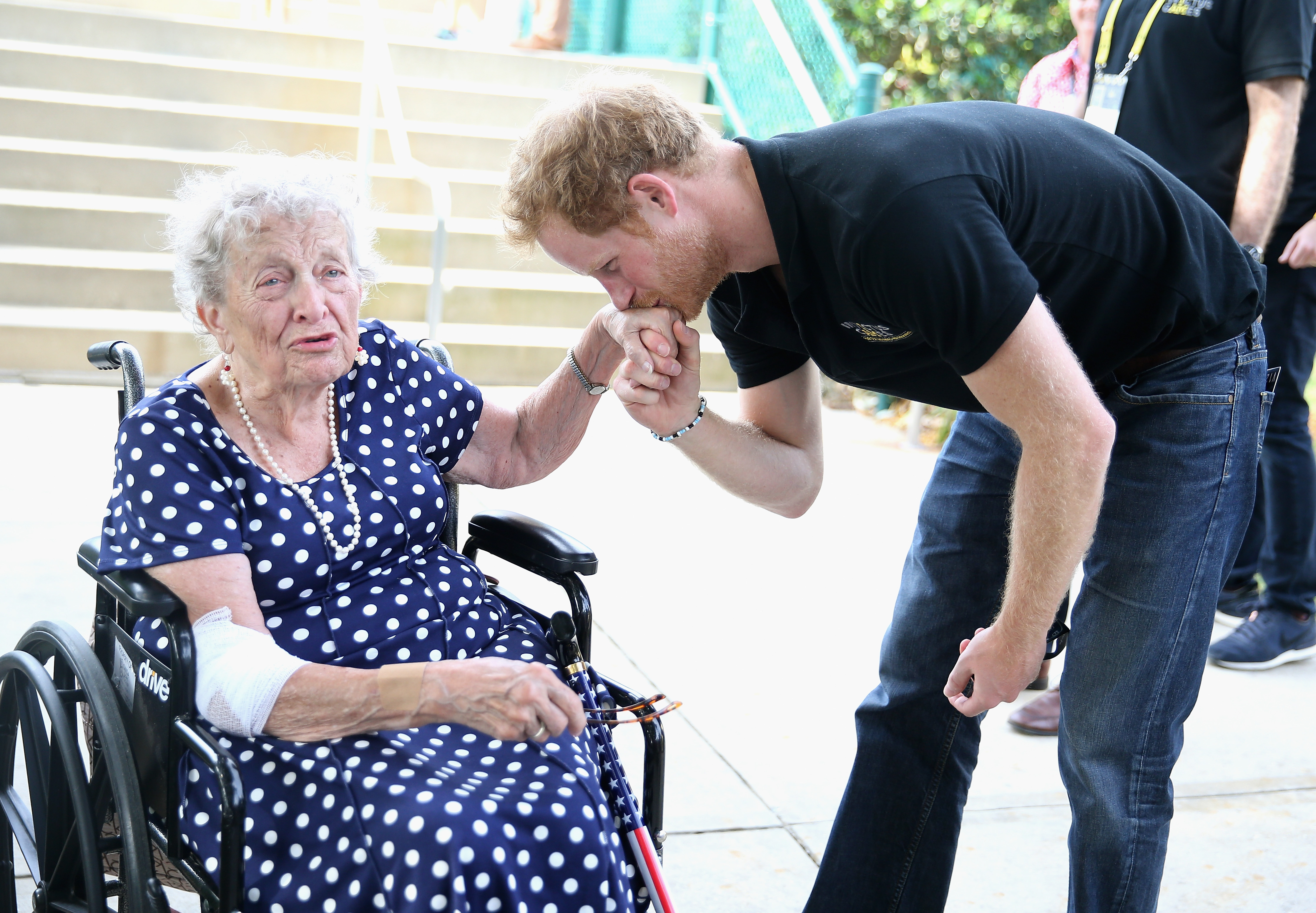 Picture | PA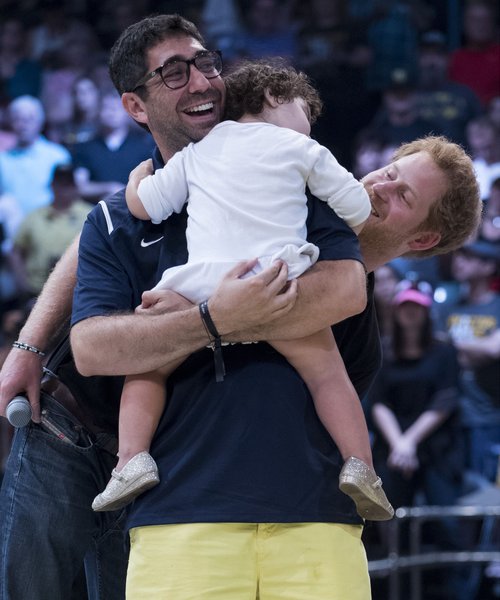 Picture | Rex
Although he didn't compete himself, Prince Harry has really got involved with the races, going above and beyond his role of ambassador.
Here's a great photograph of the royal helping a service dog out of the pool at the end of an unscheduled race alongside their handlers.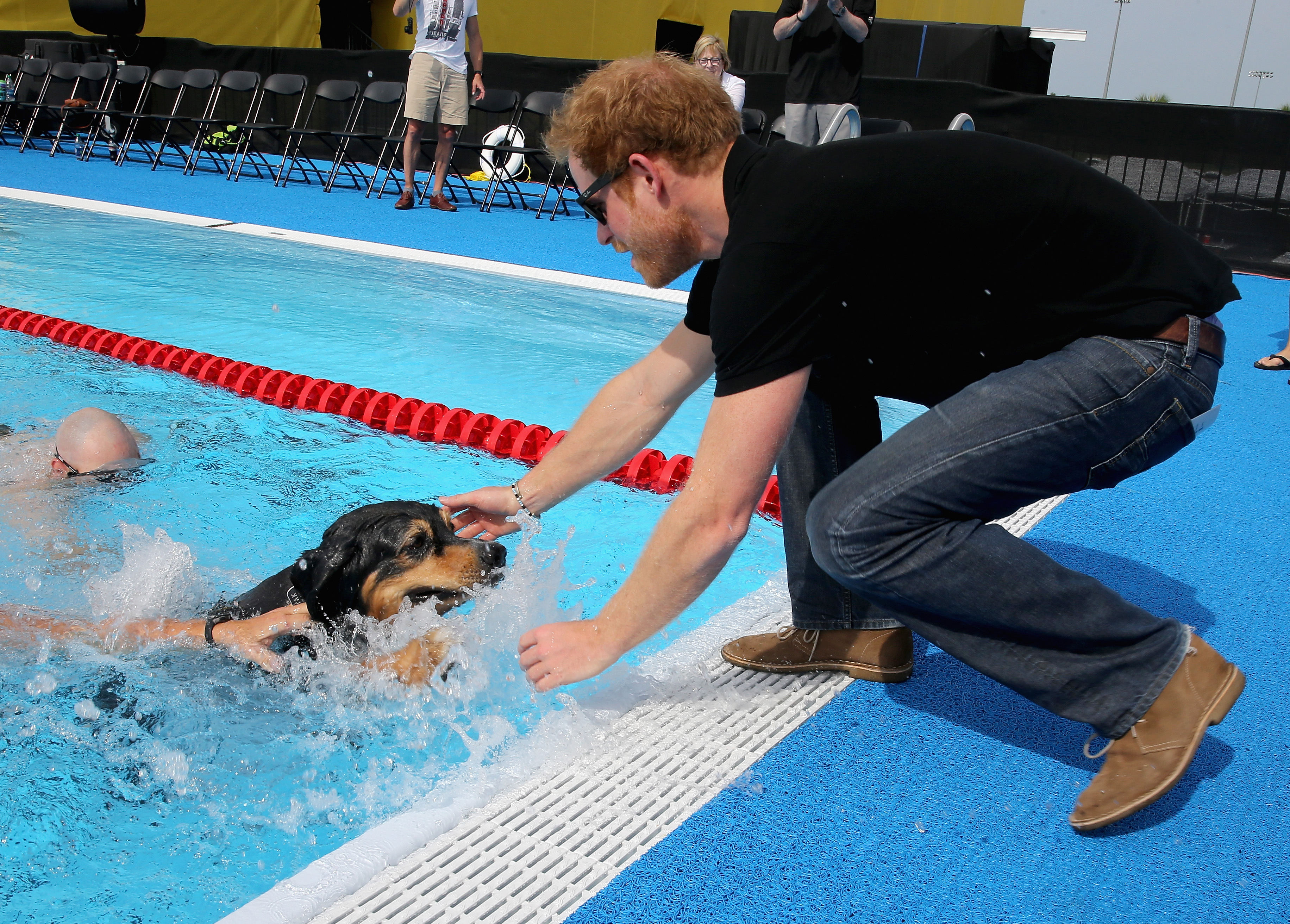 Picture | Getty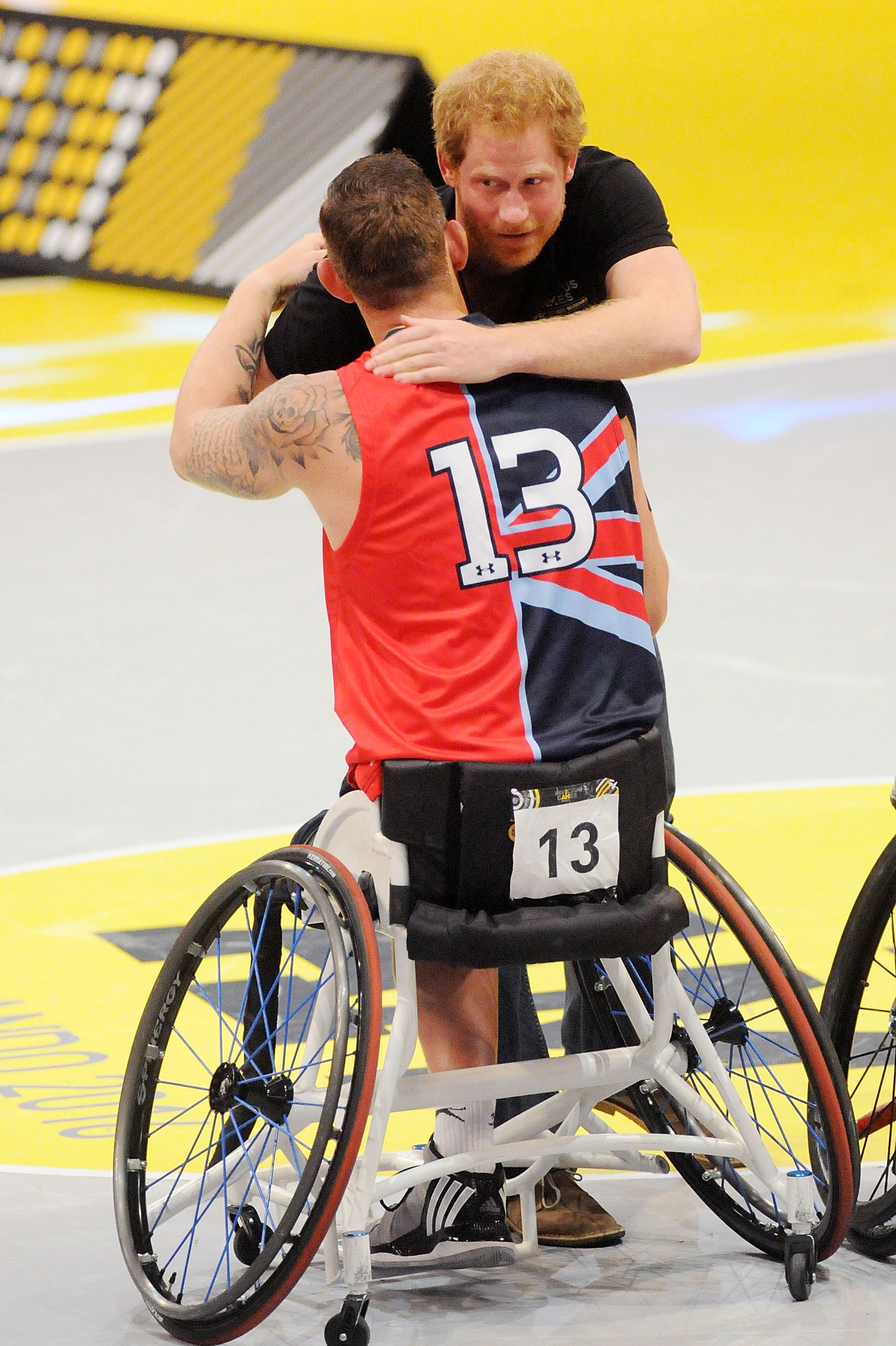 Picture | Getty
Prince Harry May Have Met His Match In Paralympian Elizabeth Marks
12th May 2016
The poor Prince just can't be left alone can he? He may be a single Pringle, but is he ready to mingle? This photo would suggest that he is!
But he may have just met a woman who might even be out of his league.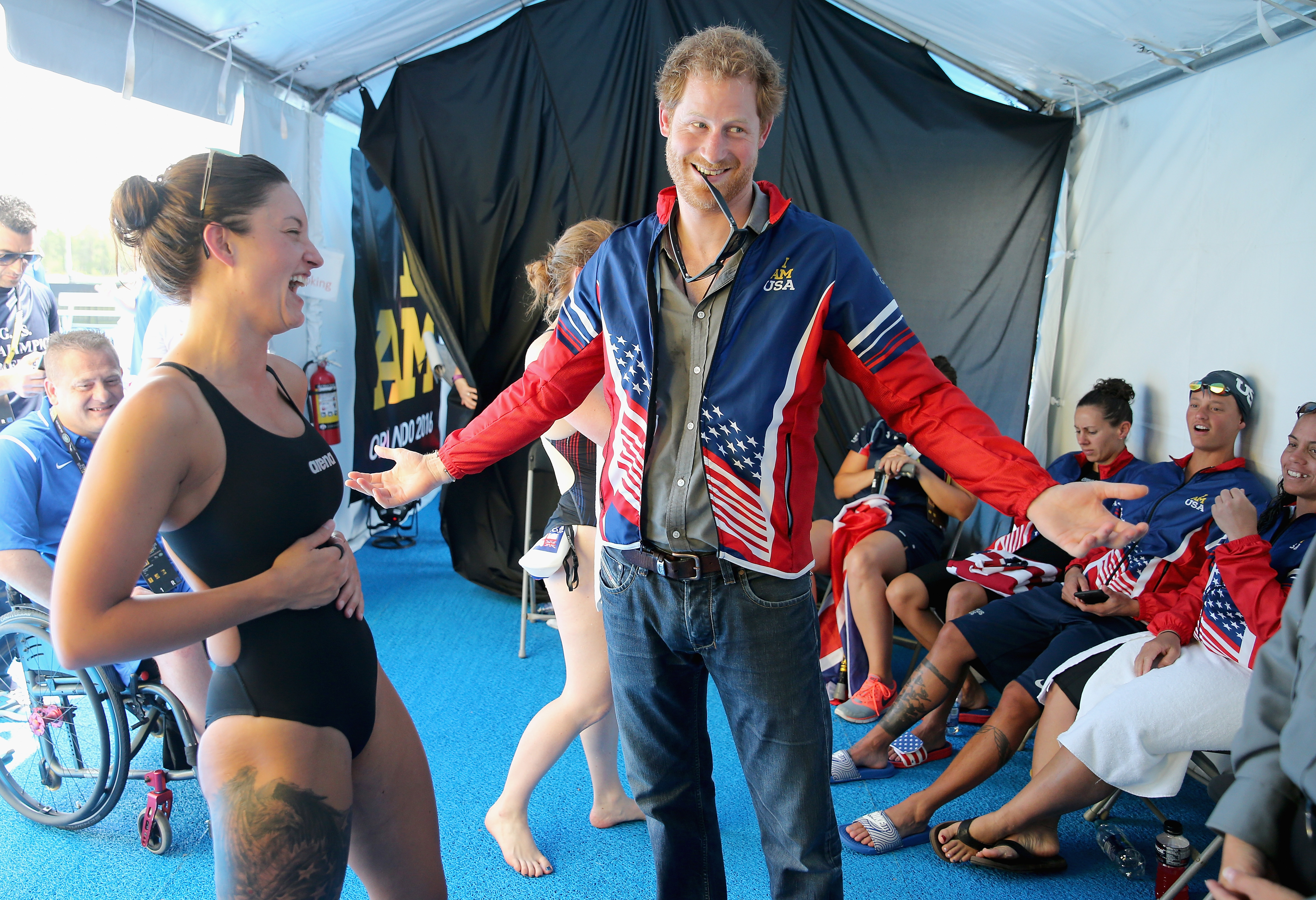 Picture | PA
Prince Harry presented Team USA swimmer Sergeant Elizabeth Marks with a gold medal for winning the 100m freestyle event. Elizabeth then gave the medal back to Prince Harry, telling him she would like to donate it to the NHS.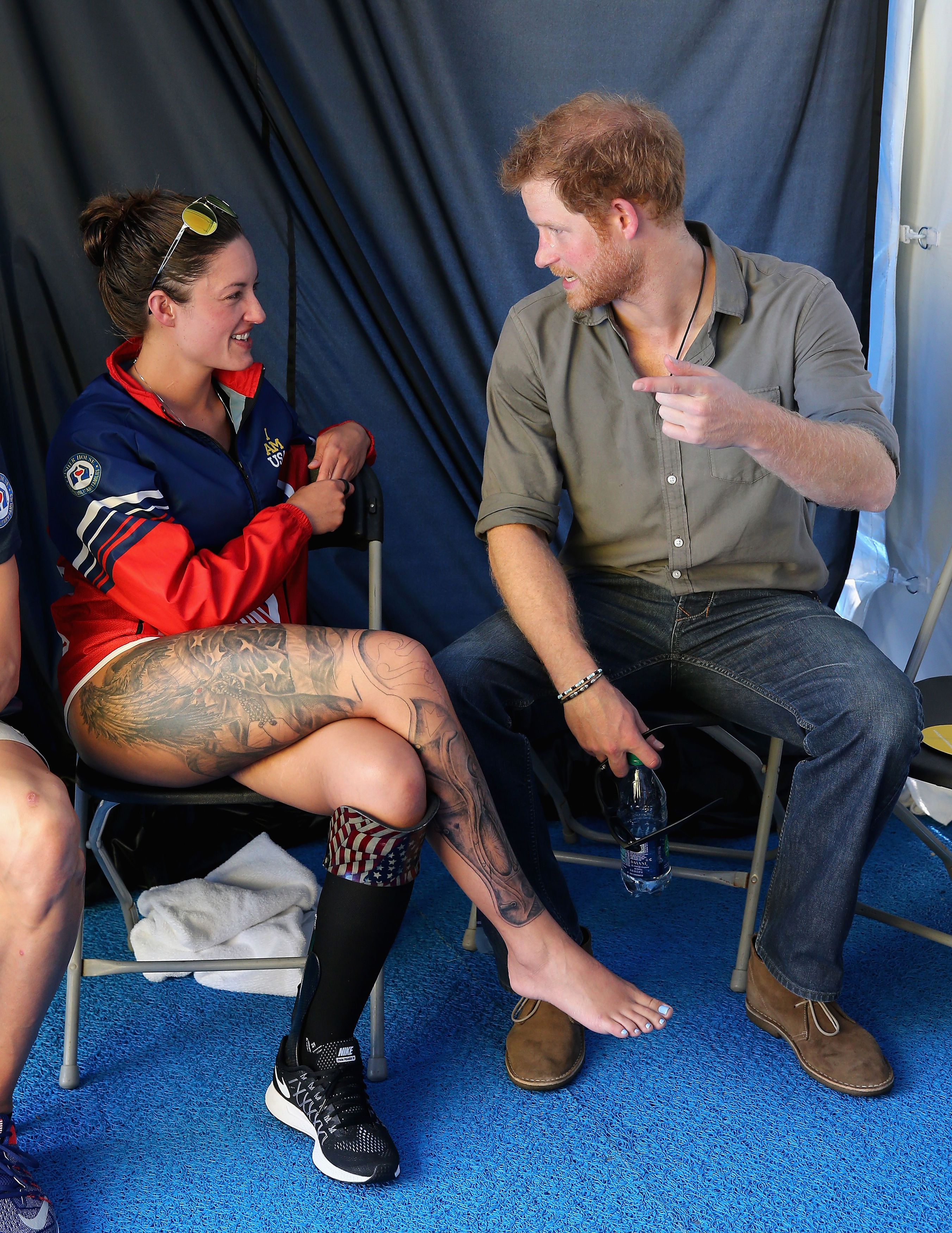 Picture | Getty
Sergeant Elizabeth Banks was saved by British medics when she collapsed on the eve of the first Invictus Games in London 2014 where she was over to compete.
She was rushed to Royal London Hospital where her condition worsened and she eventually fell unconscious for ten days.
She said: "They absolutely saved my life and I can't thank the UK enough for having that kind of medical support and taking such good care of me.
"So I gave Prince Harry one of my medals and hope it will find its way back to Papworth."
The pair seemed to have a lot of banter as she flirted with the British royal by dressing him in her too-small team jacket.
Could this be the start of something beautiful?
Prince Harry Gets Propositioned For The Role Of Boyfriend
10th May 2016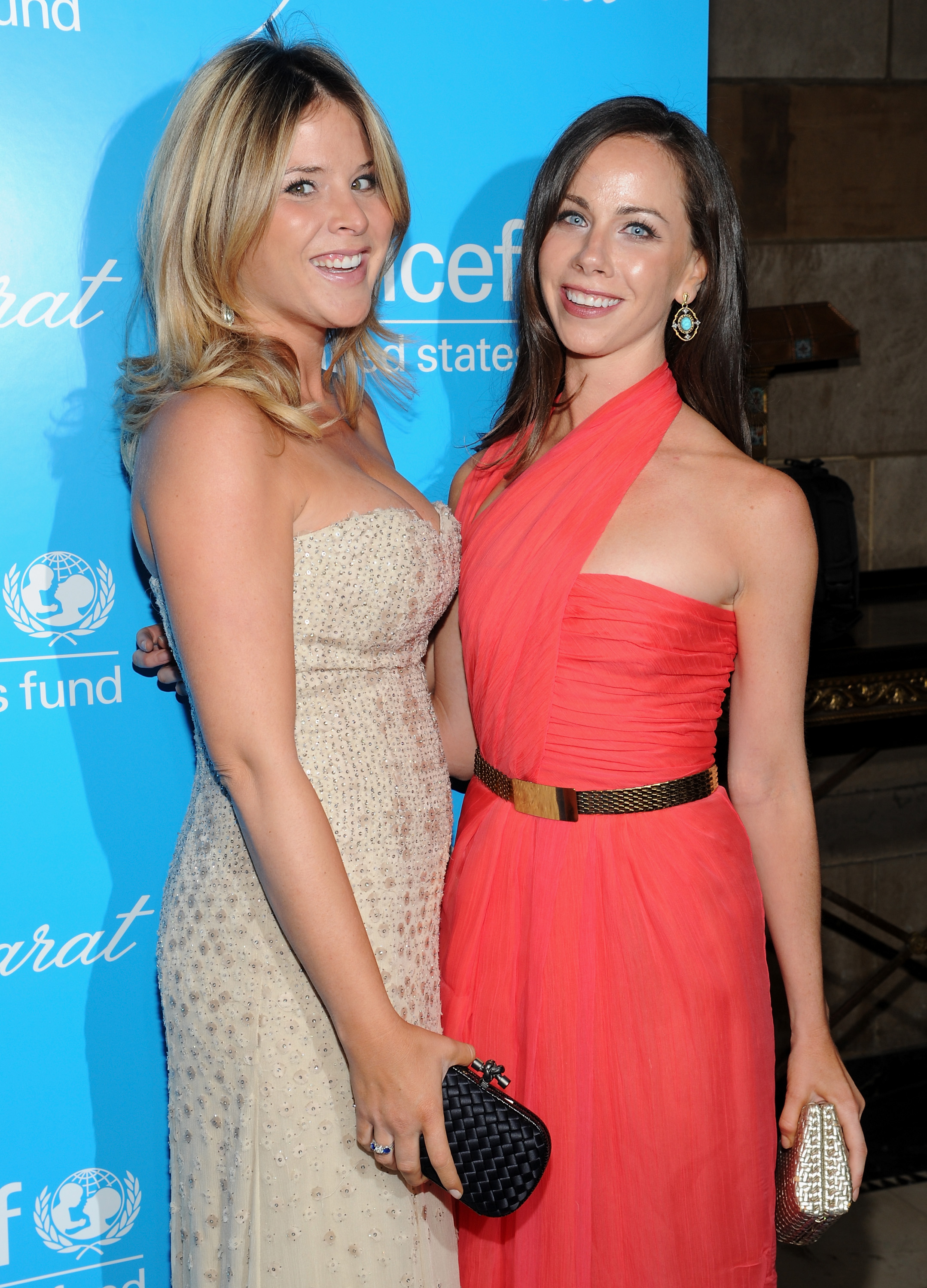 Jenner and Barbara Bush. Picture | PA
The dashing Prince is certainly making the most of being Stateside! As well as promoting the upcoming Invictus Games, the 31-year-old took some time out to chat to President George W. Bush's daughter, presenter Jenna Bush Hager on the American TV show 'Today'.
When the flame-haired Prince told the television personality that he was single, she got very excited and added that her 34-year-old sister Barbara is also on the market.
What's more, the pushy blonde went on to even infer that she'd pass on her sister's phone number to the Prince after the show, adding "She's going to kill me."
So would the pair make a good couple? Well they certainly both know the pressures that come with having parents in public office and both their past relationships ended in 2014... so watch this space!
Prince Harry Bares All On Why He Doesn't Have Girlfriend
9th May 2016
Form an orderly queue ladies because Prince Harry has given his most revealing interview yet, where he has opened up about his struggles with finding a partner and the 'gaping void' that was left by his mother, Princess Diana.
Prince Harry, 31, is currently stateside launching the Invictus Games in Florida, and it seems like he's not holding back.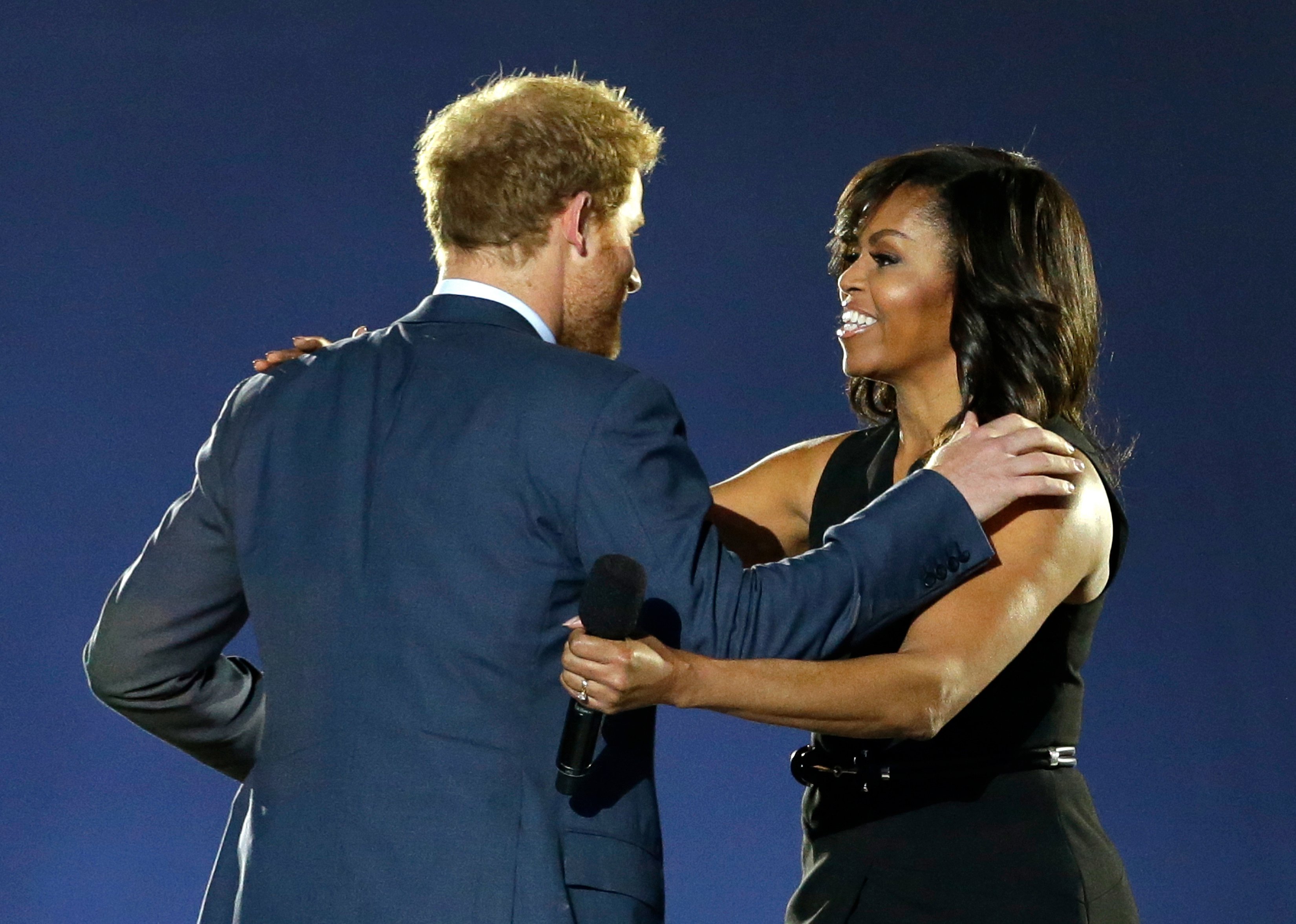 Michelle Obama and Prince Harry open the Invictus Games | PA
"To be fair, I haven't had that many opportunities to get out there and meet people," he said. "At the moment, my focus is very much on work. But if someone slips into my life then that's absolutely fantastic."
Prince Harry, who is fifth in line to the throne, has had two high profile relationships, one with Cressida Bonas and Chelsy Davy, and both had ended leaving him single and able to focus on his work.
He's also spoken about how pressure from the press and public interest mean that he struggles to hold down a relationship.
He said: "If or when I do find a girlfriend, I will do my utmost... to ensure that me and her can get to the point where we're actually comfortable with each other before the massive invasion that is inevitably going to happen into her privacy."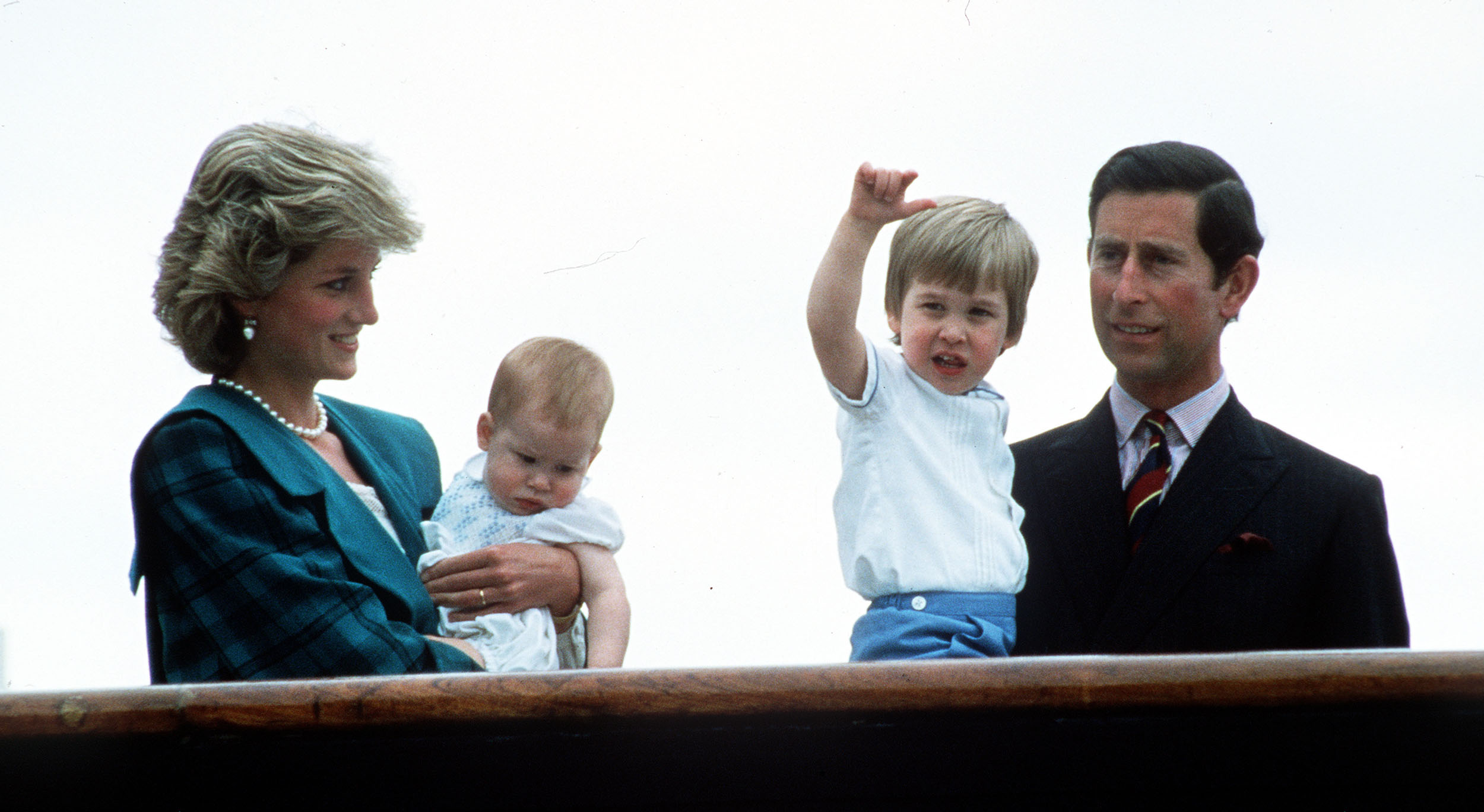 Princess Diana, Prince Harry, Prince William and Prince Charles | PA
And as if that amount of pressure wasn't enough, he's still "trying to fill an unbelievable pair of boots" left by the death of his mother, Princess Diana.
"What you see is what you get with me," he said. "It's genuine. I will always try and bring an element of fun and happiness to everything I do. That probably is subconsciously very much a part of my mother — trying to fill that void. Trying to fill an unbelievable pair of boots, whether it's her... or especially the Queen. It's a hard thing to do."
Although sometimes it does look like he's living the dream, Prince Harry does sometimes have it tough! Do you think you could hack the pressure of being his girlfriend? Hmm...