The Meanings Behind Prince Harry's Secret Hand Signal Has Everyone Freaking Out!
25 September 2017, 16:18 | Updated: 25 September 2017, 16:23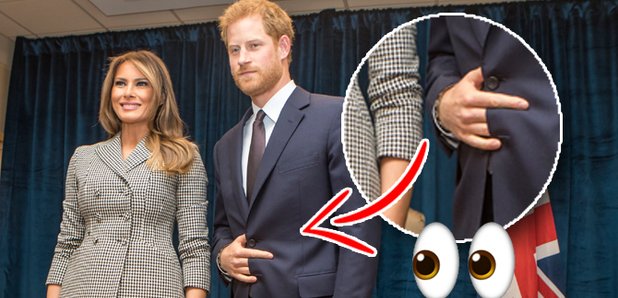 We couldn't help but chuckle at just how wild the imaginations of fans really are.
A photo of Prince Harry and Melania Trump has become the centre of speculation after eagle-eyed fans noticed the royal appearing to make a weird hand gesture.
The 32-year-old royal was joined by the Amercian First Lady at his Invictus Games in Canada, but their photo opp together was overshadowed after Harry seemed to be making devil horns with his fingers as he held onto his suit jacket.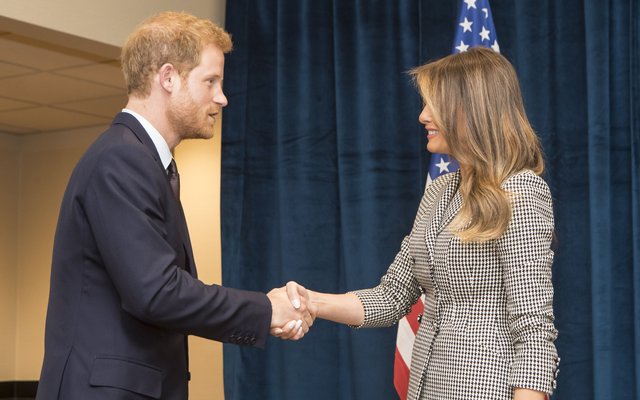 If one thing is for sure, it's a weird way to hold your jacket, and while we're sure it meant nothing at all, we couldn't help but chuckle at just how wild the imaginations of fans really are.
Most of the conspiracy theories seemed to believe that Harry's gesture signals his allegiance to a secret society such as The Illuminati, a secret group who some believe control many of the world's governments.
One fan even took to Twitter to compare the sign to one displayed by George W. Bush.
What's with the hand signals? @TheSolariReport pic.twitter.com/w6MTp1k58F

— Robert T. Lord (@1StopMortgageTN) September 24, 2017
The crazy theories didn't stop there, with some wondering whether he was secretlly referring to Melania as the devil or even saluting Satan himself!
Sure is a strange hand gesture being made by Prince Harry @BeckiDoll007 @sandra8301 pic.twitter.com/wNSfVbBltd

— Nowell Kern (@NowellKern) September 23, 2017
first thing I noticed when I saw this photo is Prince Harry doing he devil's horn/satan hand sign. also in the video, it was intentional pic.twitter.com/HUHZfs8Tkh

— GLEGEND DISCIPLE (@YujuAndTheBoooy) September 24, 2017
Whatever it means, we're sure we won't be finding out anytime soon. Maybe Harry is just a big rock fan?!