Cheeky Prince Harry caught stealing samosas for the ride home after Meghan Markle book launch
21 September 2018, 12:12 | Updated: 21 September 2018, 12:52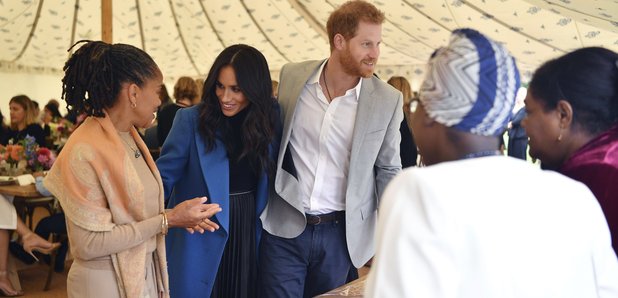 The Duke of Sussex was enjoying the treats at his wife's event.
Prince Harry will definitely be trying out some of the recipes in Meghan Markle's charity cookbook - he was seen nabbing a few samosas for the ride home.
Yesterday the Duchess of Sussex threw a special event at Kensington Palace to launch 'Together', a cookbook compiled by the women from a community kitchen in West London who support people affected by the Grenfell Tower tragedy.
The launch saw the women of the Hubb Community Kitchen in making delicious food for their guests which included Prince Harry and Meghan's mother, Doria Radland.
But the Prince seemed like he was enjoying the food so much that he simply had to pocket some for the journey home.
The red-headed royal was caught on camera sneaking some samosa's for the ride home. In the video the prince is seen with some goodies wrapped in a napkin hidden behind his back.
He sneaks away from the tent before noticing that camera's have caught him red handed and then flashes a cheeky grin.
After a short moment he is joined by wife Meghan and mother-in-law Doria as they jump into a car and are driven away from the event with Harry's snacks in tow!