Prince William and Kate Middleton make first appearance with all three children
9 July 2018, 17:39 | Updated: 22 October 2018, 16:12
Key members of the Royal Family have arrived at St James's Palace for the christening of Prince Louis today.
The Duke and Duchess of Cambridge made their first public appearance with all three of their children today.
They arrived with Prince George, 4, and Princess Charlotte, 3, at St James's Palace for the christening of eleven-week-old Prince Louis, who will have six godparents by the end of day.
Princess Charlotte was on her best behaviour as she was seen shaking hands with someone near the entrance to the chapel, whilst Prince George cut a typically shy figure as he clung to his father.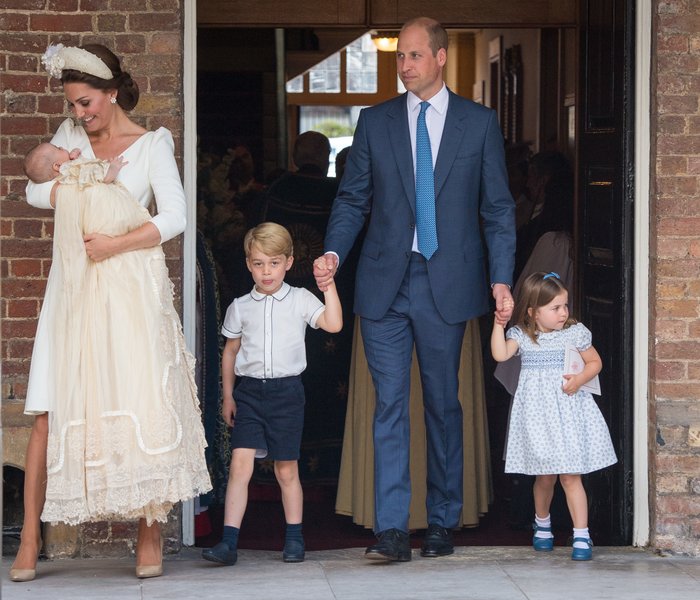 Kate and Wills were joined by Prince Charles and Camilla, and newlyweds Prince Harry and Meghan Markle, as they greeted The Archbishop of Canterbury, the Most Reverend Justin Welby at the door to the chapel.
The Queen and Prince Philip did not attend, which according to royal insiders is not a sudden decision.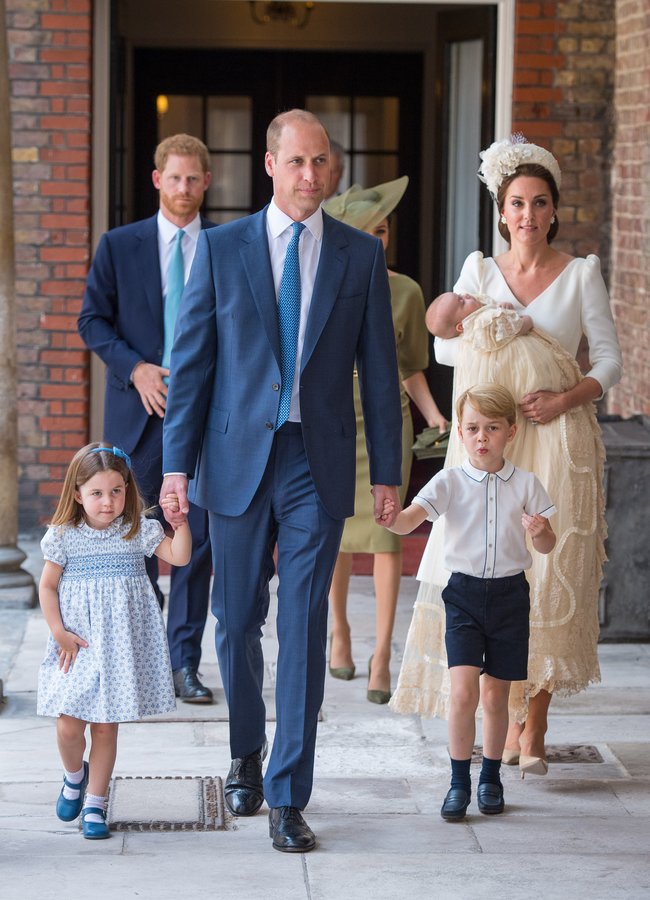 Credit: PA Images - Kate and Wills arrive with all three children for the christening of Prince Louis
Kensington Palace announced earlier today that Prince Louis, who is fifth in line to the throne, would have six god-parents - one more than older sister Princess Charlotte and one less than future king Prince George.
Louis was wearing the same christening gown as his siblings - and a replica of the one his dad and grandad wore.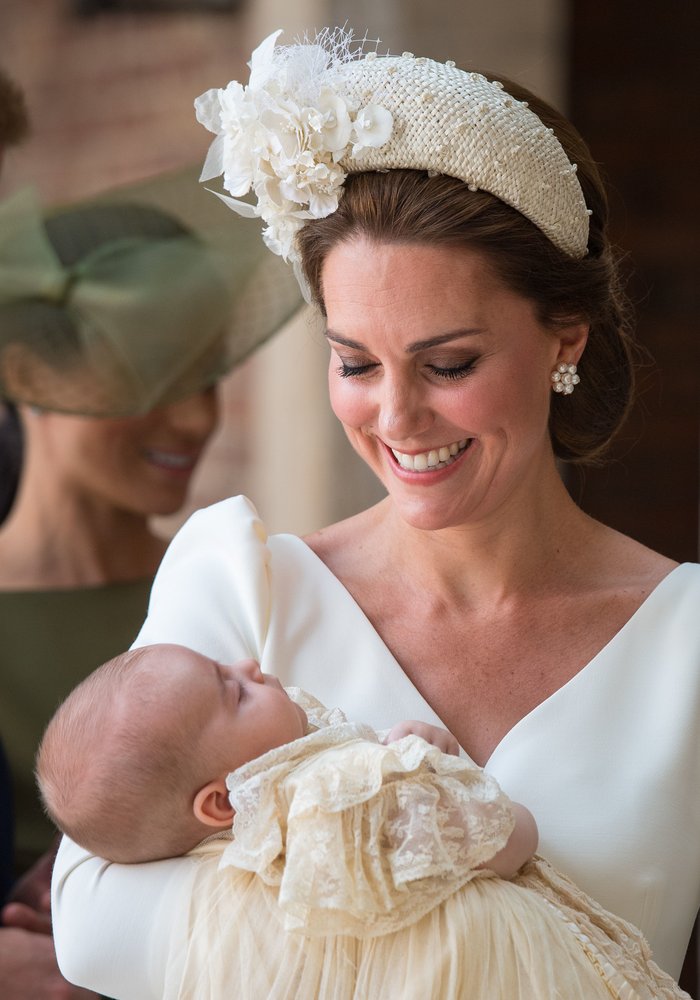 The Duke and Duchess of Cambridge have chosen two hymns, two lessons and two anthems for the christening today.
One of the songs was especially written for William and Kate's wedding day in 2011.
It was previously reported that his grandma Carole Middleton was planning a Beatrix Potter-themed event for today, but there was no sign of any Mrs. Tiggywinkle decorations as the party arrived at the chapel.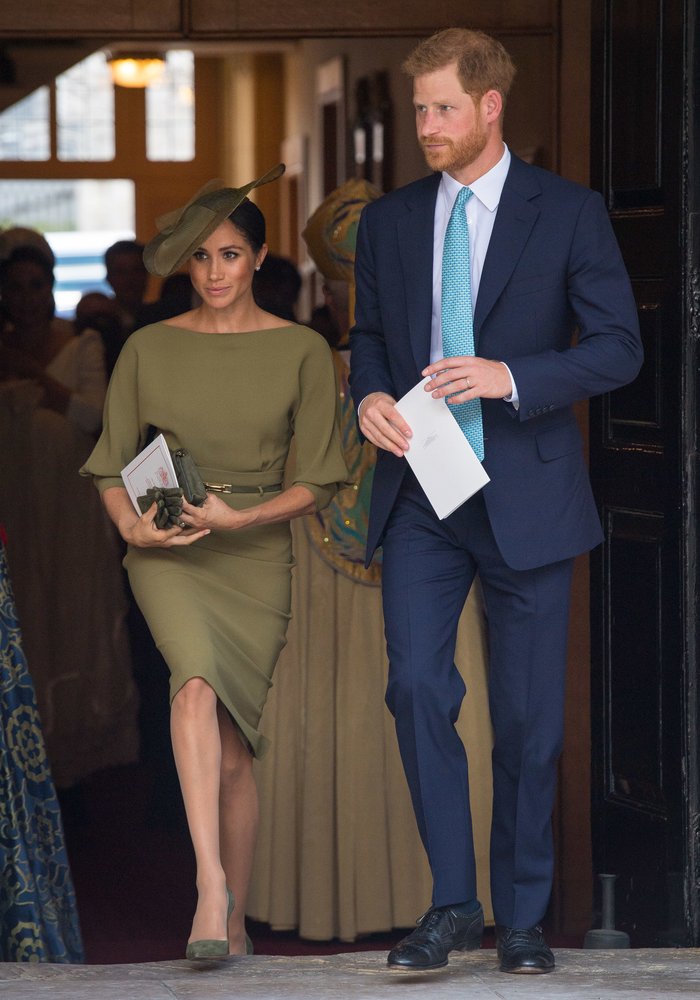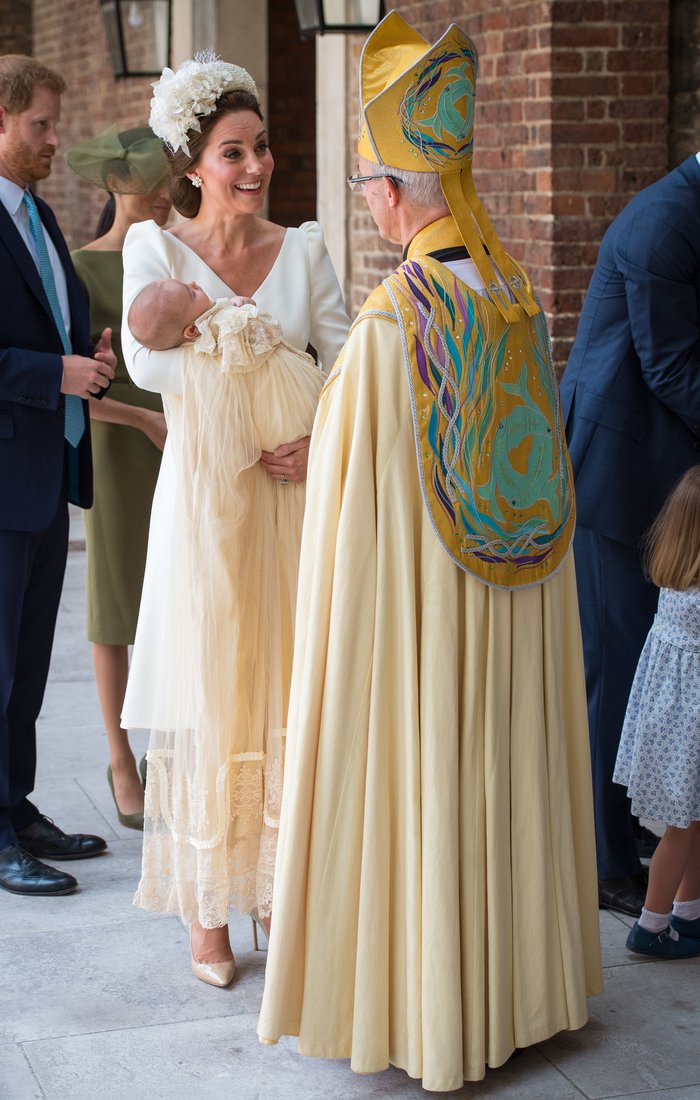 Meghan Markle arrived with the Cambridges wearing an olive green dress from Ralph Lauren and matching heels from Manolo Blahnik.
She topped off the outfit with an extravagant wide-brimmed Stephen Jones hat in a similar hue - and wore her hair in an iconic messy bun.
Kate's coat dress was from Alexander McQueen, and almost identical to the outfits she wore the the christenings of her older two children.