Prince William's Touching Tribute To Colleagues On His Last Day As Air Ambulance Pilot
27 July 2017, 07:36 | Updated: 27 July 2017, 08:18
Prince William is giving up his job as an air ambulance pilot to start a new chapter in his life.
Today marks a big day in Prince William's life as he embarks on his last shift as an air ambulance pilot this afternoon before he moves on to take on the role as member of the royal family full-time.
And to mark the occasion, the Prince wrote a doting tribute to his colleagues ahead of his final shift this afternoon.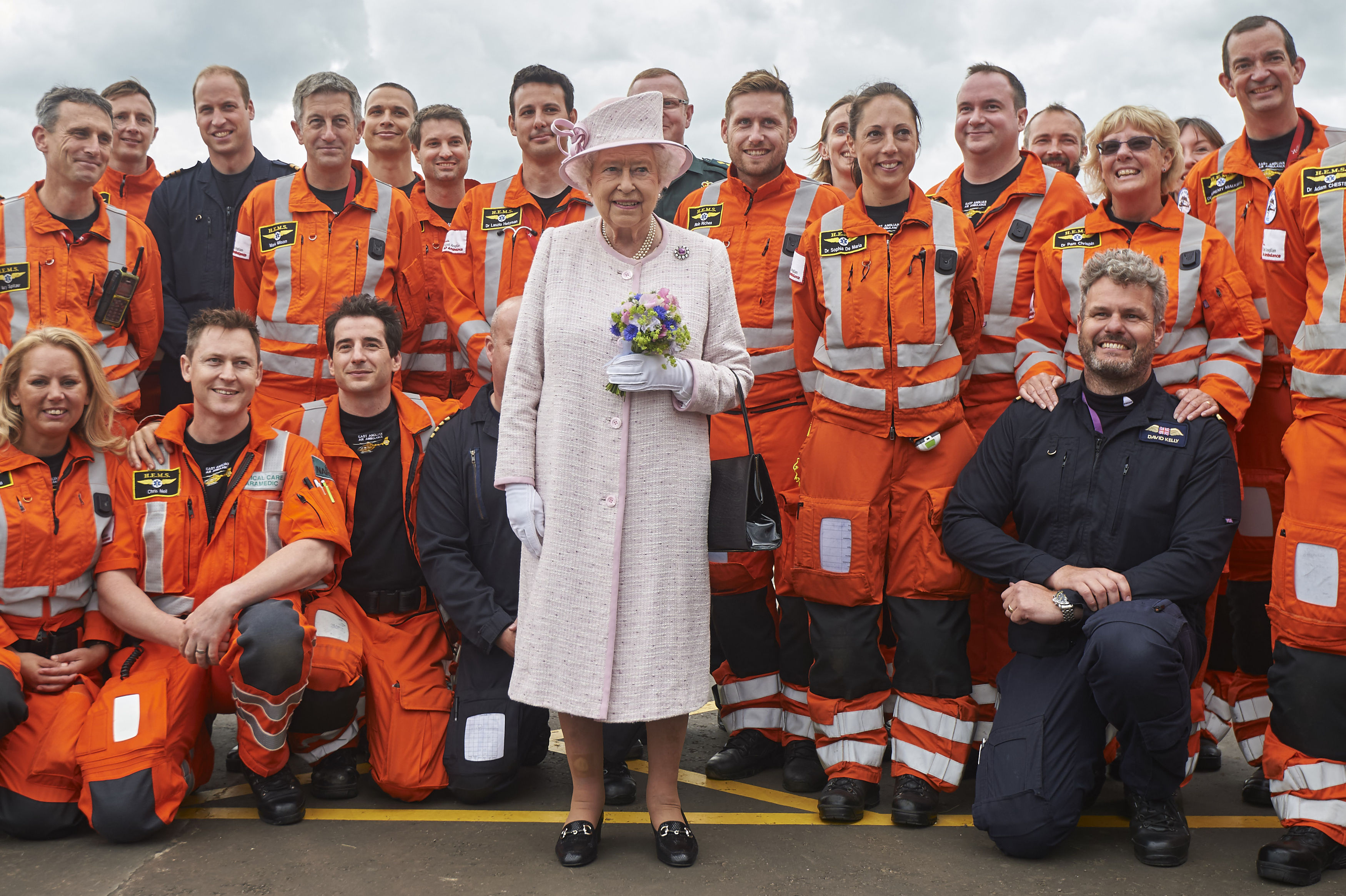 The Queen visits Prince William at work. Picture | PA
Writing in the Eastern Daily Press newspaper, he said: "As I arrive for work at East Anglian Air Ambulance this evening, my last shift with this incredible team, I wanted to say thank you to my colleagues, team mates and the people of East Anglia who I have been so proud to serve.
"As I hang up my flight suit, I am proud to have served with such an incredible team of people, who save lives across the region every day."
Describing his experiences as an air ambulance pilot he said: "Over the past two years I have met people from across the region who were in the most desperate of circumstances. As part of the team, I have been invited into people's homes to share moments of extreme emotion, from relief that we have given someone a fighting chance, to profound grief.
"I have watched as incredibly skilled doctors and paramedics have saved people's lives. These experiences have instilled in me a profound respect for the men and women who serve in our emergency services, which I hope to continue to champion even as I leave the profession.
"I am hugely grateful for having had this experience."
In the article he also thanks his workmates for treating him as just another member of the team, and not as a member of the Royal Family.
He writes: "From the moment I joined, when that phone rang at the base for the first time, it was clear that I was a fellow professional, a pilot with a job to do - in such a team there can be no other option, but still I am grateful to my colleagues for accepting me so readily."
He also goes on to describe in detail a couple of incidents he responded to.
"As a team, we travel to some very daunting incidents and we have been though some incredibly tough times together, witnessing some appalling tragedies," he wrote.
"One of the first call outs I made was to a young man who had committed suicide; it was an incredibly tough day and had a profound effect on all of us, not least in my determination now to draw attention to this issue.
"Another rescue that sticks in my mind was to a young man who was involved in a road accident. His uncle in the car with him sadly didn't survive, and I was sure that from what we were faced with he wouldn't either - but thanks to the skills of our medical team he is alive today.
"We were first on scene and in such circumstances we all had to pitch in to fight to save the young man's life. It is days like this, when you know you have made a difference, that give you the determination to keep going."
The Duke joined EAAA in March 2015 and after completing his final training flew his first operational missions in July 2015. Since then he's been based out of Cambridge Airport, responding to emergency call outs across Bedfordshire, Cambridgeshire, Norfolk and Suffolk.
In a statement Patrick Peal, Chief Executive of the EAAA said: "As one would expect, there has been a lot of excitement surrounding William and his work with the charity.
"To us, he has simply been another hardworking member of the team; one of 11 highly respected pilots who help us to save hundreds of lives each year.
"We can't thank William enough for his hard work and commitment to the charity during this time. He has been a true professional, delivering our doctors and critical care paramedics to patients under testing conditions. His dedication to the job, and wonderful character will be greatly missed, and i know I speak for all our staff when i say we wish him the very best of luck for the future."
As second in line to the throne, William won't need a job reference for the next stage in his working life.
From September the Duke and Duchess of Cambridge will primarily be based in London at Kensington Palace, as Prince George starts school, and William and Kate commit all of their time to full time Royal duties.