Prince Harry Can't Resist Pointing Out This Famous Landmark From The London Eye
William, Kate and Harry mark World Mental Health Day on London Eye
01:16
When Princes William and Harry and Catherine Middleton hopped on the big spinning wheel that looks over the capital, they ended up proving once again, that they're JUST like us.
The Duke and Duchess of Cambridge were joined by Prince Prince as they took to the skies to help highlight World Mental Health Day in the coolest possible way.
The royal trio continued on their campaign to reduce any stigma surrounding mental wellbeing and encourage learning and support around the topic.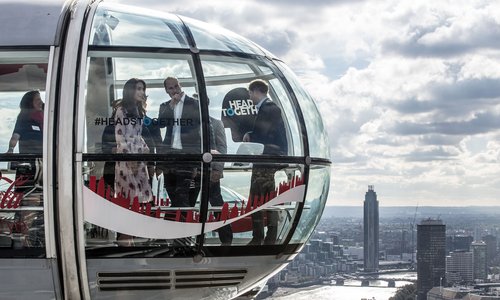 The royals take in the view | Picture: PA
The young royals played tourists on the London Eye as they joined professionals from the charity 'Head Together' and excitedly surveyed the city beneath them.
However, no-one was more excited than the 34-year-old ginger-haired Prince to see the city laid out beneath him.
The bachelor Prince couldn't resist acting like we all would if we were overlooking London from the clouds...and pointing out Buckingham Palace from one of those famous pod on the iconic attraction on the river Thames.
Prince William also addressed a conference: "Mental health is not a dirty word. We all have mental health, like we do physical health.
But not seeking help at those times that it all seems too much, when we are depressed or anxious can impact the rest of our lives.
Put simply the three of us want to make asking for help not a big deal."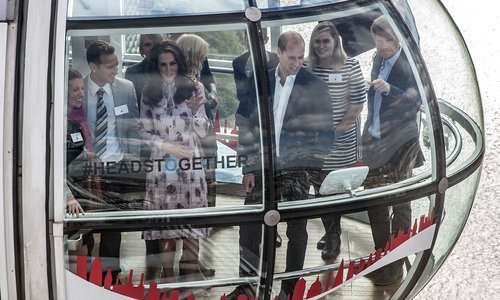 The royals on the Coca Cola London Eye for World Mental Health Day with the charity Heads Together | Picture: PA
Meanwhile Kate also spoke in a rare public address: "All of us know of someone who's been through difficult emotional times and how hard it can be to see a way forward.
William, Harry and I feel it is our duty to do what we can, with your help to shine a spotlight on emotional wellbeing and to highlight the support that is out there to prevent or manage the pain in these difficult times."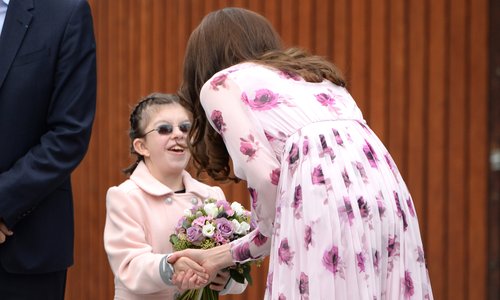 The Duchess of Cambridge greets a young girl and receives flowers from her | Picture: PA
Prince Harry's closing comments reminded us all how important it is to pay attention and listen to those around us who might be suffering:
"It's not rocket science but most of us don't know what to do when a friend or family member is suffering. Having some basic knowledge or having the confidence to act on that knowledge can make a huge difference to those around us."
The Princes looked dapper for the occasion, whilst the Duchess looks gorgeous in a pretty rose patterned £428 Kate Spade dress as she met a young girl who handed her some flowers.
They may have only spent half an hour in the air, but hopefully the three royals will have made a much more lasting impact on how we perceive mental health.