Princess Beatrice Slashes Ed Sheeran With A SWORD In Massive Party Gaff!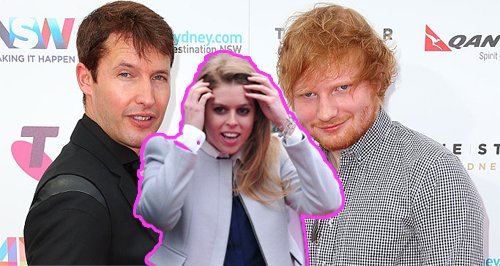 The royal Princess will definitely live to regret this scary moment with Ed Sheeran and James Blunt..
Princess Beatrice won't be living this down anytime soon!
What do you get when you put Ed Sheeran, James Blunt and Princess Beatrice in a room together... well, it turns out you get a hospital visit and lots of tears!
Rumour has it that Princess Beatrice, 28, SLASHED Ed Sheeran's cheek with a ceremonial sword while pretending to 'knight' James Blunt in a ridiculous party prank gone wrong.
Uh oh.
Princess Beatrice was said to be gutted and sobbing uncontrollably when she spotted blood trickling from Ed's cheek. He later went to hospital to get stitches and returned to the party a few hours later.
Now, if you're wondering how Princess Bea managed the gaff, here's what supposedly went down...
The Princess grabbed a sword to jokingly knight former soldier and singer James Blunt, but instead of placing the sword gently she misjudged the weight of the weapon and was forced to swing it round her head... of course, Ed was standing right behind her.
Apparently all this happened while her father, Prince Andrew, was on a trade mission to Mexico...
We're betting he wasn't too impressed when he got home!
Of course, a couple of inches higher and Ed could have lost an eye :(
That will teach the Princess to leave knighthoods to the Queen!
What do you reckon? Share your thoughts below...