There Are Going To Be TWO Royal Weddings This Year!
22 January 2018, 15:38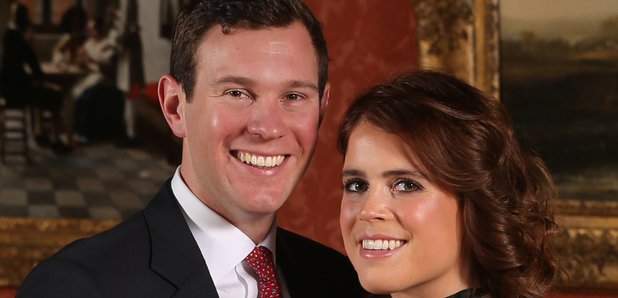 Princess Eugenie will say 'I Do' to her boyfriend of seven years Jack Brooksbank.
Prince Harry and Meghan Markle won't be the only royal couple to get married this year, as it's been announced that Princess Eugenie will wed her boyfriend Jack Brooksbank.
Eugenie, 27, has been dating Jack, 29, for seven years years after they met while skiing in the posh Swiss resort of Verbier.
Now Buckingham Palace has announced that the pair will tie the knot in the autumn at St George's Chapel in Windsor - the SAME church hosting Prince Harry and Meghan Markle's wedding in May.
Buckingham Palace said Eugenie's parents, the Duke of York and his former wife Sarah Duchess of York, were delighted to announce the engagement.
Sarah Ferguson tweeted a series of pictures showing Princess Eugenie with Mr Brooksbank, saying: "I always say that the river flows well to it's destiny because of the guidance of a solid rock."
Total joy!! #engagement @TheDukeOfYork pic.twitter.com/Th58YD0rHa

— Sarah Ferguson (@SarahTheDuchess) 22 January 2018
She posted one photo of the couple with the caption "total joy", and another which said "they float with laughter and love".
The Duke of York said: "I'm just completely overjoyed for them and wish them every happiness."
Nicola and George Brooksbank, the parents of Eugenie's fiance Jack Brooksbank, say they are "over the moon".
The couple said in a brief statement: "We could not be more delighted with the news of the engagement.
"We are completely over the moon and are very excited for them both."
Eugenie's boyfriend is a real catch too!
He was educated at the posh Stowe School and was the manager of star-studded Mayfair nightclub Mahiki in London.
I always say that the river flows well to it's destiny because of the guidance of a solid rock #engagement #eugieandjack @TheDukeOfYork @TheDukeOfYork pic.twitter.com/hvCnnOwZpo

— Sarah Ferguson (@SarahTheDuchess) 22 January 2018
If that's not impressive enought, he is now the UK brand ambassador of Casamigos Tequila, which was co-founded by actor George Clooney.
Besides being a princess, Eugenie graduated from Newcastle University after studying English and history of art, and is now a director at the contemporary art gallery Hauser & Wirth in London.
She is also the patron of various charities including the Elephant Family, the Teenage Cancer Trust and the Coronet Theatre and The European School of Osteopathy.
Eugenie underwent back surgery aged 12 to correct a scoliosis condition, and is now patron of the Royal National Orthopaedic Hospital.
Her husband-to-be met the Queen at Balmoral when he and Eugenie attended Prince Harry's 32nd birthday in September 2016.
The Queen reportedly gave the couple her blessing for their marriage.
A Buckingham Palace spokesman said the Queen and Duke of Edinburgh "are very pleased and wish the couple all the best".
Eugenie is currently eighth in line to the throne, but will be ninth in line after the arrival of William and Kate's third child.