You NEED to See the Queen Manhandle The Crown Jewels In Hilarious Video!
15 January 2018, 11:48 | Updated: 15 January 2018, 11:50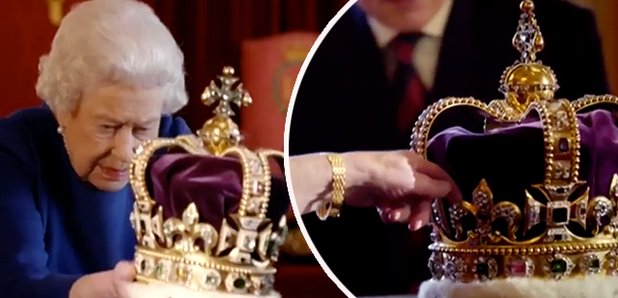 The monarch shocked viewers with the way she handled the precious jewellery.
Diamonds truly are a girls best friend, but imagine being Queen Elizabeth II, the owner of some of the most precious diamonds in the world - the Crown Jewels!
For years we've been told how fiercely guarded the royal collection of jewels is at its home in the Tower Of London.
If you wanted to try and steal them you'd have to get through bomb proof glass, avoid the 100 cctv cameras watching you and before all that there are six inch, two tonne steel doors that would need to be penetrated.
It's safe to say its one of the most secure jewellery collections in the world, but if you're the Queen you can handle them however you like.
In a hilarious clip during last night's BBC documentary, The Coronation, the Queen got a chance to be reunited with the crown she wore on her coronation day back in 1953.
But unlike most who handle the precious relic, the Queen picked it up without gloves and tossed it around with not a care in the world - doesn't she realise how expensive it is!
The Queen handles the crown like it's her baby- the others hold it like someone elses! #TheCoronation

— Maisiecat (@MegGiles8) January 14, 2018
Can I ask that the crown is moved closer to the Queen? *Queen grabs it, throws it across the table* my crown, my rules #TheCoronation

— catherine marsh (@boogieshoe) January 14, 2018
Viewers at home were particularly tickled by the fact the crown was so carefully passed to the Queen by a member of staff wearing special gloves before she started prodding it with her finger.
One hilariously said: "The Queen handles crown like it's her baby - others hold it like someone else's!"
Her house, her jewels, her rules!