Duchess Camilla admits she had fears about Prince Harry and Meghan's wedding
24 May 2018, 08:27 | Updated: 25 May 2018, 14:28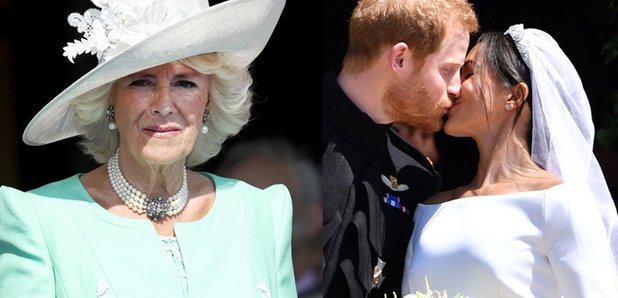 The Duchess of Corrnwall has admitted the royal family wondered what else could go wrong in the dramatic lead up to the wedding.
Duchess Camilla thought Prince Harry and Meghan Markle's wedding went "perfect" despite a controversial couple of weeks leading up to their Windsor wedding.

The 70-year-old royal - who is married to Prince Harry's father Prince Charles - was thrilled with how "uplifting" the nuptials were last weekend despite Meghan's father Thomas Markle pulling out of the ceremony.


Speaking to reporters during a visit to Channel 5, she said: "We all wondered whatever would happen next and then everything went right. It's nice to have something that is uplifting rather than depressing. Everything was just perfect, including the weather, which couldn't have been better. It was a beautiful day. The only thing is that we are all losing our voices now."

Credit: PA

Camilla appeared to be referencing the controversy surrounding Meghan's family as half-sister Samantha continued to speak out against her sister in the weeks prior, while half-brother Thomas Jr wrote Harry a handwritten letter urging him to ditch her.

Meanwhile, Meghan's father said he "will always regret" not being at Meghan's wedding after being forced to pull out due to a heart operation.


He said: "My baby looks beautiful and she looks very happy. I wish I were there and I wish them all my love and all happiness.

"The service was beautiful and it's history.

"I will always regret not being able to be there and not being able to hold my daughter's hand.




Credit: Mega

"My baby girl is a Duchess and I love her so much.

"When you watch your child get married, every thought goes through your mind, every memory from the first day she was born, the first time I held her.

"Now I pray that Harry and Meghan can go on a nice honeymoon and rest and relax, and all of my relatives will just shut up about everything."