Who is Thomas Markle? Meghan Markle's dad who set up paparazzi photos with Samantha Markle
13 August 2018, 11:08 | Updated: 13 August 2018, 11:28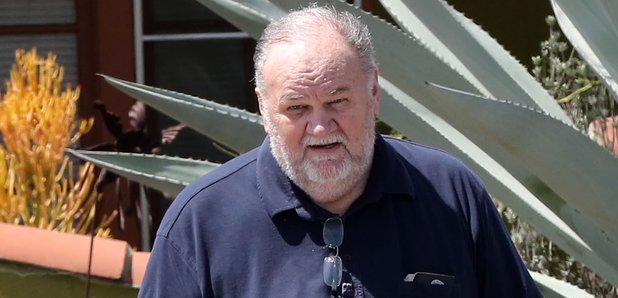 Prince Harry's new father-in-law has spoken out many times against the royal family in interviews - and his daughter Meghan.
Meghan Markle has made no secret of how much she loves her dad Thomas Markle Sr - and he loves her just as much.
However, in recent months, estranged half-sister Samantha Grant has caused family feuds by admitting she believes the late Princess Diana would be 'ashamed' of Meghan.
Thomas Markle himself has also admitted that he's less than happy with how the royal household have treated him since the royal wedding in multiple interviews.
Here's all we know about the Duchess of Sussex's estranged father and Prince Harry's new father-in-law...
Who is Thomas Markle and where does he live?
Thomas W Markle lives in Mexico but is an American citizen. He was born in 1945, and worked as an award-winning lighting director on US soaps including Married With Children and General Hospital.
He married Meghan's mum Doria Ragland in 1979. After their divorce in 1979, he stayed close to Meghan and helped play an active role in her life and future success.
On Father's Day 2016 she thanked him for giving her a good work ethic.
He is also dad to Thomas Jr and Samantha Grant, Meghan's estranged siblings.
Did Thomas Markle walk Meghan down the aisle?
A statement from Kensington Palace outlined both Thomas and Meghan's mum Doria's roles in the wedding.
It read: "Mr. Thomas Markle and Ms. Doria Ragland will be arriving in the UK in the week of the wedding, allowing time for Prince Harry's family, including The Queen, The Duke of Edinburgh, The Prince of Wales, The Duchess of Cornwall, and The Duke and Duchess of Cambridge, to spend time with them before the big day.
"Mr. Markle will walk his daughter down the aisle of St George's Chapel."
However, he didn't attend the wedding at all as he was so "embarrassed" by the debacle.
He told Piers Morgan that he was thrilled to see Prince Charles stepped in to take his place, saying: "Everybody was watching my daughter and I couldn't have been more proud.
"And like I said, how could I ask for a better replacement than Charles. I just wish it could have been my hand holding my daughter's not his but I think he was wonderful for doing it."
Thomas revealed that he had written a speech for the wedding, which sadly no one will ever hear.
"I worked on a little speech, whether I got to say it or not, I worked on a little speech," he said.
"The little speech actually had the phone calls in that I talked about… then I went on to basically thank the Royal family for opening up to my child.
"That would have been the speech. The preparations for all of this were done by my daughter who worked very hard to get everything ready for me if I came there.
"I feel bad that she put all that work in and I didn't do it, but I couldn't do much about it laying on my couch with a bad heart."
What was the Thomas Markle paparazzi scandal?
The 73-year-old was at the heart of an International scandal just days before his youngest daughter walks down the aisle after it was revealed that he had been setting up photos of himself getting stuck in to some wedding prep, including being measured for a suit and eating a McDonald's.
Photos showing Thomas getting a suit fitted and looking at photos of Harry and Meghan in an Internet cafe were recently sold for huge sums of money by a photography agency.
However, video footage from the Mexican internet cafe he was pictured in later emerged showing the lighting director posing for photographers, proving that he had set the shots up.
Other photos released showed him picking up a McDonald's Drive-Thru just days after a reported heart attack.
He told Piers Morgan: "I wanted to apologise - this is the first time I have been on this side of the camera. I am a little awkward but I have been in the business for 50 years."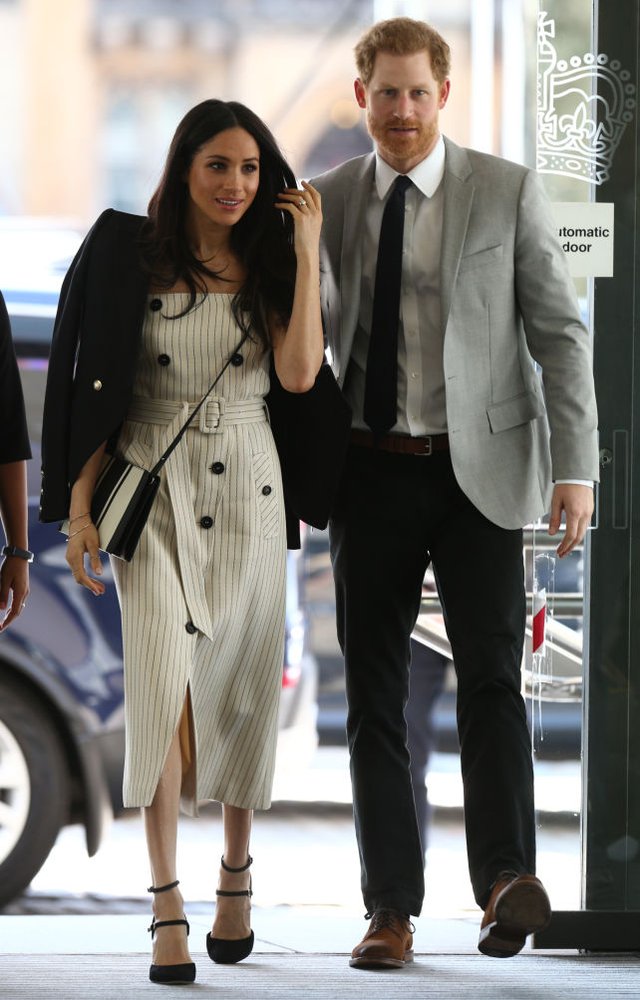 Meghan and Harry will wed on Windsor on May 19 2018 (Image: Getty)
Did Meghan Markle's half-sister Samantha Grant set up the photos?
Meghan's estranged half-sister Samantha claimed that she set up the pictures to show her dad in a "honourable light".
She appeared on Loose Women to explain that it wasn't her dad's idea to set up the photos.
Samantha said: "Actually, it was done with good intention to make the British Royal family look good and also himself.
"Because the media were so unfairly portraying him in a negative light. That doesn't make anyone look good and shame on them.
"He had a right and moral obligation to set the record straight and defend himself.
"Anybody who can't respect that I don't know what to say."
What has Meghan and Prince Harry said about the paparazzi scandal?
According to the Mail, the couple are very worried about Thomas.
A source told them: "She and Prince Harry are begging for people to give him some space. They have been saying this for weeks, while trying to offer him support and help.
"He is clearly feeling under immense pressure. The concern for him is real and genuine.
"He is a proud man who wants to be a father and not be taken care of, but it's quite difficult. Everyone needs to pause and think what this is doing to them and, more importantly, to him. It is a really worrying, scary situation.
"The couple have been doing everything they can to help him."
Did Thomas Markle have a heart attack?
Samantha appeared on Good Morning Britain to confirm that her dad had had a heart attack - and that there was no reason why he couldn't tuck in to a McDonald's after having a brush with death.
She said: "He was really having heart pains and suffered a heart attack. It was an unbelievable amount of stress - by his report they were stabilising him.
"I think he wants to go to the hospital and get checked out. I don't know as of today what his plans are, but there's a very real concern, I wanted to see him go [to the wedding], I didn't want him deprived of that. But clearly the priority should be whether or not it's safe for him to do that. That's where we're at."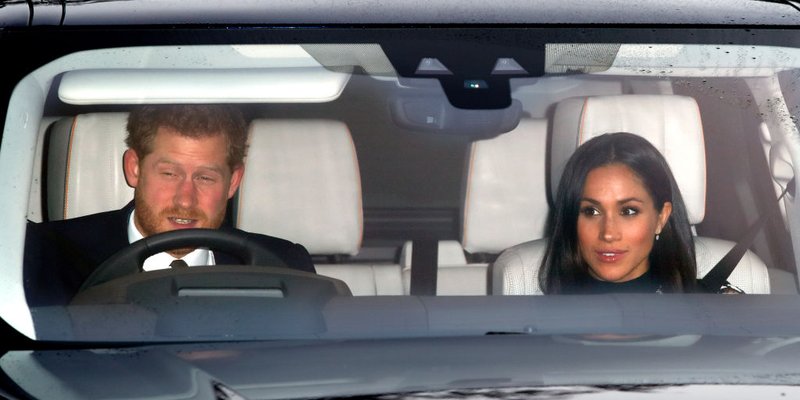 Harry and Meghan pictured driving on Christmas Day (Image: Getty)
She then defended his decision to go to a McDonald's Drive-Thru after checking himself out of hospital.
Samantha said: "It was a couple of days later and I would think that what you eat would depend on the reason for the heart attack – was it precipitated by stress or high cholesterol?
"He doesn't have a cholesterol problem so the chicken wouldn't be an issue."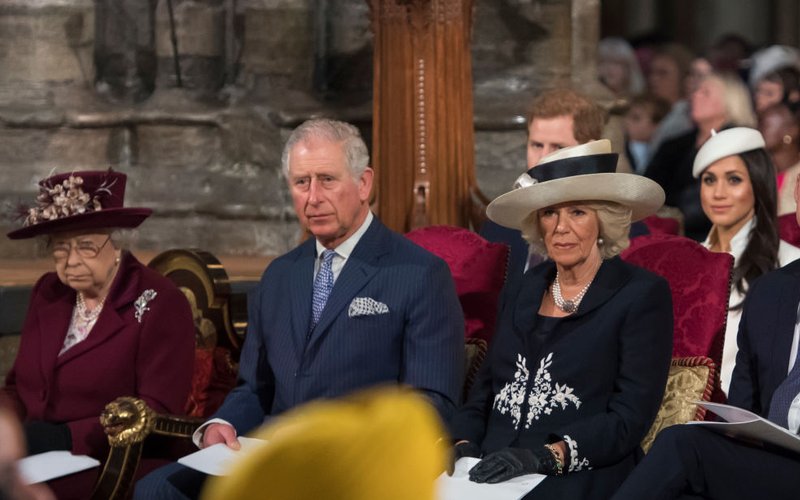 Meghan pictured with the Royal family (Image: Getty)
Has Thomas Markle met Prince Harry?
In a video obtained by The Sun, Thomas implied he has met the sixth in line to the throne.
He said: "I think it's wonderful, I'm very delighted. I think they're (a) very good match, I'm very happy for them, Meghan and Harry.
"I love my daughter very much — Harry's a gentleman."
What has the Queen said about Thomas Markle?
According to the Daily Express, "Lord Chamberlain, Her Majesty and the Duke [of Edinburgh] are very angry with Meghan's father.
"They will speak to him once he arrives about the royal protocol."
They reported that they are "worried" because of the staged photographs.
WATCH! Samantha Markle justifies 'cashing in' on her sister Meghan: