Meghan Markle Can't Become A Princess Until She's Done These Things
12 March 2018, 12:05 | Updated: 12 March 2018, 12:13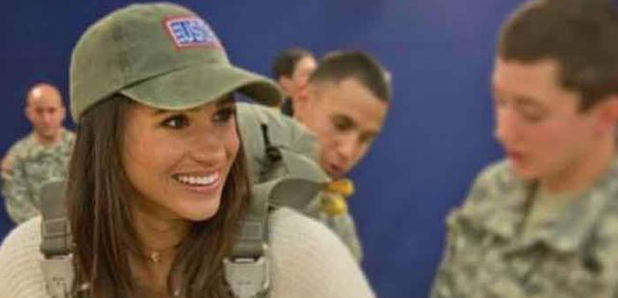 From SAS training to getting her drivers license, here's everything Meghan Markle has to do before she becomes Princess.
The royal wedding is getting closer by the day, which means less time for Meghan Markle to fulfil all the requirements expected of her, before she marries Prince Harry.
Yes, whilst most folks just have to go to their local registrar to get eligibility to tie the knot, Meghan's list of things to do is endless. It even entails getting 'kidnapped by the SAS'!
Here's a rundown of all the things expected of the Suits star before she becomes a princess.
Get 'kidnapped by the SAS'
Although 'kidnapped' knowingly, Meghan Markle had to face an intense two days with the SAS, where she was prepped for the possibility of a terrorist attack or kidnap attempt.
They even used real gunfire to make sure that it was as realistic as possible!
An SAS officer told The Daily Express: "Even though Meghan will have known the enemy was not real, I guarantee that she will have been petrified.
"That's why live ammo is used, so she knows what real gunfire sounds like should, God forbid, she ever be in a hostile situation."
Scary stuff.
Apply for a UK drivers license
Despite having a a full licence in Canada and the US, this only gives Meghan Markle 12 months to drive legally in the UK. Therefore she needs to apply for a provisional licence and pass both a theory and practical test.
Prince Harry has however, been lending a helping hand, with the pair reportedly carrying out driving lessons in the grounds of Kensington Palace.
According to the Daily Mail, whilst all Royal protection vehicles are automatics, Meghan has to be able to drive a manual in case of an emergency.
Delete ALL social media
As a former actress, Meghan was quite the Instagrammer, posting everything from sultry pics in bed to banana's hugging. All of that sadly had to come to an end shortly after her engagement however.
The palace said that she was "grateful to everyone who has followed her social media accounts over the years" but had closed her Facebook, Twitter and Instagram profiles, "as she has not used these accounts for some time".
Boo.
Get baptised
A baptism was required by the Royal Family before Meghan could walk down the aisle with Prince Harry.
She therefore had a secret baptism ceremony into the Church Of England just last week.
Her baptism was then followed by her confirmation, which now allows her to join Harry, at Holy Communion. Meghan had made the decision to both be baptised and confirmed out of respect for the Queen's role as the head of the Church of England.
Considering the long list of requirements, Meghan seems to be doing pretty well so far!
Watch more: