This primary school's recreation of the Royal Wedding is the sweetest thing
21 May 2018, 16:32 | Updated: 21 May 2018, 17:07
If you thought you'd run out of feels after the Royal Wedding, this group of 10-year-olds are here to get you feeling emotional all over again.
Youngsters at Flakefleet Primary School in Fleetwood, Lancashire, had already taken part in mock stag and hen do's before the impending royal nuptials.
In a bid to teach the pupils about being 'proud to be British', the school pulled off an incredible adaptation of the real deal.
Two Haribo rings are filmed ready and waiting in their cases, whilst a 10-year old Prince Harry waits to marry his mini Meghan Markle.
The remake sees young Prince Harry being dusted down by a mini Prince William, as the two share a celebratory glass of orange juice, whilst mini Meghan goes through a beautiful bridal transformation.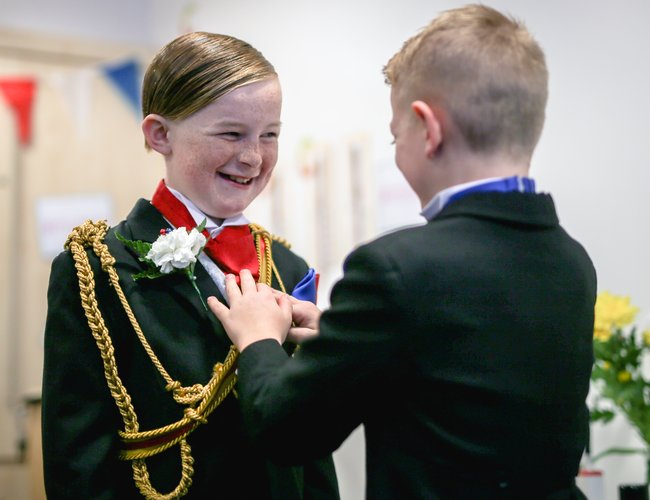 Credit: Caters News
After a quick chat with the press, mini Harry is guided into a bright pink carriage and waves to his many fans who line the streets in a sea of national pride.
Mini Meghan, who sported a very British (or American) red, white and blue bouquet, meets her Prince Charming at the end of the aisle before the nuptials take place.
Mini Harry looks as every bit nervy as the real Harry, when he carefully slips the Haribo ring onto his new wife's finger. Meanwhile, mini Meghan looks ecstatic.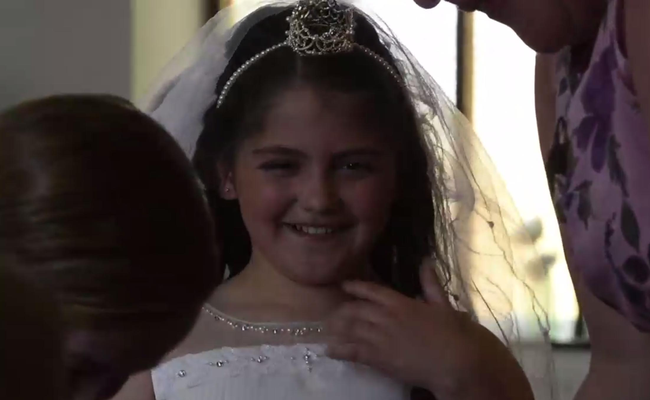 Credit: Caters TV
In an emotional moment, the registrar asks: "Meghan do you promise to be nice kind and gentle towards Harry forever?" to which she willingly agrees.
A quick signing of the register and it's back down the aisle to a sea of Great Britain flags, before being showered with confetti outside the venue to begin their new lives as Prince and Princess.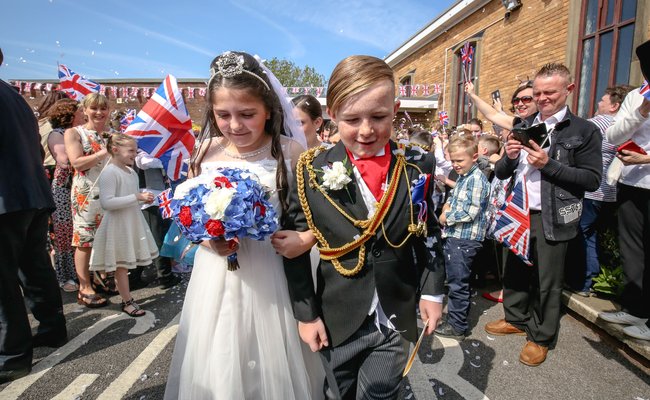 Credit: Caters News
The whole of the community were behind this endearing idea, with thousands of pounds worth of donations aiding the set-up in the form of dresses, crowns, suits, bunting, flags and flowers.
Head teacher Mr McPartlin said:
Mr McPartlin said: "It exceeded all of our expectations. It went absolutely to plan and the children had a fantastic time."
"We all felt like we were part of something special."
"When they [the pupils] walked out of that church with the streets lined and everybody waving they must have felt like royalty."
Love really is all around!
WATCH! The best external highlights from The Royal Wedding: